Experience
A Smart Choice for Smart Calling Author Art Sobczak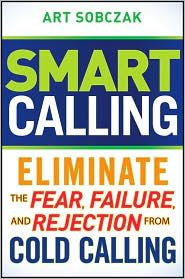 Telesales master Art Sobczak celebrated the release of his latest book, 'Smart Calling', with an online book launch. He quickly hit #1 on Amazon for Sales books, and #50 overall. Despite his publisher stocking up at Amazon, the book sold out the first day!.
Dozens of Art's fellow sales trainers and friends emailed their readers (over one million sales professionals) to recommend that they buy his book. The landing page featured a number of bonuses that book buyers received with their purchase. When you're getting hundreds of dollars worth of gifts just for buying a $15 book, it's a no-brainer!
While Art ran his business, conducted several training seminars, published his weekly newsletter, and everything else he normally does, we managed all the details of the launch from securing his partners to writing the marketing materials and gathering the bonus gifts to testing the landing page.
The publisher (Wiley) was so impressed with the results, they asked their authors with similar audiences to continue promoting the book with recommendation emails to their subscribers.
"Instant Turnaround!" Becomes an Instant Hit!

"Instant Turnaround!" became an instant hit on Amazon. Harry Paul (NY Times bestselling author of the "Fish!" series) and Ross Reck, PhD wrote the book to help employers get their people excited about coming to work and working hard.
We loved the book and we're delighted to work with Harry and Ross to bring their important message to an audience of over 1 million employers and managers.
Partners for the launch included world-renowned management experts like Stephen M.R. Covey, Adrian Gostick and Chester Elton (authors of The Carrot Principle), Mark Sanborn, Zig Ziglar, and America's #1 sales authority Jeffrey Gitomer.
We managed the launch for the authors, secured partners, wrote the copy for the book's landing page and supervised the design, syndicated articles, wrote the partner email message and handled all the details!
"Instant Turnaround" (William Morrow) was released in April, 2009 and immediately became the #1 bestselling motivation book on Amazon.
Archie Comics put Riverdale on the Facebook Map!

Helping Archie Comics develop their Facebook Fan Page was a fun project. While we didn't get to meet Archie, we did get the inside scoop on his finally proposing to Veronica.
This was a social media project spearheaded by our Internet Manager, Michael D. Hamersky. Michael's been a comic book collector since he was a boy. Today he has the most followed comic book blog on Facebook. So he was a natural choice to help Archie build their Facebook fan base.
We designed their plan, developed their Fan Page, stocked it with content, and promoted it to search engines and comic book enthusiasts worldwide. We trained their staff to take over the program and saw Archie gain over 20,000 friends in their first two weeks! The global impact was so great, Archie recently opened an office in India.
The Complete Idiot's Guide: Implementing New Book Marketing Ideas for an Established Brand

One of the authors in the well-known Complete Idiot's Guide line contacted us to help her launch the brand's newest title using the latest Internet book marketing strategies.
We coached Susan Friedmann, author of "The Complete Idiot's Guide to Target Marketing" (Alpha) for her online book launch in November, 2009. Susan's launch reached millions of marketers, entrepreneurs and small business owners through cooperative promotions.
Our job was to guide Susan through the process of developing, marketing and implementing an Amazon bestseller campaign. We developed Susan's database of prospective strategic partners for the event, helped her secure partners, gathered their bonus offerings, and kept everything on schedule for her successful launch.
Re-Launch of Sales Management Book Hits #1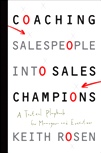 While our client traveled extensively in Europe training sales managers how to coach their teams, his book hit #1 for both Sales Management and the larger category of "Marketing and Sales" on Amazon.
Keith Rosen's award-winning book, "Coaching Salespeople into Sales Champions" (Wiley) came out in 2008. With the challenges of the recession putting even more pressure on sales managers and their teams, Keith felt strongly that coaching is the answer to boosting sales production during tough times. He asked if we could help him manage a re-launch of the book to get this timely message out.
Over the course of three months, we renewed Keith's previous partners, secured a number of new, enthusiastic partners, managed the inventory of over $2000 worth of bonus gifts, developed the marketing materials, distributed press releases, submitted articles to appropriate sites and partners, monitored the event and ensured all the partners had exactly what they needed to participate.
In short, we handled the myriad of details associated with a successful book launch so Keith could focus on what he does best: teaching sales managers how to coach.
Building the Largest Affiliate Network in the Sales Training Industry
As Managing Editor of SalesDog.com – a.k.a. Lady SalesDog – Tina has the pleasure of working with some of the top sales experts and resource sites in the industry.
What distinguishes them? A clear vision of their differentiation and no fear about partnering with the so-called "competition."
By partnering with other experts in their field, they're seen by their combined audiences – to everyone's benefit. Each expert benefits from the no-cost promotion while their clients benefit from the expertise and offers of the other partners. Truly a win-win for all involved.
SalesDog's affiliate network of over 150 partners helped make "Top Dog Sales Secrets" an instant Internet bestseller.
© 2010 Make It So Marketing Inc, www.MakeItSoMarketing.com, PO Box 130653, Carlsbad, CA 92013