Entries Submitted During the 1st Annual Mini-Comics Day!
Mood:
caffeinated
Topic: Comic Cons
Michael D Hamersky On Comics Suggests That YOU Check Out:

Entries Submitted During the 1st Annual Mini-Comics Day!


That Was Held April 9th of 2011!




-

Above: The Mini-Comic submitted by April Nash, (a.k.a. Miss Nash), for the 1st Annual Mini-Comics Day!
TODAY'S FEATURE - Blog #3390:


Last Saturday was the 1st Annual Mini-Comics Day!
For those of you that are not aware of mini-comics, or what this event would be like... Here's the promo from the web site:
About Mini-Comics Day
April 9th, 2011 is the date for the first annual Mini-Comics Day, celebrating the art of cartooning and creating hand-made comic books.
On Mini-Comics Day, participating cartoonists from around the world will write, draw, and print copies of a mini-comic, completing the entire process from start to finish in a day or less. Anyone in the world can participate.
Mini-comics have been democratizing the art of making comic books since the 70′s or earlier… with the popularization of photocopiers, it became apparent that anyone with an inclination and some spare change could print a little comic book. Wildly varying in both form and content, mini-comics are a wonderful synthesis of cartooning and hand-made art objects.
Guidelines: To participate, create a mini-comic from start to finish on April 9th, 2011 (including writing, drawing and printing it). You can make your mini-comic by yourself or with other artists.
Format: Your mini-comic can be any size, length and format you desire. A standard mini-comics size would be eight 4.25″x5.5″ pages (which can be made from one 8.5×11 sheet of paper printed on both sides).
Here is the Facebook 'Event Page' where I first found the mention of this event: MINI-COMICS DAY (1st Annual)
Here is the web site for: Mini-Comics Day
I'm not going to post additional links here, since I'm suggesting that you click on the above links and check out the multiple entries that are shown. I just wanted to present here the fact that the 1st Annual Mini-Comics Day had quite a few entries, and was held world-wide, as seen here, in Brazil, Indonesia, the United Kingdom, and several states in the USA. Those areas actually had physical events, some including workshops!
The top right photo is from the entry from April Nash, that caught my eyes. You can see the whole mini-comic by clicking here. There were multiple mini-comics presented, but I'm suggesting you check out the links I've shown above to see them.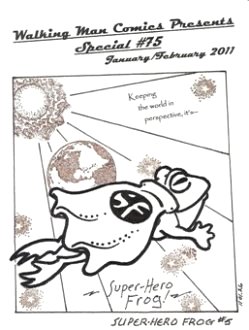 BTW, I've blogged about mini-comics several times before in this blog, before seeing the Facebook Event Page for the 1st Annual Mini-Comics Day.
One of the creators of mini-comics for several years that I have reveiwed blogged about is Matt Levin, who has had several different mini-comics titles self-published.
I recently received 'Walking Man Comics Presents: Special #75' which featured 'Super-Hero Frog'!
The mini-comic is printed on color paper, which doesn't reproduce well here. So I'm showing a link to where you can see the original artwork for previous Super-Hero Frog issues here, including a full sized photo of the front cover of WMCP: Special #75, as shown here. I recommend looking at, (and buying!), Matt's mini-comics as an example of a good self-published series of mini-comics!
I don't want to close without also mentioning a Small Press Publisher, Jim Main of Main Enterprises, who has published many mini-comics as well as full-sized comics and magazines during the years. You can see those that are still in print at this link to his website!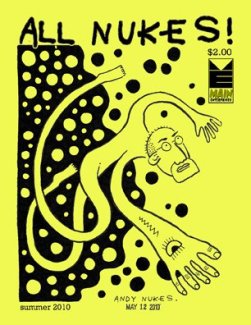 One that grabbed my attention was the 'All Nukes' issue spotlighting the illustrations of Dale Coovert, aka Andy Nukes. Check it out!
This is just one of the many mini-comics that are worthwhile reading... And are available for purchase at the links shown to Jim's web site!
In conclusion, I want to congratulate the promoters of this one-day world-wide event, and those comics creators that submitted their comics online for all to view!
Again, there were too many to mention here, and I thought it best that YOU take a look for yourself via the links provided above!
For those of you that find those mini-comics fascinating, and want to try your hand at creating them, you can start now... Getting a handle on how to create them, and then enter next year's 'Mini-Comics Day' with your mini-comic created in just one day!
~Michael D Hamersky
---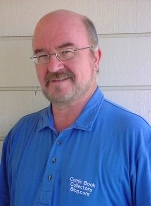 My thanks again to all of YOU reading this blog and our archived blog posts, now at 3,390 total posts in number! I do appreciate your continued reading and support of this Blog!
BTW, You can 'follow' this Blog by clicking the 'Follow' Button at this NetworkedBlogs app! We currently have over 2,373 'Followers'! Thanks to ALL of YOU that have already clicked that button!
And for those of YOU that haven't yet... I would appreciate it if YOU would!!!
~ Michael D Hamersky
Note: My online 'Local' Comic Book Shop (LCBS), carries many different genres of comics, magazines, graphic novels, and comic con promotional items. Possibly even copies of the item that was reviewed here today...!
If I have it... You can find it 'Under The Big Top Of Comics' at:
http://www.ComicBooksCircus.com/
Web Page Note: This blog post is written for the IE Browser standards. Chrome, Safari, Netscape, Firefox and the other browsers serve the page up differently, sorry about that!
The screen display resolution is best seen at the setting of 1024 x 768 on your laptop or desktop computer.
NOTE: All images and characters within this blog post are copyright and trademark their respective owners.
Comics Creators: If you are breaking into, or already work in the comic book industry or other pop culture productions, you are welcome to email or mail us press releases, news items, and updates that you feel would be of interest to our blog readers. Including YOUR own works!
To mail printed items to us for possible review, send to:
Make It So Marketing Inc., PO Box 130653, Carlsbad, CA 92013
Also, if you are a Facebook member, I would have liked you to send me a 'Friend Request'. However, I have reached the maximum limit of 5,000 Facebook Friends and Fan pages already, so I've added a New 'Facebook Fan Page' so that even more of YOU can 'Like' what I am doing, and be interactive with me and others there. Here is the link to that 'Facebook Fan Page': Michael D Hamersky On Comics! Please click the 'Like' button on that page!
---
Posted by makeitsomarketing at 6:22 AM PDT
Updated: Thursday, April 14, 2011 7:33 AM PDT