My Take On: Old City Blues by Giannis Milonogiannis From Archaia Entertainment
Mood:
caffeinated
Topic: Comic Books - New
-

Top Left Photo: The Company Logo for Archaia Entertainment.

-

Above Top Photo: The Front Cover to 'Old City Blues' Graphic Novel by Giannis Milonogiannis.
TODAY'S FEATURE - Blog #3508:
Here is a review on the hard cover graphic novel presentation by Greek newcomer, Giannis Milonogiannis, published by Archaia Entertainment.
What is this graphic novel about? Here's a description:
"The murder of the CEO at the head of the world's foremost cybernetic corporation sets the stage for Old City Blues, the gripping new futuristic noir from publisher, Archaia Entertainment.
Old City Blues begins in the year 2048 of Southeastern Europe. Built on the ruins of the country once known as Greece, New Athens is a city crawling with life—low-life, that is. From mech smugglers and drug dealers, to corrupt politicians and all-too-powerful corporations, the city is at the mercy of high-tech criminals. And it's up to Solano, Thermidor, and the rest of the New Athens Special Police to keep the city in order. When the cybernetically augmented founder of a tech corporation called Hayashi is found murdered, it seems to be just another case of cyborg persecution. But Hayashi Corporation's strange response to the incident raises suspicion in Solano and the Special Police. The mystery they unravel will lead them straight into the wasteland of the Old City."
What were my thoughts on this graphic novel?
While the premise is one that sounds somewhat 'familiar'... The different style artwork by Giannis Milonogiannis gives a new approach to this genre.
It does help that Giannis is also the writer, in that he can illustrate his vision of the storyline in a black & white format.
The only possible problem in a work such as this, is that when one person is both the writer & illustrator, they are the one responsible for the total work. If the reader doesn't like the storyline or the art, there is only one person that the dislike can be associated with...
I'm glad to say that Giannis comes through for me on this graphic novel. The storyline made me 'hang in there', until I felt comfortable enough seeing the 'sketchy' style of artwork. Unusual enough style to stop to mention, yet after seeing a few pages in this style, I found that the artwork captured the mood intended for this work.
There is a good balance between pages with a lot of copy versus pages with very little or no copy. I found this easier to read, understand, and enjoy... The more I read on.
I'm giving this graphic novel a VERY FINE / NEAR MINT (VF/NM) 9.0 out of a possible 10.0 comic book grade, because although I liked the artwork shown in this book, I'm also realizing that my recommendations are 'out there' for all to see, and hold myself accountable for that. I found myself liking this artwork style after a few pages, but others might not give it that long to adapt to for reading... My suggestion is, if you like this genre of story, then hang in there and give this artwork by newcomer Giannis Milonogiannis to sway you to finish it!
Here is what you need to ask for this book at your local book store or online ordering point:
Hardcover: 120 pages - Cover Price $14.95
Publisher: Archaia Entertainment; 1 edition (August 2, 2011)
Language: English
ISBN-10: 1936393204
ISBN-13: 978-1936393206
Product Dimensions: 9.1 x 6.1 x 0.8 inches
Shipping Weight: 15.2 ounces
For more on this book and online ordering... Check out the Archaia Entertainment online shop at: Old City Blues.
For where you can interact with the publisher, Archaia Entertainment, be sure to 'LIKE' their Facebook Fan Page!
Graphic novels like this one is one of the reasons that I enjoy reading the comics and graphic novels that are published by Archaia Entertainment, and always stop by their booth at comic cons that they are set up in!
As a matter of fact, I'm proud to list back issues of their comics at my own online comic book shop, ComicBooksCircus.com!
~Michael D Hamersky On Comics!
---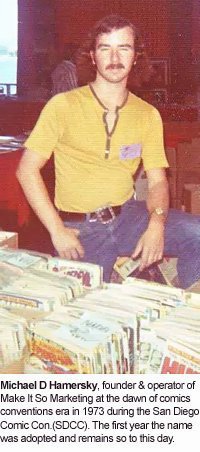 NOTE FROM THE BLOGGER:
My thanks again to all of YOU reading this blog and our archived blog posts, now at 3,508 total posts in number! I do appreciate your continued reading and support of this Blog!
BTW, You can 'follow' this blog by clicking the 'Follow' Button at this NetworkedBlogs app link! We currently have over 2,558 'Followers'! Thanks to ALL of YOU that have already clicked that button!
And for those of YOU that haven't yet... I would appreciate it if YOU would!!!
~ Michael D Hamersky
Note: My online 'Local' Comic Book Shop (LCBS), carries many different genres of comics, magazines, graphic novels, and comic con promotional items. Possibly even copies of the item(s) that was mentioned here today...!
If I have it... You can find it 'Under The Big Top Of Comics' at:
http://www.ComicBooksCircus.com/
Web Page Note: This blog post is written for the IE Browser standards. Chrome, Safari, Netscape, Firefox and the other browsers serve the page up differently, sorry about that!
The screen display resolution is best seen at the setting of 1024 x 768 on your laptop or desktop computer. Note: As of Monday, June 27th, 2011, I'll be using my new laptop, where the default resolution is 'higher', so there may be some temporary glitches until I am used to the new resolution.
NOTE: All images and characters within this blog post are copyright and trademark their respective owners.
Comics Creators: If you are breaking into, or already work in the comic book industry or other pop culture productions, you are welcome to email or mail us press releases, news items, and updates that you feel would be of interest to our blog readers. Including YOUR own works!
To mail printed items to us for possible review, send to:
Make It So Marketing Inc., PO Box 130653, Carlsbad, CA 92013
Also, if you are a Facebook member, I would have liked you to send me a 'Friend Request'. However, I have reached the maximum limit of 5,000 Facebook Friends and Fan pages already, so I've added a New 'Facebook Fan Page' so that even more of YOU can 'Like' what I am doing, and be interactive with me and others there. Here is the link to that 'Facebook Fan Page': Michael D Hamersky On Comics! Please click the 'Like' button on that page!
---
Posted by makeitsomarketing at 6:23 AM PDT
Updated: Tuesday, September 20, 2011 7:05 AM PDT