I'm Henry the VIII I am... Henry the VIII I am, I am!
Mood:
a-ok
Topic: Other Cons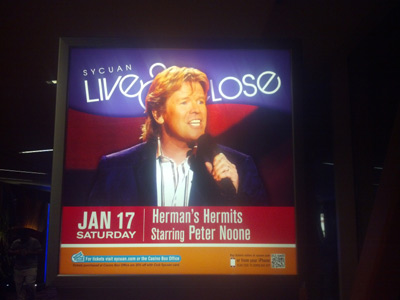 TODAY'S FEATURE IS BLOG #4018 - I left Sycuan Casino's Live & Up Close concert hall last night, singing that song, as well as many others that were in attendance there! As that was the closing song in a 65 minute concert presented by Peter Noone, lead singer of the British Invasion Rock Group, Herman's Hermits!
Yeah, I'm old enough to remember them in their heyday, from 1962 - 1970, (see their Wikipedia entry for the group's history.)
There are actually two groups touring right now, presenting themselves as Herman's Hermits. As Peter Noone was the lead singer of the group, I decided to check them out when they came to El Cajon, California.
Peter sang other period pieces, interspersed between his group's hits. Matter of fact, he imitated Mick Jagger of the Rolling Stones with a song from that group, as well as Davy Jones of the Monkees singing 'Daydream Believer'.
Peter really put on a performance, but also hi-lighted his band members.
This was really a very good concert, although it was only 65 minutes in length. If this group visits your town, and you like 1960s oldies songs, I would recommend seeing them!
And if you are wondering what this concert review is doing in a comic book blog... Would you believe that Herman's Hermits were featured inside several comic books, as well as on the covers?
Here are the links to just a few:
Go-Go #1 from Charlton Comics in 1966
Career Girl Romances #32 from Charlton Comics in 1966
Tippy Teen #3 from Tower Comics in 1966
Josie #28 from Archie Comics .in 1967
Tippy Teen #20 from Tower Comics in 1968
I'm sure there are more comics that Herman's Hermits are featured in... But that is enough for now.
Oh, and I have photos from the concert at my Facebook Fan Page:
My thanks to Sycuan for sponsoring this concert & to Peter Noone & the band for a great concert!
~Michael
---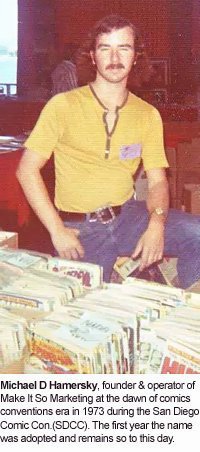 NOTE FROM Michael D Hamersky On Comics: My thanks again to all of YOU reading this blog and our archived blog posts, now over 4,000 total posts in number! I do appreciate your continued reading and support of this Blog!
BTW, You can 'follow' this blog by clicking the 'Follow' Button at this NetworkedBlogs app link! Thanks to ALL of YOU that have already clicked that button! And for those of YOU that haven't yet... I would appreciate it if YOU would!!!
Note: My online 'Local' Comic Book Shop (LCBS), carries many different genres of comics, magazines, graphic novels, and comic con promotional items. Possibly even copies of the item(s) that was mentioned here today...! If I have it, you'll find under the BIG TOP of Comics, at Comic Books Circus.com!
Web Page Note: This blog post is written per the IE Browser standards. Chrome, Safari, Netscape, Firefox and the other browsers serve the page up slightly differently, sorry about that! The screen display resolution is best seen at the setting of 1024 x 768 on your laptop or desktop computer. Note: Your computer's resoulution may be set differently, but the above resolution is the most commonly used resolution at the time of this blog post.
NOTE: All images and characters within this blog post are copyright and trademark their respective owners.
Comics Creators: If you are breaking into, or already work in the comic book industry or other pop culture productions, you are welcome to email or mail us press releases, news items, and updates that you feel would be of interest to my blog readers. Including YOUR own works! To mail printed items to me for possible review, just contact me.
Also, if you are a Facebook member, I would have liked you to send me a 'Friend Request'. However, I have reached the maximum limit of 5,000 Facebook Friends and Fan pages already, so I've added a New 'Facebook Fan Page' so that even more of YOU can 'Like' what I am doing, and be interactive with me and others there. Here is the link to that 'Facebook Fan Page':
Michael D Hamersky On Comics
! Please click the 'Like' button on that page!
---------------


In Addition, I started a YouTube Channel just before the 2011 Comic-Con International, where I am slowly uploading videos from conventions or other events that we attend that are also pop culture related. You are invited to 'subscribe' to that channel also! As found at
'HamerskyOnComics'
!
---
Posted by makeitsomarketing at 8:56 AM PST
Updated: Sunday, January 18, 2015 3:42 PM PST