Semantink's Comic Savvy! July 18th, 2010 Meeting
Mood:
caffeinated
Topic: Comic Cons
Semantink's Comic Savvy!

July 18th, 2010 Meeting!

San Diego, California

Above Photos:

Top Photo: (L-R at front door of Milano Coffee Co) Kevin Warwick, Benjamin Glibert, Chris Henderson, Shannon Forrey, Andrew Rakestraw, Daniel Touchet.

Bottom Photo: (L-R) Kirk McCoskey, Rich Kuhaupt, Kevin Warwick.




Above Photo: At The Milano Coffee Co at 8685 Rio San Diego Drive, San Diego: (L - R) Benjamin Glibert, Chris Henderson, Shannon Forrey, Andrew Rakestraw.

------------

Below Photos: (L-R) Andrew Rakestraw, Daniel Touchet, __, Michael, Steve Hendricks.

------------
TODAY'S FEATURE - Blog #3193:
This past month I have been posting on my Facebook Group Page titled Facebook Comic Con | Make It So Marketing, (a.k.a. Hamersky.com), that I would be attending my third meeting at the Semantink's Comic Savvy after enjoying myself at the May 2010 meeting and June meetings!
I also posted several links to the 'Facebook Event Invite Page' for those in the area or coming to the San Diego Comic Con this week, to attend the July 18th meeting of Semantink's Comic Savvy in the Mission Valley area of San Diego.
So last night I drove down to attend the meeting that started at 5PM and ended shortly after 7PM.
The 'Facebook Event' showed the following:
Semantink's Comic Savvy!
Date: Sunday, July 18th, 2010
Time: 5:00pm - 7:00pm
Location: Milano Coffee Co.
Street: 8685 Rio San Diego Drive
City/Town: San Diego, CA 92111
"Semantink's Comic Savvy is a place for comic book fans, young and old, to get together for a few hours of java-motivated industry chatter. We will rap books, films and as many other art-related topics as we can squeeze in to our two hours together. But first and foremost: we'll... have a good time.
Anyone and everyone is welcome to join; whether you're an industry professional, comic book enthusiast, or a new fan looking to learn a bit more about the vast world of comic books.
Hope to see you there!"
This event's page, even though it is now over, can be found by clicking here. You can see who was planning to attend, maybe attending, etc.
Once again the meeting was casual, "beginning" at 5 PM, and not going too much in depth at first, allowing those others that were expected to be there to find parking and walk to the coffee house. Please Note: Parking is enforced for a one hour maximum. You need to obtain a free parking placard to be parked there for over an hour. The parking limit is strictly enforced. So get the parking permit at Milano Coffee House!
BTW, several attendees, including myself, would break from the group ocassionally and order additional coffee refills, as Milano Coffee Co had a 5 at 5 Coffee Special going on. $5 for unlimited coffee refills starting at 5 PM. There were also sandwiches and wraps available from the coffee house if you came hungry!
The sponsor of the meeting, Semantink Publishing, was represented by four of the fourteen persons attending. The topics were not only about indy comics, which is what Semantink publishes... but instead were a lot about mainstream comics, comic cons, comic book movies, and comics online.
Also, once again the ages of the attendees were far ranging, from the mid 20's to the mid 50's.
There were also two females there among the fourteen attendees, including Shannon Forrey, and Yanglyn Ou last night. So it's NOT a 'boys club' sort of thing for those that want to attend in the future!
As noted in my earlier blog on the May monthly meeting, the comics reading experiences of the attendees ranged from the Silver Age of Comics to the Modern Age of Comics. Indeed, we even viewed several comic book references on the iPad brought in by Chris Henderson yet once again! Thanks Chris!
The last two meetings I conducted a survey of those attending about specific questions I had wanted the group's feedback on.
This time I asked a question that came to me after checking out the schedules of the upcoming Comic Con International: San Diego (a.k.a. San Diego Comic Con).
The question was: 'What upcoming movie are YOU most interested in seeing in the upcoming months? It doesn't have to be a comic book movie'. I asked this question because 'Hollywood' once again is bringing in panels on films and TV shows that don't really have a 'comic book' background to this year's Comic-Con.
Here's the replies I received:
Thor film - 1 & 1/2 votes
Conan film - 1 vote
Green Lantern film - 2 votes
Tron - 6 & 1/2 votes
Avengers film - 1 vote
Avatar the extended version - 1 vote
Green Hornet - 1 vote
So, as YOU can see by the above, 'Tron' won out as being the most anticipated film to be coming out. Which, BTW was as of yesterday, the most 'to be attending' program on the Comic-Con's new schedule where you can 'sign' up for attending!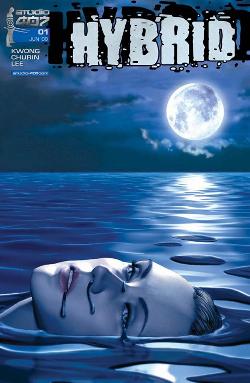 After participating in my survey above, I distributed copies of Hybrid #1 from Studio 007 to all attending, for being kind enough to participate in my survey.
Talking about distributing comics, there were also many books and other publications that were shared by those that brought them to talk about what is out there for fans, aspiring writers or illustrators, etc. That is what is 'cool' about attending an informal meeting like this. If YOU are in the San Diego Metro Area, I urge YOU to attend the August meeting!
One of the hi-lites was the portfolio that Steven brought. In it were original art pages, and sketches that he had commissioned artists to illustrate for him. There were a lot of oohs & aahs over those that he brought!
Many other topics were discussed, both as one large group, and occasionally as a few individuals...
Included were: Rich will be at the 'Rudy McBacon' booth in the Small Press Section of Comic-Con.
The just released film 'Inception' got high recommendations from those that had seen it already!
I brought up the 'Green Hornet' trailer that had been released. Very few had seen it yet...you'll notice above that there was only one person that it registered with as to really wanting to see...As a matter of fact, it was compared as possibly being akin to 'SuperBad', or a 'big budget version' of 'Pineapple Express'...!
I also asked about the fact that even though it seemed everyone was reading comics on their iPad or other electronic reading devices, that was brought in for 'show n tell' was always really nice bound volumes such as 'Absolute Planetary'. That appeared to be the preferred way of 'collecting' among this group, even though a few still read the 'floppies' single issues of comics. As Chris said, you "might as well get something good" if you were buying it for your collection!
My thanks to Benjamin Glibert, who acted as the informal 'moderator' to keep the meeting lively. Good topics, Benjamin!
And thank you to Benjamin and the others at Semantink Publishing who distributed the 1st issue of Mythoi #1 as seen to the left! That was a great gift to those that attended this meeting! (BTW, here's my review blog on that publication!)
I encourage all of you that are reading this blog post, and live in the San Diego County area to check out this monthly meeting, by checking out the above referenced Facebook Event Link and Pages! AND this meeting is NOT just for San Diego comics fans. Again, one came from Temecula in Riverside County, and another from the LA Metro Area!
My Thanks to Semantink Publishing for sponsoring this meeting. You can find their Facebook Fan Page by clicking here and of course there will be a link to the August 2010 'Facebook Event' in the near future either in my blog and / or my Facebook Group Page!
AND My Thanks again to all of YOU reading this blog and our archived blog posts, now totalling over 3,190 posts in number!
~ Michael D Hamersky @ ComicBookCollectorsBlog.com

Note: Comic books like the ones discussed at the group meeting can be found for sale at our own online comic book store at:
http://www.comicbookscircus.com/
---
"Hammering Out the Web For You Since May 12th, 1998!"

Note: If you are breaking into, or already work in the comic book industry or other pop culture productions, you are welcome to email us press releases, news items, and updates that you feel would be of interest to our blog readers. Including YOUR own works!

To mail printed items to us for possible review, send to:

Make It So Marketing Inc.
PO Box 130653
Carlsbad, CA 92013

Check Out More Of Our Own Endeavors:

Yeah, that's me in the photo shown to the left, taken at the 1973 San Diego Comic Con at the Sheraton Hotel at Harbor Island in San Diego!

I first set up as a 'dealer' at the 1972 SDCC at the El Cortez Hotel. So I've been around comic conventions for a little while, LOL! Tina and I now have an on-line exhibitor table at the first "virtual" comic con titled the "Facebook Comic Con" (FBCC)!

You can view our table and interact with us there on Facebook by clicking this link.

So if YOU are a Facebook member, please 'join' our Facebook Comic Con - Make It So Marketing exhibitor table for updates, specials, links to this blog, and other wall comments that we post every day!




Also, if you are a Facebook member and would like to join my Facebook Network, feel free to send a 'friend request' to 'Michael D Hamersky'.

-------------------

Talking about comics: if YOU are a comics creator, (writer, penciler, inker, colorist, letterer, etc.), OR even a Comics / Magazine Publisher, feel free to contact me regarding YOUR works for a possible mention / review!

I've made a special blog post about: "How To Best Submit YOUR Publication For Possible Review!" for those creators / publishers that would like to possibly have their publications mentioned or reviewed. Just click on the link provided in this paragraph!

~Michael @ ComicBookCollectorsBlog.com

WEB PAGE NOTE: This blog post is written for the IE Browser standards. Chrome, Safarai, Netscape, Firefox and the others serve the page up differently.

The screen display resolution is best seen at the setting of 1024 x 768.

NOTE; All images and characters within this blog post are copyright and trademark their respective owners.
Posted by makeitsomarketing at 7:55 AM PDT
Updated: Monday, April 18, 2011 10:44 AM PDT