TOOF! A Rafael Navarro Sketch Book! (And More!)
Mood:
caffeinated
Topic: Comic Book Artists
Michael D Hamersky On Comics Reviews:

TOOF!

A Rafael Navarro Sketch Book

(And More...)




-

Above Photo: The Front Cover to TOOF! A Rafael Navarro Sketchbook Which Was First Printed for the 2010 SDCC.

Top Left Photo: Rafael Navarro with Michael D Hamersky at the 2010 San Gabriel Valley Comic Book Festival.
TODAY'S FEATURE - Blog #3354:
Last year in my blog #3240 I blogged about Rafael Navarro's TPB titled 'Sonambulo In: Sleep of the Just'. I followed up with blog #3252, where I review blogged his 'Sonambulo In: Mexican Stand-Off'. I suggest you click those two links just shown as to what Rafael's creation, 'Sonambulo', is all about and then come back...
Okay... Are you back now?!
Good! Because today I want to mention Rafael's sketchbook that he first premiered at the 2010 Comic-Con International: San Diego, a.k.a. San Diego Comic Con, (SDCC).
As you read in my earlier blog about Rafael, I missed seeing his booth there at the SDCC. Which is why he hailed me at the 2010 San Gabriel Valley Comic Book Festival, (a.k.a. SGV), so I didn't do that again! As the SGV was a lot smaller than the SDCC, (and almost every con in North America is!), I made time to stop in at his table, (as well as every other table at the SGV).
I'm glad I did! As mentioned in the earlier blogs, I truly enjoyed his 'Sonambulo' series of comic books he has published. Although I've only reviewed blogged two of the series, I found the works compelling and actually moved up the first TPB reprinting the first series of Sonambulo for reviewing.
Here's where today's blog post comes in... Which is actually pretty 'timely' as the comic convention season for 2011 has already started... but hits 'full swing' in another couple of months!
In the stack of publications that Rafael gave me for possible review, was this 'TOOF! - A Rafael navarro Sketch Book.
The sketch book is 8" x 10 1/2" in size. Inside it are 52 full color pages of Rafael's artwork. Of course quite a few pages are on his own character, Sonambulo. But also included are: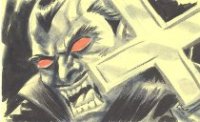 A 'Tomb of Dracula' homage (shown at the left), a 'prelim sketch' of Batman & Robin, the Phantom from King Features, the Enchantress from Marvel Comics, Spider-Woman, Supergirl, Wonder Woman, Captain America & the Red Skull, the Destroyer, Captain America (by himself), Zorro, the Falcon, Indiana Jones, the Spirit, and many more, including several animated series characters that I am not familiar with.
Of course the obligatory 'good girl' art is included, as you gotta please them 'fanboys'! But you get the picture now...
This publication by Rafael Navarro shows that he is far more than just a comics creator that has created one great character and nothing more! This publication is representative of what every artist should have at his or her table at every comic con that they appear at! More on that in a moment...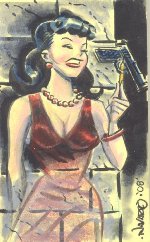 By showing other publishers characters in this sketchbook of his, Rafael shows that he is also a storyboard artist, a 'fine artist', penciller, illustrator, and painter. This sketchbook shows his versatility.
I already mentioned the size of this publication and the number of pages... For those of you just starting out, the cost of this publication is probably a little too much to print too many copies for distribution. I've seen other artists actually use Ka-Blam to print out comic book sized & comic book looking sketchbooks.
In the 'title' to this blog I added (and more!): My point is this: I missed seeing Rafael at his booth at the over-sized SDCC in 2010. If you've never been to the SDCC, let me tell you... Last year was the first time since 1991 when SDCC moved to the SD Convention Center that I didn't walk every aisle of the exhibit hall. It's too massive now. An artist should carry with them a comic-book sized promo sketchbook, so that if they run into a 'reviewer' like myself, or others that are at different levels in the comics industry, that they could give a copy to them for possible mention, review, or even referral for additional work!
Please note: I would suggest a color front cover, black & white interior pages, a background history on the 'splash page', and most important of all, a link to YOUR web site for possible follow-up and even purchases! If you already have a self-published comic book, then 'put it out there' in your sketchbook with a the domain name address and e-mail address! Consider this to be an over-sized business card. Seriously... It doesn't cost that much when given to those in the industry that could possibly get you more fans who will buy your publications!
And yeah, you should charge at least what it cost you to print them, when selling them at comic cons. You want to create a 'buzz' about your work, and 'stand out' from the crowd of other comics creators, several of whom are just busy with their head down, busy sketching for fans... so busy they don't even look up when another potential fan stops at their table! I've seen that way too often at comic cons... Sheesh!
And here's another 'business card' idea... If YOU had a Facebook Fan Page, which doesn't cost anything to start... Except for your time to build it and maintain it, you would have a 24/7 biz card online.
Yeah I know, you don't have the time to promote the page. That's where it is going to cost you... But you have to have a 'product' to sell to monetize the Fan Page. Because with the little time you have... You are going to have to use a 'pro' in marketing the Facebook Fan Page, and keep yourself doing the best thing you can be doing... Which is creating more comics! (Unabashed plug for Tina's and my services on promoting Facebook Fan Pages and other web services that we do, LOL!).
Anyways, I want to thank Rafael Navarro for presenting me with such fine series of 'Sonambulo', AND for this sketchbook! It shows your versatility, and with today's economic environment, versatility is what we all need!
My Review Rating for this 'sketch book' is NEAR MINT MINUS (NM-) 9.2 out of a possible 10.0 Comic Book Grading scale.
The link to Rafael's web site for 'Sonambulo' can be found here. I've elected to link to the 'store' link of his web site, so you can see what he has available for sale.
Also, Rafael has not started a Facebook Fan Page for 'Sonambulo'. However Facebook has placed a 'community page' for it, which you can see by clicking here. Which gives you a little more 'background' on the character.
Again, my thanks to Rafael for bringing his Sonambulo series AND this Sketchbook of his to my attention. I have enjoyed several hours reading all of these... And will be blogging about another of the series in the future. (Gotta give other deserving creators out there equal time here in this blog, you know!)
~Michael D Hamersky
---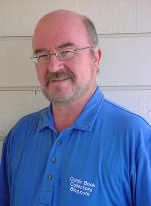 My thanks again to all of YOU reading this blog and the archived blog posts, now over 3,350 total posts in number! I do appreciate your continued reading and support of this Blog!
BTW, You can 'follow' this Blog by clicking the 'Follow' Button at this NetworkedBlogs app! We currently have over 2,250 'Followers'! Thanks to ALL of YOU that have already clicked that button! And for those of YOU that haven't yet... I would appreciate it if YOU would!!!
~ Michael D Hamersky
Note: My online 'Local' Comic Book Shop (LCBS), carries many different genres of comics, magazines, graphic novels, and comic con promotional items. Possibly even copies of the item that was reviewed here today...!
If I have it... You can find it 'Under The Big Top Of Comics' at: ComicBooksCircus.com
Web Page Note: This blog post is written for the IE Browser standards. Chrome, Safari, Netscape, Firefox and the other browsers serve the page up differently, sorry about that!
The screen display resolution is best seen at the setting of 1024 x 768 on your laptop or desktop computer.
NOTE: All images and characters within this blog post are copyright and trademark their respective owners.

Comics Creators: If you are breaking into, or already work in the comic book industry or other pop culture productions, you are welcome to email or mail us press releases, news items, and updates that you feel would be of interest to our blog readers. Including YOUR own works!! (Note: I don't list my email address here, due to 'spambots' gathering it and 'spamming' me.
To mail printed items to us for possible review, send to:
Make It So Marketing Inc., PO Box 130653, Carlsbad, CA 92013, USA

Also, if you are a Facebook member, I would have liked you to have sent me a 'Friend Request'.
However, I have reached the maximum limit of 5,000 Facebook Friends and Fan pages in my network already, so I've added a New 'Facebook Fan Page' for myself so that even more of YOU can 'Like' what I am doing, and be interactive with me and others there.
---
Posted by makeitsomarketing at 6:46 AM PST
Updated: Sunday, February 20, 2011 8:17 AM PST