ConDor XVIII - San Diego's Longest Running Science Fiction & Fantasy Convention
Mood:
caffeinated
Topic: Other Cons



-

Above Photo: Herbert Jefferson Jr, 'Lt. Boomer' from (The Original) Battlestar Galactica TV Series, with Michael D Hamersky at the 2010 Long Beach Comic Con.

Top Left Photo: The ConDor Logo for ConDor Conventions, which is now in its 18th convention season.
TODAY'S FEATURE - Blog #3356:
Last year I 'introduced' my wife, Tina LoSasso, to her first sci-fi con, CONjecture 2010. (Here's her blog post on her thoughts on that intro!).
This year I'm introducing that 'World' to my youngest son, Vinnie, who will be attending the 'ConDor XVIII' for two of the three days, (Saturday & Sunday). I have my membership already for all three days of the con, which runs Friday through Sunday, February 25th - 27th of 2011. I'll be posting all of the necessary links for you at the end of this blog post for additional details.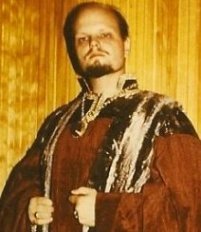 One of the main reasons I wanted to attend this con is that a high school buddy of mine, Scott Norton, co-founded this con many years ago.
Scott is pictured to the left, when he was in the 1983 S.T.A.R. Masquerade. Scott and I go way back to high school years, although he moved away before graduating from Mar Vista High School which we both attended, ending up graduating from Bonita Vista Senior High School. So we are both 'South Bay Boys'.
I've lost touch with him since his attending my first wedding, back in 1975, as I moved up to the Los Angeles Metro Area for several years. When I moved back down to San Diego, I was more into the comics conventions, whereas Scott, as I stated above, was a co-founder of this sci-fi con. He contacted me via Facebook in April of 2010, and we re-established 'contact'. I missed seeing him at the CONjecture 2010, as we went on different days.
I'm planning on seeing him again here at ConDor XVIII, as he will be in several panels. Which are:
Friday 5 PM Ascot Room - From Elfland to Poughkeepsie: Fantasy should sound like fantasy - Elwin Cotman, Scott Norton, Eric Shanower, Lynn Maudlin, Michael Underwood
Saturday 12 PM - Ascot Room - Gaming styles - RPGs as a literary activity - William Stoddard, Lisanne Norman, Allison Lonsdale, Scott Norton, Patricia Sallume
Sunday 2 PM - Ascot Room - Everyone Will Be Famous To Fifteen People: Famous in your small community - Arabella Benson, Val Ontell, Chris Weber, Allison Lonsdale, Scott Norton
Sunday 3 PM - Brittany Room - The City As A High Fantasy Location - Sherwood Smith, Sharon Mock, Dave Duncan, Scott Norton, Elwin Cotman
Of course programs and schedules and panelists are always subject to change.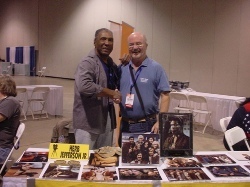 Then there's the opportunity of again meeting Herbert Jefferson Jr., who of course you would all know from his many roles!
I've had the pleasure of meeting Herb several times over the past few years, most recently at the 2010 Long Beach Comic Con (LBCC), as shown at the top right of this blog post, and to the left.
Herb Jefferson Jr played the role of Lt. Boomer on the original Battlestar Galactica and on the spin-off series Galactica 1980. His numerous other credits over more than forty years as an actor include roles on both Rich Man, Poor Man miniseries and appearances on such genre shows as Night Gallery and The Bionic Woman, as well as in the movie Apollo 13.
YOU can see Herbert at the following:
Sunday 2 PM - Brittany Room Q&A - Herb Jefferson
I don't know the rest of his schedule... And the ConDor web site doesn't show any other listings, or any tables he will be at. For updates to this blog post, please see my Facebook Fan Page: 'Michael D Hamersky On Comics' in the days to follow.
Herb didn't have a web site or fan page that he admins the last I knew. He does make the 'cons circuit' on a frequent basis. For more info on Herb, I can just offer you the link at Wikipedia.
Another Facebook Friend, who I met at the CONjecture 2010 I mentioned above, is Jean Graham.
She is pictured to the left, with one of her books. For a full list of what titles she has out, please see her web site, Jean Graham's Short Stories and Fan Fiction Archive.
Her short stories and essays have appeared in the anthologies The Time of the Vampires and Fantastical Visions I and I, & in online and print magazines. Two stories will soon be available via Fictionwise.com.
Jean also a panel schedule as seen here:
Friday 12 PM Garden Salon I - Scientific vs. Supernatural Horror - Jean Graham, Cody Goodfellow, Richard Dean Starr, Victoria Waks
Friday 3 PM Garden Salon I - Creationism vs Intelligent Design - Jean Graham, James Hay, Lynn Maudlin, Val Ontell, Michael Underwood
Friday 8 PM Brittany Room - The Myths Behind the Monsters: Folk origins of vampires, werewolves, and other traditional monsters - Jean Graham, Merrie Destefano, Jeanne Stein, Deborah Flores, Kiersten White
Saturday 1 PM Ascot Room - Gothic Horror - Alexandra Sokoloff, Jean Graham, Chris Farnsworth, Eric Shanower
Sunday 1 PM Brittany Room - The Science of Star Trek - Jefferson Swycaffer, Jean Graham, Karen Schultz, Victoria Waks
Sunday 2 PM Garden Salon I - Why Do People Believe Weird Things? - Stephen Potts, James Hay, Atanielle Rowland, Todd McCaffrey, Jean Graham
So you have plenty of opportunites to see her talk!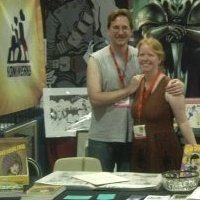 One more Facebook Friend, (who I will be meeting for the first time in person), is Mike Dubisch. He is shown at a different con, along with his wife, Carolyn Watson Dubisch, who I also hope to meet in person at the ConDor XVIII!
Mike Dubisch's paintings and drawings have shown at the Society Of Illustrators gallery and the JK5 Boutique. Previous projects include "Strange Fear" from Catskill Comix, and "The Vampire's Christmas," with Joseph Michael Linsner, from Image comics.
Dubisch has created art for album covers, CD Rom packaging, magazines, comic-book covers, paperback book covers, corporate logos, t-shirts and web-sites. He is perhaps best known for his moody drawings and paintings for fantasy role playing game sourcebooks, primarily "Rifts" and "Dungeons and Dragons."
Mike emailed me that: "Hey Michael, I'll be doing two panels and I will be doing two art demos- A Cthulhu Mythos art demo and a Fantasy Art Demo, I'll have my books there and at the signature event".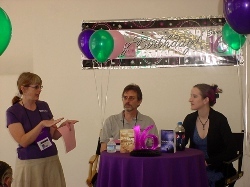 I also want to mention that Maryelizabeth Hart, co-owner of Mysterious Galaxy, which is San Diego's local source of books of Martians, Murder, Magic and Mayhem (with occasional Matchmaking and Munchkins), will also have a table in the dealers room. She will not personally be there, but the store will be represented in the Dealers Room by Patrick Heffernan!
Maryelizabeth is pictured to the left, along with her husband, Jeff Mariotte, along with Alice Henderson (at the right), at the May of 2009 'Sweet 16' party at the Mysterious Galaxy book store. That was a great celebration, with multiple guests and panels that day! (Click here for that archived blog post!)
There are other Facebook Friends that merit mention here today, but I've run out of room & time to post additional. That's why I've sub-titled this 'Part 1'!
Here are the links I promised from above:
For the Facebook Event Page for ConDor XVIII - click here.
For the Facebook Fan Page for Condor Cons - click here.
For the Condor Cons web site - click here.
The pre-registration period is over. However you can buy memberships for multiple days or single days at the con itself, as shown on the con's web site above.
For those of YOU in the San Diego area, I hope to see you there. Please stop me and say hello, if you would! With my 'bald head' and the indigo colored polo shirts I'm wearing all three days, that show my 'Comic Book Collectors Blog.com' name on the left breast area... I'm easy to identify! (See photo of me below this article.)
I'll be there all three days, mobile Facebooking, etc. I won't be able to blog more about this con until AFTER the event is over...
~Michael D Hamersky
---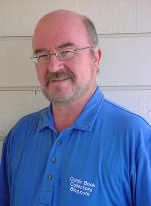 My thanks again to all of YOU reading this blog and the archived blog posts, now over 3,355 total posts in number! I do appreciate your continued reading and support of this Blog!
BTW, You can 'follow' this Blog by clicking the 'Follow' Button at this NetworkedBlogs app! We currently have over 2,250 'Followers'! Thanks to ALL of YOU that have already clicked that button! And for those of YOU that haven't yet... I would appreciate it if YOU would!!!
~ Michael D Hamersky
Note: My online 'Local' Comic Book Shop (LCBS), carries many different genres of comics, magazines, graphic novels, and comic con promotional items. Possibly even copies of the item that was reviewed here today...!
If I have it... You can find it 'Under The Big Top Of Comics' at: ComicBooksCircus.com
Web Page Note: This blog post is written for the IE Browser standards. Chrome, Safari, Netscape, Firefox and the other browsers serve the page up differently, sorry about that!
The screen display resolution is best seen at the setting of 1024 x 768 on your laptop or desktop computer.
NOTE: All images and characters within this blog post are copyright and trademark their respective owners.

Comics Creators: If you are breaking into, or already work in the comic book industry or other pop culture productions, you are welcome to email or mail us press releases, news items, and updates that you feel would be of interest to our blog readers. Including YOUR own works!! (Note: I don't list my email address here, due to 'spambots' gathering it and 'spamming' me.
To mail printed items to us for possible review, send to:
Make It So Marketing Inc., PO Box 130653, Carlsbad, CA 92013, USA

Also, if you are a Facebook member, I would have liked you to have sent me a 'Friend Request'.
However, I have reached the maximum limit of 5,000 Facebook Friends and Fan pages in my network already, so I've added a New 'Facebook Fan Page' for myself so that even more of YOU can 'Like' what I am doing, and be interactive with me and others there.
---
Posted by makeitsomarketing at 6:39 AM PST
Updated: Friday, February 25, 2011 6:16 AM PST