Vinnie's Take On Yogi Bear - The Film!
Mood:
caffeinated
Topic: Comic Book Movies
TODAY'S FEATURE - Blog #3430:

(Vinnie) Tina, my dad, and I watched the new Yogi Bear film this past Saturday night, so I thought I'd write a blog on my thoughts of it, as well as some information about some of the history of Yogi.

Yogi Bear had his first appearance in 1958, and since then has become a favourite from the Hanna-Barbara Studio series of cartoons. This film was his second non-TV movie; the first being in 1964.

The movie reminded me of the similar Scooby Doo live action films, where it didn't quite live up to it's cartoons. They just didn't feel as though they were part of what their shows really were. They both lacked much of the charm that the original shows contributed.

The plot wasn't like many children's movies, meaning just a meaningless storyline. It contained morals and a strong 'save the forest' type theme. This was due to Jellystone Park being in the process of being destroyed as a logging site, as the mayor wanted to make money for his upcoming governorship campaign.

So, to try to save the park, Ranger Smith holds a Centennial Festival for the park, while he hopes he can make a profit selling Season Passes to put the park at a profit, and get out of 'the red'. The reason the mayor chose the park is because he can 'rezone' any place not turning a profit to allow for more money for the city.

Yogi and friends find a loophole, and are fighting time to get to it before the mayors guards do. In order to do so, they use some Wile E. Coyote type contraptions to get there first.

I enjoyed the voice acting (especially Dan Aykroyd as Yogi), and I believe they chose great people for the 'real actors' roles. I don't know the people who were voice acting, (besides hearing of Justin Timberlake), but I feel the voices fit the characters nicely.

I also liked who they chose for physical acting which includes Anna Farris, Tom Cavanaugh, T.J. Miller, and Andrew Daly. They played their roles very well, and I find that they were all likeable characters. They made these characters seem real, which is what I think movies should do.

The movie, I would say, is for young kids, or for adults who watched Yogi Bear as a child. It has a juvenile sense of humor, but one may still enjoy some good old memories by re-visiting the cartoon.

Some parts may contain some cringe-inducing moments, such as Yogi dancing to 'Baby Got Back.'

Overall, I would give the 'Yogi Bear' film a Fine/Very Fine (F/VF), a 7.0 out of a 10.0 comic book grading scale.

~Vinnie!
----------------------------------------
Thanks, Vinnie!
I grew up on Yogi Bear cartoons, and feel a little sentimental about this character... And I laughed several times on the jokes. So for you 'older kids' out there, like me!, I gave it a VERY FINE / VERY FINE PLUS (VF/VF+) 8.25 out of a 10.0 possible comic book grading scale.
However, Tina, who also watched Yogi Bear cartoons as a kid, gave this film only a VERY GOOD / FINE (VG/F) 5.0 out of a possible 10.0 comic book grading scale.
So parents, you may or may not enjoy watching this one with your kids!
~ Michael
-------------------------------------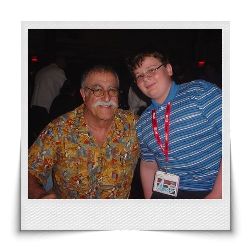 Note: Vinnie makes it to as many comic cons with me as he can. He collects the 'Amazing Spider-Man' comic book series, but is open to read other titles from publishers that print titles that are age appropriate for him. He also has been attending 'behind the scenes' events, such as the one he blogged about ht here: Vinnie's Special 'Look at The Captain Rochester Party for the Artists' at the recent 2010 Comic-Con International: San Diego! He really had fun meeting and having dinner with Sergio Aragones, Bob Burden, Scott Shaw! and others there at this exclusive after hours Comic-Con Party in San Diego!
Also...If YOU liked Vinnie's guest review blog today, you may also enjoy reading Vinnie's other reviews on: Jim Henson's Fraggle Rock Vol 2 #1 of 3, Space Punks #2, Jim Henson's Fraggle Rock Vol 2 #2 of 3, Kleeman and Mike #1, Mortifera #3, Classics Illustrated #142 Abraham Lincoln - 8th Edition, 2011 FCBD Edition - Mouse Guard / Dark Crystal Flip Book, Fraggle Rock Volume 2 #3 of 3, Bear and Fox #2, Space Punks #1, The Daughters of Merlin #1, Sea Ghost #1, Mouse Guard: Legends of the Guard #4 (of 4), Clutch Cargo DVD, The All New Super Friends Hour Season 1 DVD, The Ultimate Underdog Collection Volume 1, Planet Hulk, Coraline, Ponyo, X-Men Origins: Wolverine, Sonic the Hedgehog TPB Vol 1, Cloudy With A Chance of Meatballs, The Possum #1 comic book, Vinnie's Take on Berona's War: Field Guide, just to name a recent few!
Thanks Vinnie, for guest blogging here today!
~Michael D Hamersky
---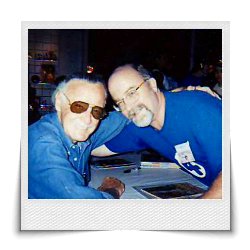 My thanks again to all of YOU reading this blog and the archived blog posts, now over 3,429 total posts in number! I do appreciate your continued reading and support of this Blog!
BTW, You can 'follow' this Blog by clicking the 'Follow' Button at this NetworkedBlogs app! We currently have over 2,452 'Followers'! Thanks to ALL of YOU that have already clicked that button! And for those of YOU that haven't yet... I would appreciate it if YOU would!!!
~ Michael D Hamersky
Note: My online 'Local' Comic Book Shop (LCBS), carries many different genres of comics, magazines, graphic novels, and comic con promotional items. Possibly even copies of the item that was reviewed here today...!
If I have it... You can find it 'Under The Big Top Of Comics' at: ComicBooksCircus.com.
If it isn't available in my online 'Local Comic Book Shop, (LCBS), then you may be able find it in my Amazon affiiate link, as seen here: Comics & Graphic Novels
at Amazon!
Web Page Note: This blog post is written for the IE Browser standards. Chrome, Safarai, Netscape, Firefox and the other browsers serve the page up differently, sorry about that!
The screen display resolution is best seen at the setting of 1024 x 768 on your laptop or desktop computer.
NOTE: All images and characters within this blog post are copyright and trademark their respective owners.

Comics Creators: If you are breaking into, or already work in the comic book industry or other pop culture productions, you are welcome to email or mail us press releases, news items, and updates that you feel would be of interest to our blog readers. Including YOUR own works!! (Note: I don't list my email address here, due to 'spambots' gathering it and 'spamming' me.
To mail printed items to us for possible review, send to:
Make It So Marketing Inc., PO Box 130653, Carlsbad, CA 92013, USA

Also, if you are a Facebook member, I would have liked you to have sent me a 'Friend Request'. However, I have reached the maximum limit of 5,000 Facebook Friends and Fan pages in my network already, so I've added a New 'Facebook Fan Page' for myself so that even more of YOU can 'Like' what I am doing, and be interactive with me and others there. Here is the link to that 'Facebook Fan Page': Michael D Hamersky On Comics! Please click the 'Like' button on that page!
---
Posted by makeitsomarketing at 12:01 AM PDT
Updated: Tuesday, June 7, 2011 4:29 AM PDT