The 2011 Comic-Con International: San Diego (SDCC) Part 2 - Shopping FOR The Con!
Mood:
caffeinated
Topic: Comic Cons
The 2011 Comic-Con International: San Diego (SDCC)!

Part 2 - Shopping FOR the Con!

July 20th (Preview Night) Thru July 24th, (My Birthday), 2011




-

Photos: (above) When attending the San Diego Comic Con International, be prepared to stop at any moment for a quick photo! No, it's NOT the TSA checking security at the SDCC! (Above top left) My wife always spots 'Wonder Woman' for me at this con, but WW wasn't to be seen at the DC booth at the time of this photo! (Both pics from 2010 SDCC)
TODAY'S FEATURE - Blog #3458 - Part 2 of a series on the 2011 Comic-Con International San Diego:
Yesterday, my wife Tina and I spent most of the day shopping for the upcoming Comic-Con International: San Diego.
That's right... I said shopping 'for' the Comic-Con, not shopping 'at' the con!
That's because after 11 years of attending the Comic-Con, Tina has learned to be prepared, as we arrive very early to the convention center, and don't leave the premises unless we have an 'after-con party' to attend in the evening!
So we spent the day buying multiple items at multiple stores. Being an experienced attendee at this con, (I have been attending since 1991 straight without missing a year at the convention center, and actually started attending officially back in 1972, when I bought out a comics dealer at the El Cortez site), as mentioned in blog #3450!
I ordered new walking shoes, as I have very wide feet, and don't want any problems walking the massive convention center PLUS the hotels next to the convention center that are also having 'panels' and 'programs'. Trust me... Comfortable shoes are the #1 item to bring to this convention!
Next I purchased new blue jeans, to match my new 'ComicBookCollectorsBlog.com' Navy blue colored polo shirts that you will be seeing more of in this blog in the weeks to come! (Yeah, I still have a half-dozen of the indigo colored shirts... But those were getting a little worn, as I wear them to all of the conventions I attend, for easier recognition.) Here's a link to Semantink's Comic Savvy in Mission Valley, San Diego, where I 'premiered' the Navy Blue polo shirts at earlier last month.)
Tina also bought new shoes, pants, and tops for the Comic-Con. Yes, in the past we have bought t-shirts on the exhibit floor from dealers that peddle those, but we also have to remember that we want our photos taken with certain individuals and groups while at the Comic-Con, and at any 'after con parties' we attend. So being comfortable is the priority, but also feeling that we can fit into any crowd scene we find ourselves invited to. There isn't a 'dress code' for most of the events. Hey's it's 'laid back San Diego' after all!
We also bought plenty of snacks, which will be lugged around the convention center in small quantities. I say 'small quantities', as the swag we pick up on the exhibit floor, plus the comics / graphic novels / TPBs that I am given by comics creators in Artists Alley & the Small Press sections for possible review in this Blog, get very heavy after a while!
As an additional note on food... Ever since Tina came down with food poisioning at this con, we have been very careful as to what we purchase there. She missed a whole day of the con, and after looking forward to attending all five days, that was a big disappointment for her that year! So we stay away from non-cooked food there, (hint!).
We already bought pre-paid parking under the San Diego Convention Center three months ago, but the first day, 'Preview Night' was already reserved for those setting up at the Comic-Con. Thus we are nearby, but not where we can easily take items back to the car that night.
I also want to remember to mention that there have been quite a few mentions of the Comic-Con in this Blog since it started in 2006...! Here's a link to all of the mentions of the SDCC during the years of this Blog and its predecessor in the eBay Blogs platform, which were copied overr! There are several lists of what to bring in some of those also!
Talking about links, in the previous blog #3450, I posted links to all of the photo albums that have photos from previous Comic-Cons I've attended. I'm not going to repeat them here, except for the current year:
2011 San Diego Comic Con International SDCC
Which is where I'll be posting photos to after this year's con is over. My movible Facebooked photos will go to the 'Wall Photos' album, and will need to be moved over later.
So I've mentioned what we purchased yesterday, which should be a help to those of you attending this con for the first time.
From 2010, here are the links:
The Pre San Diego Comic Con International 2010 - Check Off List - Part 1
The Pre San Diego Comic-Con International Check Off List - Part 2
The Pre San Diego Comic-Con International Check Off List - Part 3.
Tina and I are working on the programming schedules, of which Wednesday through Saturday have already been posted. Sunday's was not up yet, as of this posting.
I've already started a 'Notes' section for what I believe are the 'Hi-Lites' for Thursday's programming. Not necessarily what I would want to go to, but programs / panels that I believe are unique enough, or happen so infrequently at thic Comic-Con to point out.
Here is the link to Thursday's Hi-Lites, as seen at my Facebook fan page:
As I get time, I'll be doing that for the additional days. Those days will be set up in separate 'Notes' pages.
It's only TEN DAYS away now!
I'm definitely looking for ward to attending the 2011 San Diego Comic Con International for my 'Birthday Week'! As for the last time probably for a while, my Birthday actually occurs during Comi-Con Week, which is the BEST place for me to spend that special day at. And this year it is on the last day of the Con! So I get to 'party' all Week at the Con!~Michael D Hamersky
---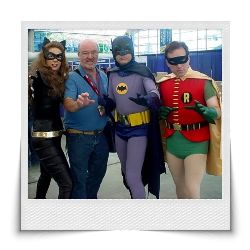 My thanks again to all of YOU reading this blog and our archived blog posts, now at 3,458 total posts in number! I do appreciate your continued reading and support of this Blog!
BTW, You can 'follow' this blog by clicking the 'Follow' Button at this NetworkedBlogs app! We currently have over 2,483 'Followers'! Thanks to ALL of YOU that have already clicked that button!
And for those of YOU that haven't yet... I would appreciate it if YOU would!!!
~ Michael D Hamersky
Note: My online 'Local' Comic Book Shop (LCBS), carries many different genres of comics, magazines, graphic novels, and comic con promotional items. Possibly even copies of the item that was reviewed here today...!
If I have it... You can find it 'Under The Big Top Of Comics' at:
http://www.ComicBooksCircus.com/
Web Page Note: This blog post is written for the IE Browser standards. Chrome, Safari, Netscape, Firefox and the other browsers serve the page up differently, sorry about that!
The screen display resolution is best seen at the setting of 1024 x 768 on your laptop or desktop computer. Note: As of Monday, June 27th, 2011, I'll be using my new laptop, where the default resolution is 'higher', so there may be some temporary glitches until I am used to the new resolution.
NOTE: All images and characters within this blog post are copyright and trademark their respective owners.

Comics Creators: If you are breaking into, or already work in the comic book industry or other pop culture productions, you are welcome to email or mail us press releases, news items, and updates that you feel would be of interest to our blog readers. Including YOUR own works!
To mail printed items to us for possible review, send to:
Make It So Marketing Inc., PO Box 130653, Carlsbad, CA 92013

Also, if you are a Facebook member, I would have liked you to send me a 'Friend Request'. However, I have reached the maximum limit of 5,000 Facebook Friends and Fan pages already, so I've added a New 'Facebook Fan Page' so that even more of YOU can 'Like' what I am doing, and be interactive with me and others there. Here is the link to that 'Facebook Fan Page': Michael D Hamersky On Comics! Please click the 'Like' button on that page!
---
Posted by makeitsomarketing at 4:47 AM PDT
Updated: Monday, July 11, 2011 9:51 AM PDT