The First Ever COMIKAZE Expo Is Running November 5th & 6th of 2011!
Mood:
caffeinated
Topic: Comic Cons
-

Top Left Photo: One of the Comikaze Expo Posters!

-

Above Top Photo: Another Comikaze Expo Poster! This first time convention is covering comics, anime, sci-fi, fantasy and horror... All under one roof! At the Los Angeles Convention Center in downtonw Los Angeles, California, on November 5th & 6th of 2011!
TODAY'S FEATURE - Blog #3522:
I want to bring to your attention that the first ever COMIKAZE EXPO will be running November 5th thru 6th at the Los Angeles Convention Center!
As it is with any first time show, there will be many questions as to what the convention is about... What it is exhibiting... What Guests will be there... Who else is attending... etc., etc.
Well, I'm going to list the links that I think are important for you to check out, as the Expo isn't that many days away now! Only four weekends away, actually!
First, as it is a new show on the convention circuit, I'm going to direct you to the Facebook Fan Page for the Comikaze Expo, where you should direct any questions directly to the con promoters! They have been pretty good in responding so far to questions that are posted there...
The actual main web page for the Comikaze Expo is shown here.
The web page for Guests of Honor is here. Including Pop Culture guests: Stan Lee & Elvira as the headliners!
Featured Guests page shows that there are several Star Trek: Voyager stars will be there, including Robert Beltran, Jennifer Lein, and Tim Russ. Plus Erin Gray of Buck Rogers of the 25th Century TV Show will be there! Who else...? Take a look at the link to see more!
Writers, Artists, and other Comic Book creators will be there as well, including Wes Huffor, George Chase, and several of the new DC 52 creators.
Interested in gaming tournaments? Check out this link.
Okay... that's about it right now on upcoming features at this point in time when this blog is posted.
Again, I'm going to suggest that you 'Like' their Facebook Fan Page, to keep up with what else will be happening at this Expo. Which is easier to spot than on their web page.
As for tickets, you can purchase them right now at their ticket web page.
Tina and I are planning to be there both days, taking photos for my own Facebook Fan Page, and additional blog posts afterwards.
The special photo album at my own Facebook Fan Page has been set up here.
Since the Comikaze Expo is the first weekend of November, I suggest that you mark your calendars now, purchase your tickets online, and be set to attend, as first of the month events sometimes sneak up on us way too soon!
As I said above... Tina and I will be there... So we hope to see YOU there also??!!
~Michael D Hamersky On Comics!
---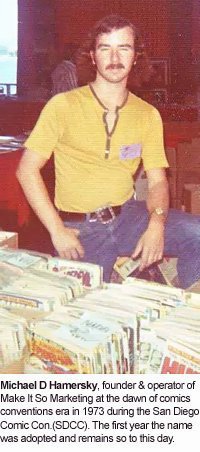 NOTE FROM THE BLOGGER:
My thanks again to all of YOU reading this blog and our archived blog posts, now at 3,522 total posts in number! I do appreciate your continued reading and support of this Blog!
BTW, You can 'follow' this blog by clicking the 'Follow' Button at this NetworkedBlogs app link! We currently have over 2,567 'Followers'! Thanks to ALL of YOU that have already clicked that button!
And for those of YOU that haven't yet... I would appreciate it if YOU would!!!
~ Michael D Hamersky
Note: My online 'Local' Comic Book Shop (LCBS), carries many different genres of comics, magazines, graphic novels, and comic con promotional items. Possibly even copies of the item(s) that was mentioned here today...!
If I have it... You can find it 'Under The Big Top Of Comics' at:
http://www.ComicBooksCircus.com/
Web Page Note: This blog post is written for the IE Browser standards. Chrome, Safari, Netscape, Firefox and the other browsers serve the page up differently, sorry about that!
The screen display resolution is best seen at the setting of 1024 x 768 on your laptop or desktop computer. Note: As of Monday, June 27th, 2011, I'll be using my new laptop, where the default resolution is 'higher', so there may be some temporary glitches until I am used to the new resolution.
NOTE: All images and characters within this blog post are copyright and trademark their respective owners.

Comics Creators: If you are breaking into, or already work in the comic book industry or other pop culture productions, you are welcome to email or mail us press releases, news items, and updates that you feel would be of interest to our blog readers. Including YOUR own works!
To mail printed items to us for possible review, send to:
Make It So Marketing Inc., PO Box 130653, Carlsbad, CA 92013

Also, if you are a Facebook member, I would have liked you to send me a 'Friend Request'. However, I have reached the maximum limit of 5,000 Facebook Friends and Fan pages already, so I've added a New 'Facebook Fan Page' so that even more of YOU can 'Like' what I am doing, and be interactive with me and others there. Here is the link to that 'Facebook Fan Page': Michael D Hamersky On Comics! Please click the 'Like' button on that page!
---
Posted by makeitsomarketing at 12:01 AM PDT
Updated: Thursday, October 27, 2011 7:36 AM PDT