Michael D Hamersky On Comics Presents An EXCLUSIVE On The Upoming Nuke The Fridge Con!
Mood:
a-ok
Topic: Comic Cons
2011 Nuke The Fridge Con!
Doug (SILVER SURFER) Jones Joins Lou (THE HULK) Ferrigno, Reb (CAPTAIN AMERICA) Brown, AND Stan (THE MAN) Lee at the 2011 Nuke The Fridge Con For A Marvel-ous Team-Up!
When? Saturday, December 10th! Where? At Frank & Son Warehouse In The City of Industry! (Los Angeles Metro)
| | | | | |
| --- | --- | --- | --- | --- |
| | | | | |
TODAY'S FEATURE - Blog #3535:
This upcoming Nuke The Fridge Con is really coming up with guest stars to feature!
I previously posted in blog #3529 who was going to be there as guests... But on the way out Saturday night of the 2011 Long Beach Comic Con, Promoter Louis Love let me in on an Exclusive who else would be attending as a guest!
None other than 'The Silver Surfer' himself, Doug Jones!
So this will defintely be a 'MARVEL-ous Comic Con' to attend, as the others pictured above are all Stars who have played Marvel Comics Characters either on TV or on the Big Screen!
So my thanks to Louis Love for this Exclusive! We were going to be there anyways as Tina and I are going to be setting up a comic books dealer table at this comic con as well, but now it is truly a 'MARVEL-ous' Team-Up!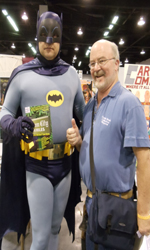 Plus, although it is a different 'comic book universe', I'll be selling AND signing copies of 'my' new book, 'GOTHAM CITY 14 MILES', of which I'll have a dozen copies coming in time for this event. With only a dozen copies of the book available there... If YOU want a signed copy, be sure to stop by my table as you get in! Of course, if you have already bought the book elsewhere, I'd be glad to personally sign it for you as well!
Yeah I know... I mentioned earlier that I haven't set up at a con for many years, but after Tina and my youngest son got a kick out of setting up in August when invited to do so at another con... Tina and I are doing it again... This time at the 2011 NukeTheFridge.com Con!
And... If I can break away from our table long enough to do so... I for one want to sell hello again to several of the guest stars at this 1 day event! As you can see from several of the pics above, I've already had the pleasure of meeting them and having my pic taken with them!
My thanks again to Louis Love, of NuketheFridge.com, for telling me the EXCLUSIVE News about who else will be at this con!
Well, that's it for announcing this con... Except for posting the links YOU should check out:
Facebook Fan Page for NukeTheFridge.com
Facebook Event Page for NukeTheFridge.com Con 2011
Tina and I hope to see you there! Feel free to stop by and say hello at any time! We will be there before the opening at 8:30 all set up, and staying till closing time at 5PM.
Which reminds me... Here's the event info once more:
Time: Saturday, December 10 · 8:30 AM - 5 PM
Location: Frank and Son Collectible Show 19649 San Jose Ave. Industry, CA
With FREE admission AND FREE parking! Wotta Deal!

~Oh, and if you are reading this on Sunday, October 30th... The Long Beach Comic & Horror Con is still happening this weekend, as it ends today in Long Beach, California! Stop by and see Louis Love at Booth #901 which is on the way in & out of the main entrance to the LBCC!
~Michael D Hamersky On Comics!
---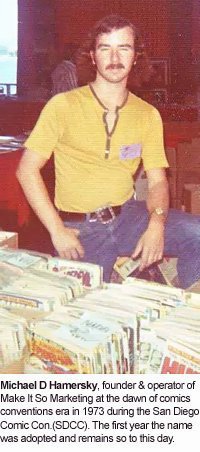 NOTE FROM THE BLOGGER:
My thanks again to all of YOU reading this blog and our archived blog posts, now at 3,535 total posts in number! I do appreciate your continued reading and support of this Blog!
BTW, You can 'follow' this blog by clicking the 'Follow' Button at this NetworkedBlogs app link! We currently have over 2,594 'Followers'! Thanks to ALL of YOU that have already clicked that button!
And for those of YOU that haven't yet... I would appreciate it if YOU would!!!
~ Michael D Hamersky
Note: My online 'Local' Comic Book Shop (LCBS), carries many different genres of comics, magazines, graphic novels, and comic con promotional items. Possibly even copies of the item(s) that was mentioned here today...!
If I have it... You can find it 'Under The Big Top Of Comics' at:
http://www.ComicBooksCircus.com/
Web Page Note: This blog post is written for the IE Browser standards. Chrome, Safari, Netscape, Firefox and the other browsers serve the page up differently, sorry about that!
The screen display resolution is best seen at the setting of 1024 x 768 on your laptop or desktop computer. Note: As of Monday, June 27th, 2011, I'll be using my new laptop, where the default resolution is 'higher', so there may be some temporary glitches until I am used to the new resolution.
NOTE: All images and characters within this blog post are copyright and trademark their respective owners.

Comics Creators: If you are breaking into, or already work in the comic book industry or other pop culture productions, you are welcome to email or mail us press releases, news items, and updates that you feel would be of interest to our blog readers. Including YOUR own works!
To mail printed items to us for possible review, send to:
Make It So Marketing Inc., PO Box 130653, Carlsbad, CA 92013

Also, if you are a Facebook member, I would have liked you to send me a 'Friend Request'. However, I have reached the maximum limit of 5,000 Facebook Friends and Fan pages already, so I've added a New 'Facebook Fan Page' so that even more of YOU can 'Like' what I am doing, and be interactive with me and others there. Here is the link to that 'Facebook Fan Page': Michael D Hamersky On Comics! Please click the 'Like' button on that page!
---
Posted by makeitsomarketing at 12:01 AM PDT
Updated: Sunday, October 30, 2011 8:34 AM PDT