My Take On: Comic Book Junkie #1 From Hypno Comics
Mood:
caffeinated
Topic: Comic Books - New
Top Photo left column: The Front Cover to Comic Book Junkie #1!

Photo at top of this column: At the Hypno Comics Table at the 2011 Long Beach Comic & Horror Con, (L-R) George Chase, Lance Sawyer!
TODAY'S FEATURE - Blog #3539:
This past weekend Tina and I attended the 3rd Annual Long Beach Comic & Horror Con in Long Beach, California.
While walking through the vast Artists Alley of the exhibit floor at this con, we both came up to the Comic Book Junkie / Hyno Comics table. I recognized the signage from the wall posts on the LBC&HC's Facebook wall, that George Chase had been posting on.
I said hello to both George Chase, (creator & writer), and Lance Sawyer (cover & interior art) and proceeded to check out issue #1 of their new title 'Comic Book Junkie' issue #1. I had mentioned previously on George's work at this blog and at my own Facebook fan page as seen here. Same with Lance, as seen here.
So what's this comic book about? Here's what the publisher has as a promo:
"If you are looking for Superheroes, yeah we got 'em, but they're going to cost you. I'm going to let you in on a secret. A dark, violent, and humourous secret.
A secret about being a comic book dealer back in the 1990s. You're about to get a glimpse behind the curtain through the drug glazed eyes of people who made their livings selling you books about men in tights.
It was the 90's and it was good to be a comic book dealer.
This was a time of the variant cover, speculative buyers, and suckers. The comic companies were turning out crap that fanboys were more than happy to spend their hard earned cash on and there were dealers like us woh cashed in on it."
So... What's 'My Take' on this comic book?
First up was the front cover. From the first glance at this cover, you know it is going to be 'hard hitting'. The 'warning' label at the bottom right of the cover confirms that. The use of the black / grey / white / red colors on the cover are striking. Good first impression!
Inside front cover - Good introduction with credits immediately shown. I had picked up the regular cover by Lance Sawyer. There is also a 'variant cover' by Ryan Kincaid.
Splash page - This does make a 'splash' going into it. Hard hitting and with the title of the story being: "Bitch Betta Have My Comics!", the warning label on the front cover is justified right off the bat.
Interior pages - This is a 20 page black & white interior pages comic book. The storyline is set at a good pace and the artwork totally blends in with the story. This is a 'continued series', but the first chapter wraps up nicely. There are a few curse words used in the dialogue as the story unfolds.
The inside back cover is a preview of what is to come in the future... With a photo of George and Lance with their thanks to those that have already supported the effort on getting this series off the ground.
The back cover is a collage of ads which is fine.
I found this first issue a good intro to the series, and the set up for the next issue, "Going To The Show", a logical step in telling the story arc. Where it is going from there... I don't know?!
The last time I personally had set up as comic book dealer was in the boom years of the early to mid 1990's, (well... until this past August at the So Cal Comic Con, 20 years later!), but I don't remember having this much 'fun'! Of course, I was married then, and the comic book setup at cons was a part-time gig for me!
I'm looking forward to seeing where George & Lance take us on this series!
My comic book grade for this first issue is a VERY FINE / NEAR MINT (VF/NM) 9.0 out of a possible 10.0 comic book grading scale. I do want to emphasize the 'Warning' label at the bottom right of the front cover. 'Parental Advisory Explicit Content. It says what it means, folks! No young children!
For those of you on Facebook... You can find more info, and 'Like' the Fan Page at: Comic Book Junkie #1, to interact with the comic book creators and other fans.
You can find this comic book online for purchase at this link: Hypno Comics.
My thanks to George Chase and Lance Sawyer for bringing this comic book series to my attention!
BTW, if YOU are in the Los Angeles Metro Area THIS upcoming weekend...November 5th & 6th... Hypno Comics / Comic Book Junkie will have a booth at the upcoming ComiKaze Expo, which I have blogged about at this link!
~Michael D Hamersky On Comics!
---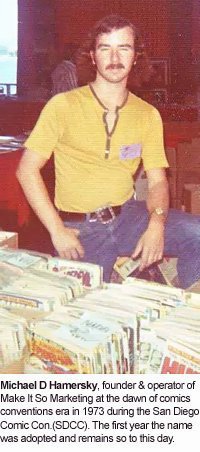 NOTE FROM THE BLOGGER:
My thanks again to all of YOU reading this blog and our archived blog posts, now at 3,539 total posts in number! I do appreciate your continued reading and support of this Blog!
BTW, You can 'follow' this blog by clicking the 'Follow' Button at this NetworkedBlogs app link! We currently have over 2,599 'Followers'! Thanks to ALL of YOU that have already clicked that button!
And for those of YOU that haven't yet... I would appreciate it if YOU would!!!
~ Michael D Hamersky
Note: My online 'Local' Comic Book Shop (LCBS), carries many different genres of comics, magazines, graphic novels, and comic con promotional items. Possibly even copies of the item(s) that was mentioned here today...!
If I have it... You can find it 'Under The Big Top Of Comics' at:
http://www.ComicBooksCircus.com/
Web Page Note: This blog post is written for the IE Browser standards. Chrome, Safari, Netscape, Firefox and the other browsers serve the page up differently, sorry about that!
The screen display resolution is best seen at the setting of 1024 x 768 on your laptop or desktop computer. Note: Your computer's resoulution may be set differently, but the above resolution is the most commonly used resolution at the time of this blog post.
NOTE: All images and characters within this blog post are copyright and trademark their respective owners.

Comics Creators: If you are breaking into, or already work in the comic book industry or other pop culture productions, you are welcome to email or mail us press releases, news items, and updates that you feel would be of interest to our blog readers. Including YOUR own works!
To mail printed items to us for possible review, send to:
Make It So Marketing Inc., PO Box 130653, Carlsbad, CA 92013

Also, if you are a Facebook member, I would have liked you to send me a 'Friend Request'. However, I have reached the maximum limit of 5,000 Facebook Friends and Fan pages already, so I've added a New 'Facebook Fan Page' so that even more of YOU can 'Like' what I am doing, and be interactive with me and others there. Here is the link to that 'Facebook Fan Page': Michael D Hamersky On Comics! Please click the 'Like' button on that page!
---
Posted by makeitsomarketing at 12:01 AM PDT
Updated: Thursday, November 3, 2011 7:56 AM PDT