My Take On: The Collected BRU-HED America's Favorite Blockhead!
Mood:
caffeinated
Topic: Comic Books - New
Mike Pascale's

-

Top Photo left column: The Front Cover to 'The Collected BRU-HED, America's Favorite Blockhead!

-

Photo at top of this column: Mike Pascale during the recent 2011 Long Beach Comic Con, at the Wednesday's Heroes booth run by Craig Rogers!
TODAY'S FEATURE - Blog #3549:
The past few weekends have flown by for me! Two comic cons in a row and then a comics get-together that didn't happen at the last minute, but that I had to prepare for! So I have a lot of old friends, new acquaintances, and people I 'knew' online but not in 'real life'!
Back on October 29th & 30th Tina and I were at the 3rd Annual Long Beach Comic & Horror Con in Long Beach, California. There, among hundreds of other exhibitors, we met Mike Pascale, who recognized me and said hello from the other side of his booth's table in Artists Alley. We have been Facebook Friends since March of 2010, although I've not met him in person before.
Of course I knew of Mike from his works in the comics industry for several years. Yet I had not read his independent comic book title before. It was published a few years back, (here is the link to the Grand Comics Database).
So when he asked me if I had read it before, I had to honestly say no... and was pleased to receive a copy for possible review!
So what is the 'Collected Bru-Hed' all about? Here's a publicity promo on it:
"Presenting THE COLLECTED BRU-HED trade paperback! A humorously huge collection of the original four-issue BRU-HED mini-series plus the long out-of-print Test-Market Ashcan Edition–as well as some never-before-printed gags, sketches and insights from creator/writer/artist/crapmaster Mike Pascale. This is the award-winning series you missed in the '90s, with the first-ever digitally painted covers by SPECTRUM™-award-winning artist Dean Armstrong!"
Okay... That was kind of short n' sweet.
What was 'My Take' on this?
I looked at the front cover of this book, figuring it wasn't by Mike. It was by Dean Armstrong.
The Inside credits pages, etc. stated that the 'Collected' stories dated back to 1986 and up to 1997. So this was the period I was still mainly collecting Marvel Comics, and not reading too many indies, which is why I missed out on reading the original comics.
There is an 'introduction' of sorts by Clifford Meth to Bru-Hed, which was informative.
Then Mike Pascale presents a one page 'Authors Note' to kick off what the reader would see next. Another nice piece of info for someone new to this character. Good so far...
The first story presented is 'Don't Take The World Serious', which was actually first published in issue #1 back in March of 1994. The story wasn't dated at all, and was a good intro story to the main character.
On the next pages I found character development, and all kinds of situations that this 'Blockhead' got into! Not a 'Charlie Brown, you blockhead' kind of situations, but stories that were more developed due to the amount of pages given each story versus a comic strip.
By the end of the collected stories book, I had a good feel for the character, and what Mike had wanted to do with this series, which I felt that he clearly presented.
Yeah, it is not for all ages! But it is a fun read!
If you missed the period of time when the comic books were first published... and are familiar with Mike's works since then, you might want to give this a look at, or mention it during the upcoming holidays season!
My comic book grade for this series of comic books is a NEAR MINT MINUS(NM-) 9.2 out of a possible 10.0 comic book grading scale.
Here is the info you would need to buy it from you usual source:
Publisher: Schism Comics; 1st edition (1997)
Language: English
ISBN-10: 1888669063
ISBN-13: 978-1888669060
Of course you could also buy it online where I buy items such as this at: The collected Bru-hed: America's favorite blockhead!
...
Mike doesn't have a web site of his own, but he is represented by Wednesday's Heroes, as see at Craig Rogers web site: Wednesday's Heroes.
There is also a link to Mike's illustrations / sketches etc, as seen here.
Mike does have a Facebook Fan Page titled: Mike Pascale, Artist/Writer that I suggest you 'LIKE'!
BTW, Craig also represents Richard Cox, David Gutierrez, ERic W. Meador, and Nick Pitarra, as well as Mike Pacale. So take the time to check out the above link if you are fans of any of those other creators!
My thanks again to Mike Pascale, as well as Craig Rogers for the courtesy extended at the booth at the 2011 Long Beach Comic & Horror Con!
~Michael D Hamersky On Comics!
---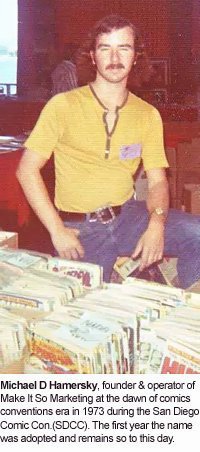 NOTE FROM THE BLOGGER:
My thanks again to all of YOU reading this blog and our archived blog posts, now at 3,549 total posts in number! I do appreciate your continued reading and support of this Blog!
BTW, You can 'follow' this blog by clicking the 'Follow' Button at this NetworkedBlogs app link! We currently have over 2,615 'Followers'! Thanks to ALL of YOU that have already clicked that button!
And for those of YOU that haven't yet... I would appreciate it if YOU would!!!
~ Michael D Hamersky
Note: My online 'Local' Comic Book Shop (LCBS), carries many different genres of comics, magazines, graphic novels, and comic con promotional items. Possibly even copies of the item(s) that was mentioned here today...!
If I have it... You can find it 'Under The Big Top Of Comics' at:
http://www.ComicBooksCircus.com/
Web Page Note: This blog post is written for the IE Browser standards. Chrome, Safari, Netscape, Firefox and the other browsers serve the page up differently, sorry about that!
The screen display resolution is best seen at the setting of 1024 x 768 on your laptop or desktop computer. Note: Your computer's resoulution may be set differently, but the above resolution is the most commonly used resolution at the time of this blog post.
NOTE: All images and characters within this blog post are copyright and trademark their respective owners.

Comics Creators: If you are breaking into, or already work in the comic book industry or other pop culture productions, you are welcome to email or mail us press releases, news items, and updates that you feel would be of interest to our blog readers. Including YOUR own works!
To mail printed items to us for possible review, send to:
Make It So Marketing Inc., PO Box 130653, Carlsbad, CA 92013

Also, if you are a Facebook member, I would have liked you to send me a 'Friend Request'. However, I have reached the maximum limit of 5,000 Facebook Friends and Fan pages already, so I've added a New 'Facebook Fan Page' so that even more of YOU can 'Like' what I am doing, and be interactive with me and others there. Here is the link to that 'Facebook Fan Page': Michael D Hamersky On Comics! Please click the 'Like' button on that page!
---
Posted by makeitsomarketing at 3:42 PM PST
Updated: Thursday, November 17, 2011 5:33 PM PST