At The Drawing Board...
Mood:
caffeinated
Topic: Comic Book History
At The Drawing Board!

A New Special Photo Album Started At His Facebook Fan Page!





(Pictured In Photos Above And To The Right Are (L-R) : Magnus 'Mojo' Olsson, Al Wiesner, and Huckleberry Hound?!)

TODAY'S FEATURE IS BLOG #3592 - I started a new photo album over at my Facebook Fan Page, Michael D Hamersky On Comics, earlier this week, that I titled: 'At The Drawing Board...'.
Which although most of you know the expression "...back to the drawing board", and also know what a 'Drawing Board' is... I thought I would share with you photos of cartoonists / comic book pencilers / comic book inkers / caricaturists / etc., that I have come across or have been sent in to me to share.
Yes, I only have a dozen showing so far, but there are more to come!
First let me re-print a little on 'Drawing Boards', per the Wikipedia entry:
A drawing board (also drawing table, drafting table or architect's table) is, in its antique form, a kind of multipurpose desk which can be used for any kind of drawing, writing or impromptu sketching on a large sheet of paper or for reading a large format book or other oversized document or for drafting precise technical illustrations. The drawing table used to be a frequent companion to a pedestal desk in a gentleman's study or private library, during the preindustrial and early industrial era.

More recently engineers and draftsmen use the drawing board for making and modifying drawings on paper with ink or pencil. Different drawing instruments (set square, protractor, etc.) are used on it to draw parallel, perpendicular or oblique lines. There are instruments for drawing circles, arcs, other curves and symbols too (compass, French curve, stencil, etc). However, with the gradual introduction of computer aided drafting and design (CADD or CAD) in the last decades of the 20th century and the first of the 21st century, the drawing board is becoming less common."
And that is where I'm coming from on presenting photos of those that have used them in the past, and those that are currently using them, even though the use of "the drawing board is becoming less common"!
Above are just a few of the ones that are being presented.
Plus if you are in any of the industries named above, I'm requesting you to send me a photo of you at your own drawing board for inclusion!
Just click the link to my Facebook Fan Page, and send me a message with a link of a photo of you at your drawing board, and I'll see about including it in that special photo album! It will hold 200 photos, and I invite you to do so before it fills up! And, feel free to send me a link to your web site(s) as well, as I'm happy to mention that also!
Feel free to see the 'At the Drawing Board...' photo album at any time, as I intend to add to it weekly until it fills up!!
Now, it's back to the drawing board for me! (Wink!)
~Michael D Hamersky On Comics!
---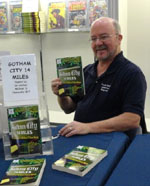 NOTE FROM Michael D Hamersky On Comics: My thanks again to all of YOU reading this blog and our archived blog posts, now at 3,592 total posts in number! I do appreciate your continued reading and support of this Blog!
BTW, You can 'follow' this blog by clicking the 'Follow' Button at this NetworkedBlogs app link! We currently have over 2,683 'Followers'! Thanks to ALL of YOU that have already clicked that button! And for those of YOU that haven't yet... I would appreciate it if YOU would!!!
Note: My online 'Local' Comic Book Shop (LCBS), carries many different genres of comics, magazines, graphic novels, and comic con promotional items. Possibly even copies of the item(s) that was mentioned here today...! If I have it, you'll find under the BIG TOP of Comics, at Comic Books Circus.com, including the book 'Gotham City 14 Miles' that I am shown holding to the left. I'm 1 of 14 essayists in that book! !
Web Page Note: This blog post is written per the IE Browser standards. Chrome, Safari, Netscape, Firefox and the other browsers serve the page up slightly differently, sorry about that! The screen display resolution is best seen at the setting of 1024 x 768 on your laptop or desktop computer. Note: Your computer's resoulution may be set differently, but the above resolution is the most commonly used resolution at the time of this blog post.
NOTE: All images and characters within this blog post are copyright and trademark their respective owners.
Comics Creators: If you are breaking into, or already work in the comic book industry or other pop culture productions, you are welcome to email or mail us press releases, news items, and updates that you feel would be of interest to our blog readers. Including YOUR own works! To mail printed items to us for possible review, send to: Make It So Marketing Inc., PO Box 130653, Carlsbad, CA 92013

Also, if you are a Facebook member, I would have liked you to send me a 'Friend Request'. However, I have reached the maximum limit of 5,000 Facebook Friends and Fan pages already, so I've added a New 'Facebook Fan Page' so that even more of YOU can 'Like' what I am doing, and be interactive with me and others there. Here is the link to that 'Facebook Fan Page':
Michael D Hamersky On Comics
! Please click the 'Like' button on that page!
---------------


In Addition, I started a YouTube Channel just before the 2011 Comic-Con International, where I am slowly uploading videos from conventions or other events that we attend that are also pop culture related. You are invited to 'subscribe' to that channel also! As found at
'HamerskyOnComics'
!
---
Posted by makeitsomarketing at 12:01 AM PST
Updated: Thursday, January 26, 2012 5:24 AM PST