My Take On: The 2012 Long Beach Comic & Horror Con!
Mood:
a-ok
Topic: Comic Cons
TODAY'S FEATURE IS BLOG #3743 - WoW! That's the word from me about the 4th Annual Long Beach Comic & Horror Con that took place this past weekend, November 3rd & 4th, in the Long Beach Convention Center, in Long Beach, California!
This is the 4th multiple day show event for the convention, which started in 2009. There have also been three one day Long Beach Comic Con Expos since then. I've been lucky to be attend all of them so far!
So first, let me state the following:
Tina and I arrived at the Long Beach Convention Center a little after 9AM. We were not able to park directly underneath the center, as we have usually been able to do in the past. However, there was ample parking across the street, where we were directed to go to. So the parking structure was okay, along with the fee for parking ($10.00).
The lines to get into the LBCHC were manageable, and the staff got them into the convention center floor pretty fast.
The convention floor was opened at 9:30 AM on Saturday for those that had registered early, and the floor was well attended. I believe that the maximum amount of persons on the floor on Saturday was around 3PM.
The layout of the floor was pretty good, and having the 'Artists Alley' in the center, all together by tables, was pretty darn good!
Tina and I hit all of the tables in the 'Artists Alley' before and after the panels that we attended.
I will be posting videos from those panels at my YouTube Channel, Michael D Hamersky On Comics.
The panels that I attended were previously mentioned in blog #3739, which you can view at that link.
I found them to be very informative, and even Tina had interest in most of the ones we attended together!
The panels were held in rooms on the ground floor, while the exhibit hall was on the lower floor. The panels Tina and I attended were not standing room only, and there were no lines outside the rooms before the next panel started. Each room had an observer from the staff of the LBCHC, which was good to have.
We left the last couple of hours on Saturday to finish covering the exhibit floor. We covered all of the areas that either of us was interested in, and even managed to pick up several packages of comics at dealers tables!
Oh, and I did want to point out, that in the top second right photo at the top of this blog, is myself along with Batton Lash. Batton had a special panel at 1PM titled: 'Spotlight on Batton Lash', and he was kind enough to ask me to be on the panel with him, as the interviewer! Which I enjoyed doing! That was fun!
So here are the links to what I think you should take a look at:
Facebook Fan Page for the Long Beach Comic Con
Facebook Fan Page for Supernatural Law (Batton Lash's comic)
My YouTube Channel for videos from the Convention Michael D Hamersky on Comics

More LBCHC photos at my Facebook Fan Page for Michael D Hamersky On Comics
I understand that the 2013 Long Beach Comic & Horror Con will be on November 30th thru December 1st of 2013. The one day Long Beach Comic Expo will take place in the Spring of 2013. I will be sure to mention both of these upcoming events in this Blog of mine.
My thanks to Martha Donato, Phil Lawrence, Mike Scigliano, and all the others who have continued to put on a great show at the Long Beach Convention Center for the 7th time! This is definitely one comic con that I enjoy attending each time! I urge YOU to take this in next year by attending either the one day Expo or the two day Con.

~ Michael
---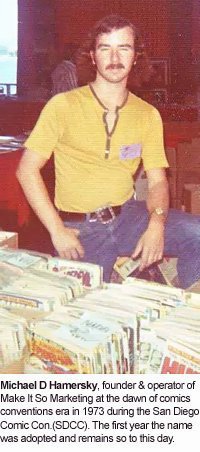 NOTE FROM Michael D Hamersky On Comics: My thanks again to all of YOU reading this blog and our archived blog posts, now at 3,743 total posts in number! I do appreciate your continued reading and support of this Blog!
BTW, You can 'follow' this blog by clicking the 'Follow' Button at this NetworkedBlogs app link! Thanks to ALL of YOU that have already clicked that button! And for those of YOU that haven't yet... I would appreciate it if YOU would!!!
Note: My online 'Local' Comic Book Shop (LCBS), carries many different genres of comics, magazines, graphic novels, and comic con promotional items. Possibly even copies of the item(s) that was mentioned here today...! If I have it, you'll find under the BIG TOP of Comics, at Comic Books Circus.com, including the book 'Gotham City 14 Miles' that I am shown holding to the left. I'm 1 of 14 essayists in that book! !
Web Page Note: This blog post is written per the IE Browser standards. Chrome, Safari, Netscape, Firefox and the other browsers serve the page up slightly differently, sorry about that! The screen display resolution is best seen at the setting of 1024 x 768 on your laptop or desktop computer. Note: Your computer's resoulution may be set differently, but the above resolution is the most commonly used resolution at the time of this blog post.
NOTE: All images and characters within this blog post are copyright and trademark their respective owners.
Comics Creators: If you are breaking into, or already work in the comic book industry or other pop culture productions, you are welcome to email or mail us press releases, news items, and updates that you feel would be of interest to our blog readers. Including YOUR own works! To mail printed items to us for possible review, send to: Make It So Marketing Inc., PO Box 130653, Carlsbad, CA 92013

Also, if you are a Facebook member, I would have liked you to send me a 'Friend Request'. However, I have reached the maximum limit of 5,000 Facebook Friends and Fan pages already, so I've added a New 'Facebook Fan Page' so that even more of YOU can 'Like' what I am doing, and be interactive with me and others there. Here is the link to that 'Facebook Fan Page':
Michael D Hamersky On Comics
! Please click the 'Like' button on that page!
---------------


In Addition, I started a YouTube Channel just before the 2011 Comic-Con International, where I am slowly uploading videos from conventions or other events that we attend that are also pop culture related. You are invited to 'subscribe' to that channel also! As found at
'HamerskyOnComics'
!
---
Posted by makeitsomarketing at 12:01 AM PDT
Updated: Monday, November 5, 2012 6:52 AM PST