My Take On: Ex Libris Daemonum - Book One
Mood:
caffeinated
Topic: Comic Books - New
TODAY'S FEATURE IS BLOG #3840 - Recently I ran across Mark Rivers at the 2013 WonderCon in Anaheim, California. He has already provided me with a couple of comics books he has been involved with, and that I blogged about previously. Freaks, Mutants, and Monsters #1 in blog #3302, and Giant Monster A-Go-Go #1 in blog #3758.
Knowing that, he brought to my attention his newest creation titled: Ex Libris Daemonum - Book One, which he is seen holding at the top right photo of this blog post.
So what is it about? Here's the promo from his web site:
Written and Illustrated by Mark Rivers

Standard Comic
Full Color
Page Count: 36
POD

A firsthand account of the devils of Hell, and all things which creep within.

Ex Libris Daemonum TM and © Dirty Kitchen Press, Mark Rivers.
Okay... Not my normal genre to read, but I had fun reading and review blogging the two earlier publications from Mark. So what the heck... I'll read this one!
So here's 'My Take' on the comic book:
Front Cover - Kind of weird, but you will notice that it is similar to the parchment illustration that Mark is holding in his right hand in the top right photo.
Inside Front Cover - Blank parchment style page, with copyright 2013 by Dirty Kitchen Press.
Splash Page - The title, with 'A Testament of Things Unseen' sub title. With an small illustration, and below that 'Compiled by M. Rivers'.
Next Page - An introduction of sorts... But kind of mysterious...
Next three pages - The Stigyan Plain... With strange illos, and texts as to what the illos are about.
More pages - The River Styx - illo & text. Rhab, Devil of the Sea, illo & text. Charon, ARcheron of the River Styx... with illos & text.
The comic book pages go on, with illos & text. Strange beings and even stranger background texts!
Inside back cover - plain with just the parchment style page.
Back Cover - the same plain page with the parchment style page.
Okay! Whoo! That was one strange comic book to read! I'm not for sure what to make of this! Really!
It is supposed to be a first hand account of the devils of Hell, and all things that creep within. Trust me on this one... there are a lot of devilish creatures illustrated and talked about in this publication! A lot of creepy, crawly things!
I'm not for sure what comic book grade to give this publication... Seriously! I've got to think about it a little more!
There was a lot of effort by Mark that went into publication, that is for sure! It must have taken him hours and hours of illustrating, and then coming up with text to go with each illustration.
This is more like a reference pamphlet in my opinion, than a comic book. I'm sure that several of you would enjoy reading it...
So here's my comic book rating for it. I'm going to give a Very Fine (VF) 8.0 out of a possible 10.0 comic book grading scale. I can appreciate all the hard work Mark has put into this publication, but it just isn't my genre of reading. I'm kind of curious what comic book grade you would give it?!

Here is the Indy Planet web page that you can order this comic book from, or you can buy it from him at the comic cons that he attends, if you are in Southern California.
My thanks to Mark Rivers for bringing this publication of his to my attention!
~ Michael
---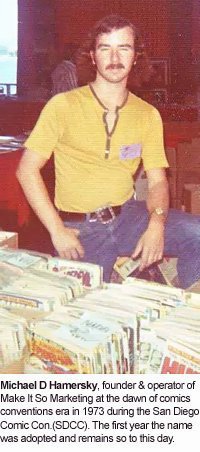 NOTE FROM Michael D Hamersky On Comics: My thanks again to all of YOU reading this blog and our archived blog posts, now at 3,840 total posts in number! I do appreciate your continued reading and support of this Blog!
BTW, You can 'follow' this blog by clicking the 'Follow' Button at this NetworkedBlogs app link! Thanks to ALL of YOU that have already clicked that button! And for those of YOU that haven't yet... I would appreciate it if YOU would!!!
Note: My online 'Local' Comic Book Shop (LCBS), carries many different genres of comics, magazines, graphic novels, and comic con promotional items. Possibly even copies of the item(s) that was mentioned here today...! If I have it, you'll find under the BIG TOP of Comics, at Comic Books Circus.com!
Web Page Note: This blog post is written per the IE Browser standards. Chrome, Safari, Netscape, Firefox and the other browsers serve the page up slightly differently, sorry about that! The screen display resolution is best seen at the setting of 1024 x 768 on your laptop or desktop computer. Note: Your computer's resoulution may be set differently, but the above resolution is the most commonly used resolution at the time of this blog post.
NOTE: All images and characters within this blog post are copyright and trademark their respective owners.
Comics Creators: If you are breaking into, or already work in the comic book industry or other pop culture productions, you are welcome to email or mail us press releases, news items, and updates that you feel would be of interest to our blog readers. Including YOUR own works! To mail printed items to us for possible review, send to: Make It So Marketing Inc., PO Box 130653, Carlsbad, CA 92013

Also, if you are a Facebook member, I would have liked you to send me a 'Friend Request'. However, I have reached the maximum limit of 5,000 Facebook Friends and Fan pages already, so I've added a New 'Facebook Fan Page' so that even more of YOU can 'Like' what I am doing, and be interactive with me and others there. Here is the link to that 'Facebook Fan Page':
Michael D Hamersky On Comics
! Please click the 'Like' button on that page!
---------------


In Addition, I started a YouTube Channel just before the 2011 Comic-Con International, where I am slowly uploading videos from conventions or other events that we attend that are also pop culture related. You are invited to 'subscribe' to that channel also! As found at
'HamerskyOnComics'
!
---
Posted by makeitsomarketing at 12:01 AM PDT
Updated: Thursday, April 25, 2013 6:46 AM PDT