Jack Kirby Collector #63 From TwoMorrows Publishing
Mood:
a-ok
Topic: Comic Books - New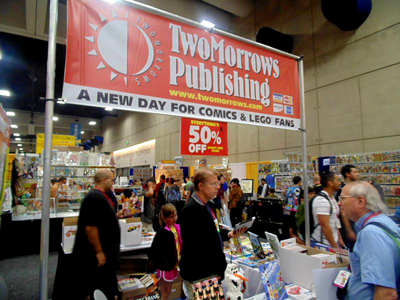 TODAY'S FEATURE IS BLOG #4009 - One of the activities I like to do each year at the Comic-Con International is to stop at the TwoMorrows booth!
I usually do that on Sunday, right after attending the Jack Kirby Tribute Annual Program hosted by Mark Evanier. This year was the 20th Anniversary of Jack's passing. Good tribute panel and there was a good selection of publications at the TwoMorrows booth this year.
One of the publications I chose to pick up was Jack Kirby Collector #63. Yes, I have blogged on this publication a few times over the years, but it remains to be one of my favorite publications to pick up at Comic-Con each year!
This issue's theme was 'Marvel Universe'. Which featured Mark Alexander's pivotal Lee/Kirby essay "A Universe A'Borning".
I have already read issue #58 titled "The Wonder Years" also by Mark Alexander, which really went into depth on the Lee / Kirby years. See blog #3682 where I reviewed this publication.
This issue #63 was more of an essay in format, but just as interesting reading at the earlier publication. The front cover to #63 was a double page spread. Really nice!
Mark mentioned that the essay had taken 5 months of hard work to create. The photos / illustrations were very helpful in getting Mark's points across to the reader. The 34 pages in this essay would be a good entry point to turn a friend into finding out about Jack Kirby. I found this to be a highlight of issue #63.
Pages 37 - 47 was a section titled 'Mega Marvel Pencils', with the original artwork penciled by Jack Kirby with notes about each page presented. Nice!
Page 48 was a one page update on the Jack Kirby Museum.
Pages 49 - 63 was a 2008 Jack Kirby Tribute Panel, presented at the Big Apple Con in New York City. I have sat through 20 of these panels now, and find each one has something different to present on Jack.
Pages 64 - 66 was the Kirby Obscura section by Barry Forshaw.
Pages 67 - 69 was Kirby Kinetics by Norris Burroughs. Good tie-in with King Kong.
Pages 70 - 73 was a section by Shane Foley, titled "By Theire Enemies Shall Ye Know Them". An interesting topic was covered.
Pages 74 - 81 was a section titled "Key Late Career Moments"84 - 85 from the early 1970s to 1994 when Jack passed. Some of these dates I didn't know what had happened.
Pages 82 - 83 was the section titled "Incidental Iconography" by Sean Kleefeld. Interesting notes on Triton the Inhuman.
Pages 84 - 85 was on FF #110: The Lost Collage. I kind of knew this story.
Pages 86 - 88 was a regular feature: Kirby As A Genre.
Pages 89 - 90 was a new feature: Unearthed - The Lone Survivor.
Pages 91 - 92 was the letters page: Collectors Comments.
Pages 93 - 95 was the house ad showing earlier Jack Kirby Collectors still available for sale.
Page 96 was the one page feature titled "Parting Shot".
Once again John Morrow and feature contributors assembled a fine publication! This one was chock full of Marvel Universe items. Definitely a good buy at $10.95 cover price! This is something that would be considered a good gift for a friend. I highly recommend this issue! It definitely covers "The Marvel Universe" which Stan Lee & Jack Kirby basically co-created!
~Michael
---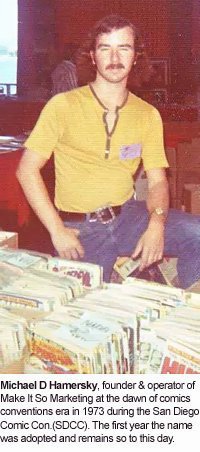 NOTE FROM Michael D Hamersky On Comics: My thanks again to all of YOU reading this blog and our archived blog posts, now at 4,009 total posts in number! I do appreciate your continued reading and support of this Blog!
BTW, You can 'follow' this blog by clicking the 'Follow' Button at this NetworkedBlogs app link! Thanks to ALL of YOU that have already clicked that button! And for those of YOU that haven't yet... I would appreciate it if YOU would!!!
Note: My online 'Local' Comic Book Shop (LCBS), carries many different genres of comics, magazines, graphic novels, and comic con promotional items. Possibly even copies of the item(s) that was mentioned here today...! If I have it, you'll find under the BIG TOP of Comics, at Comic Books Circus.com!
Web Page Note: This blog post is written per the IE Browser standards. Chrome, Safari, Netscape, Firefox and the other browsers serve the page up slightly differently, sorry about that! The screen display resolution is best seen at the setting of 1024 x 768 on your laptop or desktop computer. Note: Your computer's resoulution may be set differently, but the above resolution is the most commonly used resolution at the time of this blog post.
NOTE: All images and characters within this blog post are copyright and trademark their respective owners.
Comics Creators: If you are breaking into, or already work in the comic book industry or other pop culture productions, you are welcome to email or mail us press releases, news items, and updates that you feel would be of interest to my blog readers. Including YOUR own works! To mail printed items to me for possible review, just contact me.

Also, if you are a Facebook member, I would have liked you to send me a 'Friend Request'. However, I have reached the maximum limit of 5,000 Facebook Friends and Fan pages already, so I've added a New 'Facebook Fan Page' so that even more of YOU can 'Like' what I am doing, and be interactive with me and others there. Here is the link to that 'Facebook Fan Page':
Michael D Hamersky On Comics
! Please click the 'Like' button on that page!
---------------


In Addition, I started a YouTube Channel just before the 2011 Comic-Con International, where I am slowly uploading videos from conventions or other events that we attend that are also pop culture related. You are invited to 'subscribe' to that channel also! As found at
'HamerskyOnComics'
!
---
Posted by makeitsomarketing at 12:01 AM PDT
Updated: Monday, August 4, 2014 11:06 AM PDT