The Highlight of the 2015 San Diego Comic Con For Me Was...
Mood:
a-ok
Topic: Comic Book Movies
| | | | | |
| --- | --- | --- | --- | --- |
| Doomed! The Untold Story of Roger Corman's "Fantastic Four"! | | | | |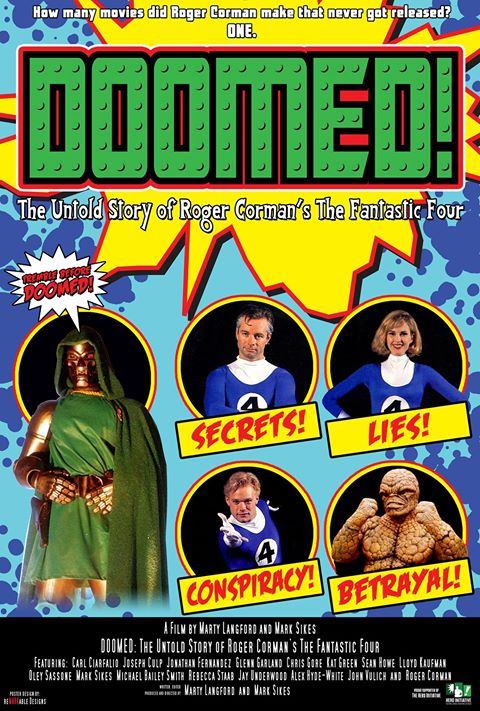 TODAY'S FEATURE IS BLOG #4032 - Yesterday I blogged about 'My Take On the 2016 San Diego Comic Con International'. There I mentioned that the 'Highlight' of the convention for me was the showing of a documentary I had interest in back in 2013.
That was the time that the doucumentary was being funded by an Indiegogo fund raiser. My Facebook Friend Carl Ciarfalio, who had played The Thing in Roger Corman's Fantastic Four film, brought the fundraiser to my attention.
I blogged about it, (blog #3876), and posted about on my Facebook Fan and personal pages as well.
The fundraiser ended June 20th of 2013, and there had been some followup on the production. You see, the promoters of this fund raiser had needed to raise $60k to do this project right, and ended up with just $6k via the fundraiser.
So it has been slow going since then...
However, I also 'Liked' the Facebook Fan Page for 'Doomed!', and saw there that they would be showing the documentary film at the 2015 San Diego Comic Con International.
I hoofed it down to the Hyatt from the convention center on Friday late afternoon and waited for the showing...
There were several of us there for the showing, and all that came were amazed at well how the documentary was put together. I could tell that by the expressions and the comments made during the film's showing.
The film was well edited, and told the story on how the film was made, what promotions had been done, and how the 1994 film ended up NOT being shown in theaters.
The persons in the film told their side of the story, and I was amazed at how the bits and pieces fit together so well.
You see, I had met several of the actors at the 1993 San Diego Comic Con International when they did the promotion there. I also purchased my copy of 'Film Threat' where the Fantastic Four were the cover story to that issue of the magazine. I also obtained b&w photos of the actors and had them signed as well.
I also later picked up a copy of the movie poster for the film at the Los Angeles Sci-Fi & Comic Show. It currently hangs in my home office on the wall. .
A few years back I met several of the actors of the film at the 2011 Wizard World Anaheim, (blog #3405), and became friends with Carl. He contributed a prize to one of the Black Fridays I held in recent years.
So as you can see by the above mentions, and others that I haven't linked to in this blog... I was really excited to view the documentary at the San Diego Comic Con! I was not disappointed and it became the 'Highlight' of my Comic-Con experience so far on Friday. Nothing else compared to it during the next two days of the Comic-Con.
I want to mention that the DVDs of the film are not ready for distribution yet, you can go to the 'Doomed!' Facebook Fan Page to keep up to date on that.
I also want to thank Marty Langford, and Mark Sikes for their time on Friday after the film's showing. It was great meeting you guys in person! Plus it was great to see Kat Green, who played Alicia Masters in the film, as well that night!
~Michael D Hamersky
Addendum: For my ratings comparison between the actors in the 1994 FF film and the 2005 FF film, see this 2007 blog of mine.
Also, see this blog link, for a scan of the FF film poster I mentioned above.
---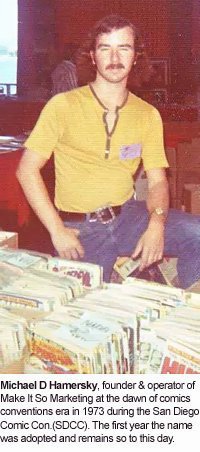 NOTE FROM Michael D Hamersky On Comics: My thanks again to all of YOU reading this blog and our archived blog posts, now over 4,000 total posts in number! I do appreciate your continued reading and support of this Blog!
BTW, You can 'follow' this blog by clicking the 'Follow' Button at this NetworkedBlogs app link! Thanks to ALL of YOU that have already clicked that button! And for those of YOU that haven't yet... I would appreciate it if YOU would!!!
Note: My online 'Local' Comic Book Shop (LCBS), carries many different genres of comics, magazines, graphic novels, and comic con promotional items. Possibly even copies of the item(s) that was mentioned here today...! If I have it, you'll find under the BIG TOP of Comics, at Comic Books Circus.com!
Web Page Note: This blog post is written per the IE Browser standards. Chrome, Safari, Netscape, Firefox and the other browsers serve the page up slightly differently, sorry about that! The screen display resolution is best seen at the setting of 1024 x 768 on your laptop or desktop computer. Note: Your computer's resoulution may be set differently, but the above resolution is the most commonly used resolution at the time of this blog post.
NOTE: All images and characters within this blog post are copyright and trademark their respective owners.
Comics Creators: If you are breaking into, or already work in the comic book industry or other pop culture productions, you are welcome to email or mail us press releases, news items, and updates that you feel would be of interest to my blog readers. Including YOUR own works! To mail printed items to me for possible review, just contact me.

Also, if you are a Facebook member, I would have liked you to send me a 'Friend Request'. However, I have reached the maximum limit of 5,000 Facebook Friends and Fan pages already, so I've added a New 'Facebook Fan Page' so that even more of YOU can 'Like' what I am doing, and be interactive with me and others there. Here is the link to that 'Facebook Fan Page':
Michael D Hamersky On Comics
! Please click the 'Like' button on that page!
---------------


In Addition, I started a YouTube Channel just before the 2011 Comic-Con International, where I am slowly uploading videos from conventions or other events that we attend that are also pop culture related. You are invited to 'subscribe' to that channel also! As found at
'HamerskyOnComics'
!
---
Posted by makeitsomarketing at 12:01 AM PDT
Updated: Tuesday, July 14, 2015 11:57 AM PDT