Vinnie's Take On: Forever Freshman - The Premier Issue
Michael D Hamersky On Comics Presents...

Vinnie's Take On:

Forever Freshman: The Premier Issue




-

Above: Ray Mendivil holding the Premier Issue of Forever Freshman, with Neil Segura standing, at the 2011 Wizard World Anaheim Comic Con!

-

Left Top Photo: The Forever Freshman Logo!
TODAY'S FEATURE - Blog #3435:

(Vinnie) I am here today to review the premiere issue of "Forever Freshman."

It is basically about two boys, Ray and Neil, who become freshmen. The stories take place at school or one of their homes. It starts off with the last day of summer vacation, and they're hanging out together. They end up going to different schools, but Neil ends up transferring to Ray's school.

The storyline goes in chronological order, and is actually quite amusing. The situations they're in are funny, such as when Neil gets 'sandwich-robbed' by a homeless man while waiting for the bus to school.

There are some innappropriate scenes and words, but you figure that someone of age would be reading this.

By the way, I recomend that this comic be read by highschoolers mainly, but some other outlying groups may enjoy it.

The art is cartoony, which goes with the stories. It is also somewhat disproportioned, as they are freshmen, yet are the size of second graders.

There is also no color, but I guess you gotta' do what you gotta' do for a 'premier issue' or 'zero issue'.

In summary, I give this comic a Very Fine (VF), an 8.0 out of 10.0 possible comic book grading scale.

~Vinnie!
----------------------------------------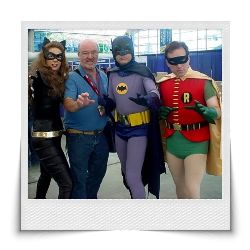 (Michael) Thanks, Vinnie!
I met the creators of this concept & premiere comic book at the 2011 Anaheim Comic Con, and wanted to get Vinnie's thoughts on it, so asked him to review it.
I knew that even though I am a 'Big Kid at heart', that I wasn't the target market for this concept, after reading it.
From the looks of Vinnie's 'take' on the premiere issue, he didn't feel that he was it exactly either. Which he readily recognized, and stated so. (Vinnie is in Jr. High School.)
To me, this is a good concept for a comic book series, and has a target audience that could appreciate reading this series, which is why I'm finishing the blog on it this morning.
The publication itself is a 'sampler' of the concept, and was not published in a standard comic book sized format that you would find from Ka-Blam or Comi-X-press. Instead it appears to be self printed, which is okay as a 'premiere issue' for distribution at comic cons to get a 'buzz' going on the concept.
I see that from the web site, (which is actually a blog format web site), that the 1st issue of the comic book series will debut at the SDCC.
The concept itself is described as follows:
"So this is the story of us(essentially), Neil and myself (Ray-the one with the glasses). Our continued misadventures and our friends along the way. all during that awkward time/feeling that for better or worse stays with you. HIGH SCHOOL!!!".
You can find more info on the concept, the premier comic book issue, and the upcoming first issue that will be debut at the upcoming 2011 San Diego Comic-Con International, at the web site, ForeverFreshman.com.
I give the concept for this comic book series a VERY FINE / VERY FINE PLUS (VF/VF+) 8.25 out of a 10.0 possible comic book grading scale. The execution of the presentation could be worked on more, but the 'Premier Issue' is a good start for the comic book series, as a 'buzz' generator.
I'm hoping to see the first issue at the upcoming 2011 SDCC International to see how series itself is progressing, but with the size of the SDCC... I may not see the table or booth. Last year was the 1st year I didn't walk the whole thing... As it had programs at the Hilton next door to the Convention Center, and at the Marriott on the other end! Plus the off-site events. Sheesh! So I no longer feel the need to 'see it all', and will be concentrating on areas that I have the most interest in.
Anyways... You can find more at the Facebook Fan Page for this series at Forever Freshman.
~ Michael
-------------------------------------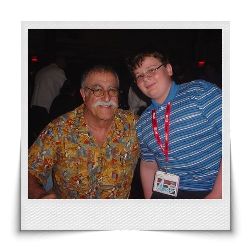 Note: Vinnie makes it to as many comic cons with me as he can. He collects the 'Amazing Spider-Man' comic book series, but is open to read other titles from publishers that print titles that are age appropriate for him. He also has been attending 'behind the scenes' events, such as the one he blogged about ht here: Vinnie's Special 'Look at The Captain Rochester Party for the Artists' at the recent 2010 Comic-Con International: San Diego! He really had fun meeting and having dinner with Sergio Aragones, Bob Burden, Scott Shaw! and others there at this exclusive after hours Comic-Con Party in San Diego!
Also...If YOU liked Vinnie's guest review blog today, you may also enjoy reading Vinnie's other reviews on: The Adventures of Faithboy #1, Mouse Guard: The Black Axe #2 of 6, Yogi Bear Film (DVD), Jim Henson's Fraggle Rock Vol 2 #1 of 3, Space Punks #2, Jim Henson's Fraggle Rock Vol 2 #2 of 3, Kleeman and Mike #1, Mortifera #3, Classics Illustrated #142 Abraham Lincoln - 8th Edition, 2011 FCBD Edition - Mouse Guard / Dark Crystal Flip Book, Fraggle Rock Volume 2 #3 of 3, Bear and Fox #2, Space Punks #1, The Daughters of Merlin #1, Sea Ghost #1, Mouse Guard: Legends of the Guard #4 (of 4), Clutch Cargo DVD, The All New Super Friends Hour Season 1 DVD, The Ultimate Underdog Collection Volume 1, Planet Hulk, Coraline, Ponyo, X-Men Origins: Wolverine, Sonic the Hedgehog TPB Vol 1, Cloudy With A Chance of Meatballs, The Possum #1 comic book, Vinnie's Take on Berona's War: Field Guide, just to name a recent few!
Thanks Vinnie, for once again guest blogging here today!
~Michael D Hamersky
---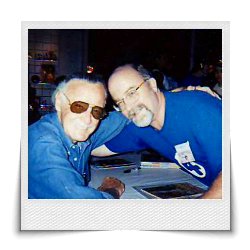 My thanks again to all of YOU reading this blog and the archived blog posts, now over 3,434 total posts in number! I do appreciate your continued reading and support of this Blog!
BTW, You can 'follow' this Blog by clicking the 'Follow' Button at this NetworkedBlogs app! We currently have over 2,455 'Followers'! Thanks to ALL of YOU that have already clicked that button! And for those of YOU that haven't yet... I would appreciate it if YOU would!!!
~ Michael D Hamersky
Note: My online 'Local' Comic Book Shop (LCBS), carries many different genres of comics, magazines, graphic novels, and comic con promotional items. Possibly even copies of the item that was reviewed here today...!
If I have it... You can find it 'Under The Big Top Of Comics' at: ComicBooksCircus.com.
If it isn't available in my online 'Local Comic Book Shop, (LCBS), then you may be able find it in my Amazon affiiate link, as seen here: Comics & Graphic Novels
at Amazon!
Web Page Note: This blog post is written for the IE Browser standards. Chrome, Safarai, Netscape, Firefox and the other browsers serve the page up differently, sorry about that!
The screen display resolution is best seen at the setting of 1024 x 768 on your laptop or desktop computer.
NOTE: All images and characters within this blog post are copyright and trademark their respective owners.

Comics Creators: If you are breaking into, or already work in the comic book industry or other pop culture productions, you are welcome to email or mail us press releases, news items, and updates that you feel would be of interest to our blog readers. Including YOUR own works!! (Note: I don't list my email address here, due to 'spambots' gathering it and 'spamming' me.
To mail printed items to us for possible review, send to:
Make It So Marketing Inc., PO Box 130653, Carlsbad, CA 92013, USA

Also, if you are a Facebook member, I would have liked you to have sent me a 'Friend Request'. However, I have reached the maximum limit of 5,000 Facebook Friends and Fan pages in my network already, so I've added a New 'Facebook Fan Page' for myself so that even more of YOU can 'Like' what I am doing, and be interactive with me and others there. Here is the link to that 'Facebook Fan Page': Michael D Hamersky On Comics! Please click the 'Like' button on that page!
---
Posted by makeitsomarketing at 4:41 AM PDT
Updated: Monday, June 13, 2011 5:25 AM PDT