My Take On: Jack Kirby Collector #60
Mood:
caffeinated
Topic: Comic Books - New
TODAY'S FEATURE IS BLOG #3838 - It's been a while since I last blogged about the Jack Kirby Collector magazine. Actually it was Monday, August 20th of 2012 on issue #59 in blog #3699. Here's my review blog on issue #60 that I picked up at the recent WonderCon 2013 in Anaheim, California at the TwoMorrows table.
So what's this issue about? Here's what the publisher shows as a promo for the issue:
"JACK KIRBY COLLECTOR #60 continues in its new format (104 magazine-size pages with COLOR SECTION, $10.95), with a Fantastic Four follow-up issue to #58's THE WONDER YEARS! It starts with a dynamic, never-before published Kirby FF wraparound cover (and wait'll you see the flip side)! Also, we present a dual interview between classic FF inkers JOE SINNOTT and DICK AYERS! Then, there's a rare Lee & Kirby interview, and we compare one of Jack and Stan's FF Bullpen story conferences to what ended up on Stan's final script and Jack's penciled pages. Plus there's MARK EVANIER and our other regular columnists, and galleries of Kirby FF art, including pencils from Kirby's BLACK PANTHER, SILVER SURFER, and more! Edited by John Morrow."
Okay... So what's 'My Take' on this issue?
Well... I could see right away that this issue should be a good issue for me to read. Why? Well, Jack's Fantastic Four issues are my favorite run of titles in all of the comic book titles that he illustrated in during his professional career!
The top right of this blog post shows the front cover of the issue. It is actually just half of a wrap around spread showing the Fantastic Four and Doctor Doom and the Incredible Hulk. Oh, and plus the Sentry who appears to be a little smaller in this illustration.
I am actually amazed at how after 59 earlier issues, that there is still more to be published on Jack Kirby's works!
There are 100 interior pages to this magazine, which is published in black & white with a four page middle section in color. The color pages this issue are from the 1960s which are reprints of the poster that were published back then. Pretty sharp four pages!
The Table of Contents on the first page shows that the magazine has its usual features, plus the special articles.
One of the articles showed the evolution of The Thing, on pages 22 & 23. With the Thing my favorite comic book character, it was good to see all the head shots of the Thing during the years.
Page 27 had a really sharp pencil illustration of the FF versus Galactus. While the next two pages were the pencils to the front & back covers of this issue.
I really enjoyed the Joe Sinnott & Dick Ayers interview that is published in this issue. I've had the good opportunity to meet both of them at comic cons before, and they are both very nice in person to meet!
The Black Panther article was presented in five pages. That was good to see also.
There were several other interesting articles and illustrations, but I'll let you check those out after purchasing the issue!
Suffice to say, I'm giving this issue a 'Near Mint' (NM) 9.4 out of a possible 10.0 comic book grading scale.
If you were or are a fan of the Fantastic Four, this issue is for you!
If you can't locate this at your local LCBS, then you can take look at the TwoMorrows web site and purchase it online.
~ Michael
---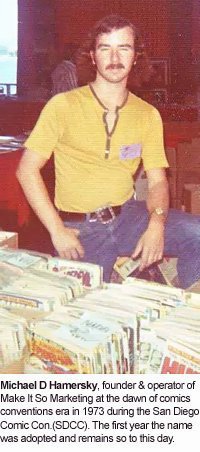 NOTE FROM Michael D Hamersky On Comics: My thanks again to all of YOU reading this blog and our archived blog posts, now at 3,838 total posts in number! I do appreciate your continued reading and support of this Blog!
BTW, You can 'follow' this blog by clicking the 'Follow' Button at this NetworkedBlogs app link! Thanks to ALL of YOU that have already clicked that button! And for those of YOU that haven't yet... I would appreciate it if YOU would!!!
Note: My online 'Local' Comic Book Shop (LCBS), carries many different genres of comics, magazines, graphic novels, and comic con promotional items. Possibly even copies of the item(s) that was mentioned here today...! If I have it, you'll find under the BIG TOP of Comics, at Comic Books Circus.com!
Web Page Note: This blog post is written per the IE Browser standards. Chrome, Safari, Netscape, Firefox and the other browsers serve the page up slightly differently, sorry about that! The screen display resolution is best seen at the setting of 1024 x 768 on your laptop or desktop computer. Note: Your computer's resoulution may be set differently, but the above resolution is the most commonly used resolution at the time of this blog post.
NOTE: All images and characters within this blog post are copyright and trademark their respective owners.
Comics Creators: If you are breaking into, or already work in the comic book industry or other pop culture productions, you are welcome to email or mail us press releases, news items, and updates that you feel would be of interest to our blog readers. Including YOUR own works! To mail printed items to us for possible review, send to: Make It So Marketing Inc., PO Box 130653, Carlsbad, CA 92013

Also, if you are a Facebook member, I would have liked you to send me a 'Friend Request'. However, I have reached the maximum limit of 5,000 Facebook Friends and Fan pages already, so I've added a New 'Facebook Fan Page' so that even more of YOU can 'Like' what I am doing, and be interactive with me and others there. Here is the link to that 'Facebook Fan Page':
Michael D Hamersky On Comics
! Please click the 'Like' button on that page!
---------------


In Addition, I started a YouTube Channel just before the 2011 Comic-Con International, where I am slowly uploading videos from conventions or other events that we attend that are also pop culture related. You are invited to 'subscribe' to that channel also! As found at
'HamerskyOnComics'
!
---
Posted by makeitsomarketing at 12:01 AM PDT
Updated: Tuesday, April 23, 2013 7:19 AM PDT