Off Site Activities At San Diego Comic-Con International
Mood:
incredulous
Topic: Comic Cons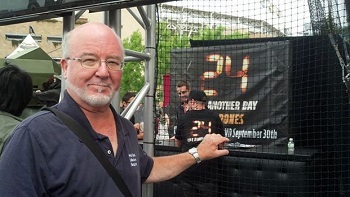 TODAY'S FEATURE IS BLOG #4004 - I have already mentioned in this Blog that I didn't have tickets to all four days of this year's Comic-Con International.
So yesterday I and a friend went to see the Off-Site Activities that circle the San Diego Convention Center.
First of all, I was too late in driving to my newly found parking area that I had been parking at since last Tuesday night. So I checked other areas in Downtown. The only lots left wanted $35 for the day... Sheesh!
So I went down to the South Bay and checked out three parking lots at three different trolley stations. Would you believe... Not one parking spot for my car!
So I drove back to the $35 parking lot and that was full! However, they suggested going to the MTS building, where, also for $35, I could park. So I did.
That building was next door to the first Off-Site Activity that we walked to.
That was the Petco Park Interactive Lot. There we stood in line for the 24 Drones, the Amazon Locker, the Norton 'Take Control of Your Future' X-Men tent, the Hello Kitty truck & booth, and the Gotham City auto show. We could have stayed even longer, but the lines... The lines were so long. We spent a few hours just at this park and did not do all of the interactive areas.
We then went to the Art Expo, located in the old Wonderbread Building. I used to work across the street, at Hoffmeyer Company, before the land was purchased to extend the parking lot for Petco Park. Inside the two story building was a lot of artists with varying genres of art. Not all was comic book related. I did find a few works that were interesting to me. One was a mash-up comic book created by Mark Todd. I am going to have to blog about this book, as I enjoyed seeing it so much, that I purchased a copy for my own collection.
Heading back to the car to unload what we had picked up, we then walked across the bridge to the Bayfront Hilton area.
There we saw the Simpsons area and took that in. See the photos I snapped. The lines there were long also, so we didn't stand in each of them.
Right by the Simpsons area was a zipline that had a long line also! It was for the upcoming TV series titled 'Gotham', which I am going to watch this upcoming 2014-15 TV Season.
Behind that was the Godzilla exhibit. We stood in line for a photo to be inserted into a movie poster, and then another line for a mini-clip. I will be sharing that at my Facebook Fan Page next week.
After finishing a stay at Starbucks lounge to rest up, we walked by the Hall H line, up the pavement past Halls G, F, etc., until we came to the crossing to the 5th Avenue exit. We then went to Tinfish, where we had the same fried fish burrito I had on Wednesday that I posted about. The restaurant was extremely busy, (great pricing!), and we took turns going to get a photo taken at the Blacklist booth.
Leaving there we took in the Nerd HQ inside of Petco Park. It was busy, although there really wasn't much of interest to me. By now it was past 5:30 pm, and I really wanted to see the 'Vikings' area, so we hoofed it to 2nd Avenue. We arrived there just at 6 PM and they had just closed it down for the day, with hundreds of people inside waiting to get their photos taken in costume on a Viking warship. Looked like fun, but not for us due to the closing of the venue.
We then walked back to Tinfish / Blacklist, and came across two more areas that were also closed down for the day. I shot a couple of photos of Assain Creed Unity.
Stopping at the Omni Hotel, I shot a few pics outside the windows of Petco Park.
We left at 7 PM, and had seen if not actually been interactive with, the majority of the Off Site Events outside of the San Diego Convention Center.
Quite honestly, I can now see why people are told to check out the Off-Site activities, as first of all you DON'T have to have a Comic-Con badge to get involved, and we saw a LOT of folks with four day badges partaking in these activities also.
Myself, I've always stayed inside the convention center from early morning to late evening, as the cost of joining the con has been so high priced in recent years, and quite honestly there is enough programming inside for me to stay throughout the day & night.
But... Trust me, after checking out this year's Off-Site Activities, you don't have to have a Comic-Con badge to have fun outside of the San Diego Convention Center!
Oh, and here is the link to the special photo album from yesterday, as posted at my Facebook Fan Page.
Today, without a badge for Saturday, I slept in, and after posting this blog and uploading the photos, I am going to get ready for the final day of the con, Sunday, which I have a badge to get into.
Thanks for reading this, and if you are in San Diego this weekend... Check out the Off-Site Activities that don't cost you anything to participate, other than finding parking!
~Michael
---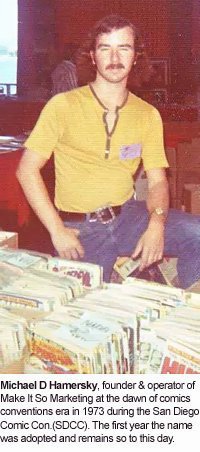 NOTE FROM Michael D Hamersky On Comics: My thanks again to all of YOU reading this blog and our archived blog posts, now at 4,004 total posts in number! I do appreciate your continued reading and support of this Blog!
BTW, You can 'follow' this blog by clicking the 'Follow' Button at this NetworkedBlogs app link! Thanks to ALL of YOU that have already clicked that button! And for those of YOU that haven't yet... I would appreciate it if YOU would!!!
Note: My online 'Local' Comic Book Shop (LCBS), carries many different genres of comics, magazines, graphic novels, and comic con promotional items. Possibly even copies of the item(s) that was mentioned here today...! If I have it, you'll find under the BIG TOP of Comics, at Comic Books Circus.com!
Web Page Note: This blog post is written per the IE Browser standards. Chrome, Safari, Netscape, Firefox and the other browsers serve the page up slightly differently, sorry about that! The screen display resolution is best seen at the setting of 1024 x 768 on your laptop or desktop computer. Note: Your computer's resoulution may be set differently, but the above resolution is the most commonly used resolution at the time of this blog post.
NOTE: All images and characters within this blog post are copyright and trademark their respective owners.
Comics Creators: If you are breaking into, or already work in the comic book industry or other pop culture productions, you are welcome to email or mail us press releases, news items, and updates that you feel would be of interest to my blog readers. Including YOUR own works! To mail printed items to me for possible review, just contact me.

Also, if you are a Facebook member, I would have liked you to send me a 'Friend Request'. However, I have reached the maximum limit of 5,000 Facebook Friends and Fan pages already, so I've added a New 'Facebook Fan Page' so that even more of YOU can 'Like' what I am doing, and be interactive with me and others there. Here is the link to that 'Facebook Fan Page':
Michael D Hamersky On Comics
! Please click the 'Like' button on that page!
---------------


In Addition, I started a YouTube Channel just before the 2011 Comic-Con International, where I am slowly uploading videos from conventions or other events that we attend that are also pop culture related. You are invited to 'subscribe' to that channel also! As found at
'HamerskyOnComics'
!
---
Posted by makeitsomarketing at 10:19 AM PDT
Updated: Saturday, July 26, 2014 11:25 AM PDT