Jackrabbit #1 From Committed Comics!
Mood:
caffeinated
Topic: Comic Books - New
Jackrabbit #1

From Committed Comics!

Above: The Front Cover to Jackrabbit #1 from Committed Comics!

To The Left: The Logo and Characters from Committed Comics!
TODAY'S 'MAIN FEATURE':
Just a short blog post today, as I am busy at a new client's office since mid-week during the day...
So I'm going to tell you my thoughts on Jackrabbit #1 from Committed Comics!
First...Below is the press release for this TPB:
"In a world gone mad, one hero, in a race against time… is really busy doing something else.

That leaves Jackrabbit to deal with the self-proclaimed menace of The Eight Fingers of Mischief.

Jackrabbit must run a gauntlet of hilarity to stop an octet of third-rate super villains from achieving their diabolical goal to cause some degree of discomfort and disruption to the world at large.


104 Full Color Pages - SRP $7.99!

Written by: Boe DuRansier
Penciled by: C Wilson Trull
Inked by: Lisa Moore and Eric Lebow
Colored by: Shizue Harrison
Lettered by: Jeremy Parsons

If you like....This tale of madcap shenanigans follows proudly in the lampooning lineage of such great comic characters as Jack Cole's Plastic Man and Ben Edlund's The Tick."

I have read individual issues of Jack Cole's Plastic Man and Ben Edlund's The Tick prior to reading this TPB.

But, I'm not going to compare this compilation to those issues, in case You haven't read them before.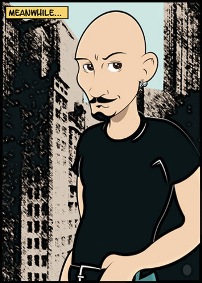 Instead I'm going to mention that the character and the stories presented in this TPB are funny and entertaining in their presentation. I enjoy tongue in cheek humour.
Note: You do have to know some other comic book companies' characters to get the full effect of the parodies, though.
The writer / creator of this series was Bo DuRansier. (As shown illustrated to the left).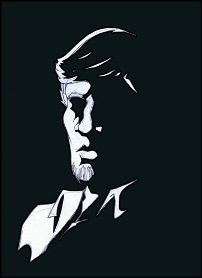 The penciled artwork by C Wilson Trull, (shown in illustrated form to the left), is clear, precise, and to the point. No wasted background shots, as the panels center on the characters and the action for the most part.
The lettering fits this style of presentation.
The coloring is vivid, but not over the top.
The only thing that could have been improved on, IMO, was the actual breaks between the stories. I only saw one clear break in the TPB, so this was a formatting issue for the TPB, not the actual stories themselves.
I liked the fact that there were additional pages added after the last story. There we find the 'origin' of the character in the creator's mind, and much more, including bios of Bo DuRansier, C Wilson Trull, and character sketches.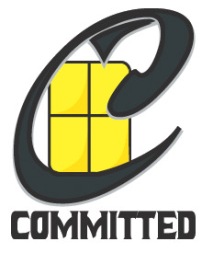 You can see more about this TPB at Committed Comics own web site. I've selected the individual page link for this publication already for you at:
http://committedcomics.com/comics/jackrabbit.htm.
There are selected interior pages of the publciation for you to view there, before possible purchasing.
Plus, if You are a member of Facebook, then You can be interactive with others interested in this comic book and others by Committed Comics by checking out this link for the Facebook Fan Page for Committed Comics on Facebook and joining!
My thanks to Thomas Doherty, Editor In Chief at Committed Comics, for sending the promo copy for possible mention or review here in my Blog!
AND: Thanks again to all of YOU reading this blog and our archived blog posts! We usually blog on a daily basis during the 'work week' on comic book creators, comic book reviews, comic cons, book signings, and other pop culture news and events, such as the review blogged about here today!
Join us again soon, as we publish another 'Main Feature'. And don't forget to check out the 'Featurette' shown below this article!
~ Michael D Hamersky @ ComicBookCollectorsBlog.com

Note: Comic books / graphic novels can also be found at our own web site: http://www.ComicBooksCircus.com
"Hammering Out the Web For You Since May 12th, 1998!"

Note: If you are breaking into or already work in the comic book industry or other pop culture productions, you are welcome to email us press releases, news items, and updates that you feel would be of interest to our blog readers. Including YOUR own works!

To mail printed items to us for possible review, send to:

Make It So Marketing
PO Box 130653
Carlsbad, CA 92013

We also have an on-line exhibitor table at the virtual Facebook Comic Con. You can view the table by clicking this link.

If you are a Facebook member, please join our Facebook Comic Con | Make It So Marketing exhibitor table for updates, specials, and other wall posts!




If you are a Facebook member and would like to join my Facebook Network, feel free to send a 'friend request' to 'Michael D Hamersky'.

TODAY'S FEATURETTE:

UPDATED NOTE: AS OF APRIL 15TH 2010 - THE BELOW SCHEDULED APPEARANCE HAS BEEN TENTATIVELY CANCELLED DUE TO ILLNESS OF JULIET LANDAU - SHE IS NOW NOT EXPECTED TO ATTEND THIS CON.

I noticed that my Facebook Friend, Juliet Landau, will be a Special Guest at the upcoming Wizard World Anaheim Comic Con.

The Con takes place:

April 16-18, 2010
Anaheim Convention Center
800 West Katella Avenue
Anaheim, CA 92802

Here is what the press release says about Juliet Landau*:

(Actress - Buffy the Vampire Slayer; Angel; Ben 10: Alien Force; Ed Wood) *Appearing Saturday and Sunday ONLY

Juliet Landau was a professional ballerina. She studied acting extensively with the late Susan Peretz and is a member of the Actors Studio. Juliet co-starred in Tim Burton's ED WOOD as Loretta King and starred opposite Whoopi Goldberg in New Line Cinema's THEODORE REX. She created the role of Drusilla on BUFFY THE VAMPIRE SLAYER, appearing on BUFFY and ANGEL over the course of six seasons. Juliet plays Russian villainess Nataliya Chernov in the adorable kid's movie, MONSTER MUTT, created and produced by 4X Oscar-winning Greg Canom's Drac Studios.

Juliet directed the short documentary TAKE FLIGHT about and for Gary Oldman, co-directed/ appeared in Godhead's HERO music video and co-wrote two issues of the ANGEL comic book about Drusilla.

Lead roles in Independents include: THE YELLOW WALLPAPER, DARKNESS VISIBLE, HACK, TOOLBOX MURDERS, REPOSSESSED, CARLO'S WAKE, LIFE AMONG THE CANNIBALS, RAVAGER, DIRECT HIT, CITIZENS and a co-starring turn in Henry Jaglom's GOING SHOPPING.

TV guest appearances include: MILLENNIUM, LA FEMME NIKITA, STRONG MEDICINE, a starring role in the Lifetime movie REUNION and a project directed by Jake Scott for HBO. She has lent her voice to various characters on the popular animated series' JUSTICE LEAGUE UNLIMITED and BEN 10: ALIEN FORCE as well as on BIOSHOCK 1 and 2, STAR WARS THE OLD REPUBLIC and BEN 10 video games. She voiced Labella in GREEN LANTERN: FIRST FLIGHT.

Juliet has worked extensively in the theater, receiving outstanding reviews for her work every time out. She has written the short film IT'S RAINING CATS AND CATS and will play seven different characters in the project.

I also noticed on Juliet's own Facebook Member Page that she has added a link to her new film titled 'Take Flight', as seen here:

http://julietlandaustakeflight.com/.

Pictured below is a photo of Juliet used for the press release for the Anaheim Comic Con:

Tina and I are looking forward to attending this comic con, and have noted that Juliet will be there only Saturday and Sunday of this con. Our best wishes to Juliet for a Fun & Successful comic con!

Note: As mentioned in the above press release, Juliet has also written for IDW Publishing, with issues #24 & 25 for 'Angel'. I have not yet read or reviewed those issues here in my blog...

However, when and if we do pick up copies, they will be listed at our: ComicBooksCircus.com!

---------------------------

Talking about publications: if YOU are a comics creator, (writer, penciler, inker, colorist, letterer, etc.), OR even a Comics / Magazine Publisher, feel free to contact me regarding YOUR works!

I've made a special blog post about: "How To Best Submit YOUR Publication For Possible Review!" for those creators / publishers that would like to possibly have their publications mentioned or reviewed, which could either be published in the 'Main Feature' or 'Featurette' sections.


~Michael @ ComicBookCollectorsBlog.com

WEB PAGE NOTE:

This blog post is written for the IE Browser standards. Netscape, Firefox and the others serve the page up differently. The screen display resolution is best seen at the setting of 1024 x 768.

All images and characters within this blog post are copyright and trademark their respective owners.
Posted by makeitsomarketing at 12:01 AM PST
Updated: Thursday, April 15, 2010 8:07 AM PDT