Spotlight On... Jim Main!
Mood:
celebratory
Topic: Comic Book History
Spotlight On...

Jim Main!
TODAY'S 'MAIN FEATURE':
It's "Spotlight On...Jim Main" Today!
Why today???

Because it's his Birthday!!!
So here's a little bit of history about Jim Main, for those of you that aren't totally familar with his early background in this industry:
JIM MAIN PROFILE-PART 1
"Publishing was apparently the destiny of Jim Main, a resident of Brookfield, CT, who celebrates his birthday today, February 23rd. (Jim was born in the year 1955.)
An avid fan of comic books, from the moment he was introduced to them in the early sixties by his uncle, he soon became aware of fandom and fanzines and the publishing thereof by classmate Carl Gafford.
Carl, a senior at Jim's high school the same year he was a freshman, taught him the ropes of production via the dreaded spirit duplicator machine!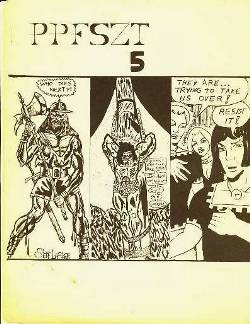 Jim's first 'zine, *PPFSZT!, published in the early 1970's, featured material such as an interview with Jim Aparo (conducted through the mail), a sf strip Jesse Stuart, by classmate Mike Tuz, plus then current comic book news and reviews and fiction by Main, Tuz and other friends.
More contacts and staff were made via zines such as the RBCC and the newest adzine THE BUYERS GUIDE TO COMICS FANDOM, (now known as CBG).
Soon he became a member of the first fanzine co-op, the Blue Plaque Publishing group, (now known as the United Fanzine Organization), which was created by Gafford originally, via good friend Steve Keeter and more contacts and contributors were established.
Certainly one to give readers their money's worth, he loved producing big books, some unfortunately with dire results, like the third issue of his comics anthology SPECTRUM...a 138 page full size ditto zine that had more than it's share of problems due to a finicky machine.
The problems were later smoothed out though in his later attempts, in his last issues of *PPFSZT! as well as new zine SATYR, but he had had enough of this method of printing and finally went to photo-offset with issue #6 of *PPFSZT! which was also one of the first digest sized fanzines.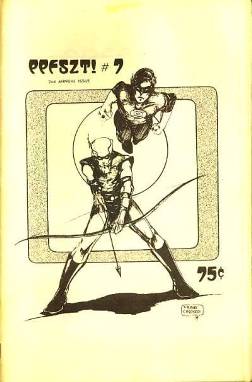 As the 70's came to an end, Jim had published 9 issues of *PPFSZT!, 2 issues of SATYR, 3 issues of SPECTRUM, (formerly known as The Guilded Splinter), 1 issue of GNOME, as well as filling in as publisher of 2 issues of friend Rod Synder's newszine The Esgaroth Express.
Some of the many creative individuals who had had their material published in Main's publications during these early years were Mike Tuz, Larry Johnson, Steve Keeter, Carl Gafford, Cara Sherman, Joe Jenkins, Rod Snyder, Carl Taylor, Mike Swanson, John Dwyer, Mike Canuel, Jack Monniger, Steve Lafler, Donna Hallecks, Frank Cirocco, Brent Anderson, Roland Austin, Wes Smith, Jack Kirby, Doug Hazlewood, Al Orne, Rich Hadden, Basil Wolverton, Neal Adams, Kurt Erichsen, Gil Kane, Steve Ditko, Ed Romero...and many others.

However, due to one thing or another, he was about to experience his first bout of gafiation...what many comic fans go through from time to time when situations arise that no longer permit continuing this interest...
That, though, would not be for very long..."
(Oh No... it's a Continued Story!) TO BE CONTINUED...(Sometime in the near future?!)....

My thanks to Facebook for reminding me that today is Jim's Birthday ahead of time... And to Jim, himself, for providing the photos of his earliest works so I could reprint them here!
BTW, You can see what Jim is publishing nowadays by checking out his own web site at:
http://www.mainenterprises.ecrater.com/ .
AND...My thanks again to all of YOU reading this blog and our archived blog posts!
Join us again soon, as we publish another 'Main Feature'. And don't forget to check out the 'Featurette' shown below this 'Main Feature' article at the bottom right!
~ Michael D Hamersky @ ComicBookCollectorsBlog.com

Note: Comic books / fanziens / and graphic novels like the ones mentioned above can be found at our own web site for sale at:
http://www.comicbookscircus.com/
"Hammering Out the Web For You Since May 12th, 1998!"

Note: If you are breaking into or already work in the comic book industry or other pop culture productions, you are welcome to email us press releases, news items, and updates that you feel would be of interest to our blog readers. Including YOUR own works!

To mail printed items to us for possible review, send to:

Make It So Marketing
PO Box 130653
Carlsbad, CA 92013

We also have an on-line exhibitor table at the virtual Facebook Comic Con. You can view the table by clicking this link.

If you are a Facebook member, please join our Facebook Comic Con | Make It So Marketing exhibitor table for updates, specials, and other wall posts!




If you are a Facebook member and would like to join my Facebook Network, feel free to send a 'friend request' to 'Michael D Hamersky'.

TODAY'S "FEATURETTE":

It's a "Mini Spotlight" on another comics creator today!

That's because Tina and I met him at last weekend's Long Beach Comic Con Expo in Artists Alley!

That comics creator would be Bernie 'Berni' Wrightson as pictured below!

What was neat about the LBCC Expo was that it was large enough to have comics creators there of Bernie's caliber, yet small enough that Tina and I could talk for a while with each creator!

When Tina was ready to take a couple of photos for our Blog, I asked Bernie if he would pick up something on his table that he would like to pose with. He had all kinds of original artwork that he brought to sell at the convention

Imagine my surprise when he picked up the flyer I had given him to re-introduce myself and now Tina to him!

My thanks to Bernie for the time he spent with us and for posing for the photos!

For those of you that don't know of Bernie's early history in comics, the following is excerpted from the Wikipedia entry on Bernie:

"In 1966, Wrightson began working for The Baltimore Sun newspaper as an illustrator. The following year, after meeting artist Frank Frazetta at a comic-book convention in New York City, he was inspired to produce his own stories. In 1968, he showed copies of his sequential art to DC Comics editor Dick Giordano and was given a freelance assignment. Wrightson began spelling his name "Berni" in his professional work to distinguish himself from an Olympic diver named Bernie Wrightson, but later restored the final E to his name.

His first professional comic work appeared in House of Mystery #179 in 1968. He continued to work on a variety of mystery and anthology titles for both DC and its principal rival, Marvel Comics. In 1971, with writer Len Wein, Wrightson co-created the muck creature Swamp Thing for DC. He also co-created Destiny, later to become famous in the work of Neil Gaiman. In 1971 he also published BadTime Stories, a horror/sci-fi comics anthology featuring his own scripts and artwork, each story being drawn in a different medium (ink wash, tonal pencil drawings, duoshade paper, screen tones, e.g., along with traditional pen-and-ink and brushwork).

Tina and I can't keep Bernie's early work in stock at our own online store. It was really neat to see the original artwork that he brought for sale to the Expo.

You can see Bernie's work for sale at his own web site at:

-----------------------------

Because of great one-on-ones visits with comics greats like Bernie, Tina and I are looking forward to the upcoming 2nd Annual Long Beach Comic Con. That's the 3 day event at the end of October 2010.

Here's a link to the Con's Facebook Fan Page, so you can be interactive with them between now and October:

http://www.facebook.com/LongBeachComicCon?ref=ts

There you can also find out who's going to be there as guests, and links to where YOU can purchase advance tickets!

Tina and I are definitely booking October 29th thru the 31st! I suggest that if YOU are in SoCal area during that time, that You should drop in at Least ONE of those Days!

---------------------------

Talking about comics and comic cons: if YOU are a comics creator, (writer, penciler, inker, colorist, letterer, etc.), OR even a Comics / Magazine Publisher, feel free to contact me regarding YOUR works for a possible mention / review!

I've made a special blog post about: "How To Best Submit YOUR Publication For Possible Review!" for those creators / publishers that would like to possibly have their publications mentioned or reviewed, which could either be published in the 'Main Feature' or 'Featurette' sections.


~Michael @ ComicBookCollectorsBlog.com
Posted by makeitsomarketing at 12:01 AM PST
Updated: Tuesday, February 23, 2010 6:14 AM PST