My 'Take' On the Comic-Con International San Diego - 2010 Souvenir Book!
Mood:
caffeinated
Topic: Comic Cons



--------------

Above Top Photo: The Front Cover to the 2010 Comic Con International Souvenir Book!

At the Top Left: The 60th Anniversary of the Beetle Bailey Comic Strip!

At the Bottom Left: The Logo for the Comic Con International: San Diego - a.k.a. San Diego Comic Con 2010.
TODAY'S FEATURE - Blog #3200:
The 41st Comic-Con International: San Diego ended on Sunday, July 25th, at 5PM, and I had not yet read all of the 2010 Souvenir Book at the Con!
That's because there was so much to see and do at this comic con; that for the first time ever in attending this Con, I didn't get to walk the whole event which included the dealers section!
Plus I keep seeing people who recognized me from photos at this blog and from our Facebook Group Page at Hamersky.com, that I didn't make the time to read all of the Events Guide, let alone the Souvenir Book! Plus I really enjoyed meeting everyone in person thus matching faces with names!
But that's no excuse for not putting this 2010 Souvenir Book up to the top of my 'to read list', which I did after unpacking the car for the 5th time! We did pick up a lot at the Comi-Con this year to read and sell in our online store, ComicBooksCircus.com!
It's now Friday, 5 days after the 2010 Comic-Con ended, and I've finished reading this massive Souvenir Book...Whew!
So what were the 'Main Features' of this year's Souvenir Book? Well, here they are direct from the promotional literature on the con's web site:
Themes and Anniversaries
• The Year of the Writer
The current issue of Comic-Con Magazine is "the Writers Issue," in advance of Comic-Con 2010 featuring "the Year of the Writer" as a programming theme. It all starts with the written word, and this year's lineup of guests features some of the finest writers -- and writer/artists -- in comics, science fiction, and fantasy. (Please note: this theme is a bit more programming oriented than the rest of our list and may not lend itself to art and articles in the Souvenir Book, but if you have an idea for either, we'll consider it! Possible ideas include a look at DC writers over the history of the company, or articles devoted to the works of some of our special guests who are writers.)
• 100th Anniversary of Krazy Kat
Highly regarded as one of the classics of newspaper comic strips, George Herriman's Krazy Kat celebrates its 100th birthday in 2010. First appearing on July 26, 1910 in the cartoonist's The Dingbat Family strip, Krazy, Ignatz, and Office Pupp got their own strip in 1913, which lasted until Herriman's death in 1944. The strip -- with its surreal setting and Herriman's incredible landscapes and color work on Sundays -- is viewed as a major influence by many cartoonists.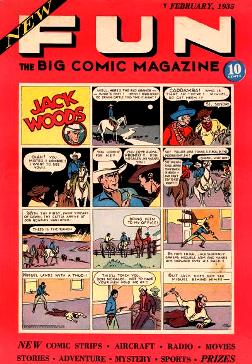 • 75th Anniversary of DC Comics
The impact of Superman, Batman, and Wonder Woman on pop culture cannot be underestimated. And it all started with a Daring Concept way back in 1935: comic books with all new content. Help us celebrate the three-quarters of a century mark with DC Comics!
• 60th Anniversary of Peanuts
It's hard to believe that Charlie Brown, Snoopy, and the whole Peanuts gang are 60 years old! If there's a touchstone in pop culture for millions of people around the world, Charles M. Schulz's creation is it. Still being published ten years after Mr. Schulz's death, Peanuts will live on for many years to come.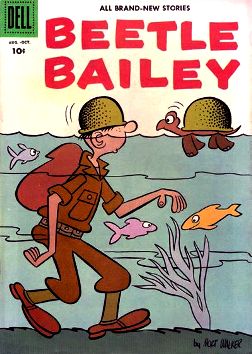 • 60th Anniversary of Beetle Bailey
Mort Walker's forever young -- and enlisted -- character started as a college student before he joined the Army in 1951. Beetle Bailey remains one of the longest-running comic strips still being produced by its original creator. Walker went on to give the world other strips, including Hi and Lois, Sam's Strip, and Boner's Ark, among others.
And what's 'My Take' on these?
Well, it's supposed to be a Comic Book Convention, right?! So I guess that running the 75th Anniversary of DC Comics would make better copy for the front cover. So that is the feature this year. With DC's 'Big 3' characters. And not a bad illustration at all of them by Ivan Reis (penciller), Oclair Alber (inker), and Alex Sinclair (colorist).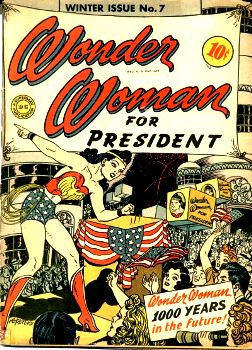 The 'DC Comics 75th Anniversary' pages and articles were well written and presented that even a newbie to the Comic Con would find interest in this pages allocated to this topic. Besides, there are a lot of comics fans that are interested in the 'Big 3' as well as other DC Characters. Well written articles, and Fan & Pro art used in this section!
Going back to the order in which the features were presented in the Souvenir book is:
The Year of the Writer - Article on 'Adaptation vs Authors' and a panel discussion at Wonder Con 2010 'Comic Writers Unite' make up this section. The latter is a good retelling of the panel for those that missed it in San Francisco earlier this year.
Krazy Kat 100th Anniversary - I'll be honest, I've never really enjoyed reading 'Krazy Kat' strips...it might be because of the style and the fact that it was way before my time that I just don't "get it". However, I do see the value in celebrating the 100th Anniversary of this important comic strip.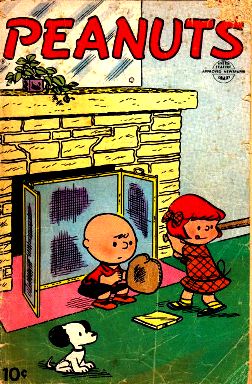 60th Anniversary of Peanuts - A good feature on the latest Milestone that the Peanuts gang has hit this year. Those that enjoy 'Peanuts' will like this section of several articles.
60th Anniversary of Beetle Bailey - My affection for this comic strip has grown over the years. I liked it years ago, and even more today. Our little newspaper here in North San Diego County has very few comic strips that I read. This is definitely one of them. Good presentation with historical background as well as what's going on today. Happy Anniversary to the cast of 'Beetle Bailey' and the Walker Family!
There were other sections in this Souvenir Book as usual. The hi-lights for me were:
The bios for the 2010 Special Guests - So much easier than looking them up elsewhere. I found a few guests here that I met in person earlier, not realizing all that had done so far.
The In Memoriam section which included a few persons that passed away since the last Souvenir Book that I wasn't aware of.
The Awards section would be good for those that haven't attended Comic-Con for a while, as it also listed the 'Eisner Hall of Fame' winners.
Once again, the staff of this Souvenir Book have published a very good book. It truly is a 'Souvenir Book' and one that all who attended will be looking back at fondly in the years to come!
My comic book grade for this year's Souvenir Book is a NEAR MINT (NM) 9.4 grade out of a 10.0 grading scale. If YOU didn't attend and want to order one of these, we will have a few up for sale in our online comic book shop in this store aisle, as well as some from earlier years.
---------------------------
Again, my thanks to those that are listed on page 3 of this Souvenir Book for another great job this year! And my thanks to the GCD for providing the comic book covers!
PLUS...My thanks again to all of YOU reading this blog and our archived blog posts, now at the 3,200 total posts in number! I do appreciate your continued reading and support of this Blog!
~ Michael D Hamersky @ ComicBookCollectorsBlog.com

Note: Our online comic book shop carries many different genres of comics, magazines, graphic novels, and comic con promotional items at the link seen below.
http://www.comicbookscircus.com/
---
"Hammering Out the Web For You Since May 12th, 1998!"

Note: If you are breaking into, or already work in the comic book industry or other pop culture productions, you are welcome to email us press releases, news items, and updates that you feel would be of interest to our blog readers. Including YOUR own works!

To mail printed items to us for possible review, send to:

Make It So Marketing Inc.
PO Box 130653
Carlsbad, CA 92013

ComicBooksCircus.com - It's Under The Big Top Of Comics! Click the Above Circus Tent to See Our Current Listings!

My thanks to those of YOU that have read today's blog post! I do appreciate that!

For those of you that didn't know me before today... I first set up as a 'dealer' at the 1972 San Diego West Coast Comic Con (SDCC) at the El Cortez Hotel. So I've been around comic conventions for a little while, LOL!

My wife Tina and I now have an on-line exhibitor (dealer) table at the first "virtual" comic con titled the "Facebook Comic Con" (FBCC)!

You can view our dealer table and interact with us there on Facebook by clicking this link, which takes you to our table named: 'Facebook Comic Con | Make It So Marketing'.

So if YOU are a Facebook member, please 'join' our Facebook Comic Con - Make It So Marketing exhibitor table for updates, specials, links to this blog, and other wall comments that we post every day!


Also, if you are a Facebook member and would like to also join my Facebook Network, feel free to send a 'friend request' to 'Michael D Hamersky'. I am reaching the maximum of 5,000 Facebook Friends soon, and I don't want YOU to be left out!

-------------------

Talking about comics: if YOU are a comics creator, (writer, penciler, inker, colorist, letterer, etc.), OR even a Comics / Magazine Publisher, feel free to contact me regarding YOUR works for a possible mention / review!

I've made a special blog post about: "How To Best Submit YOUR Publication For Possible Review!" for those creators / publishers that would like to possibly have their publications mentioned or reviewed. Just click on the link provided in this paragraph!

~Michael @ ComicBookCollectorsBlog.com

WEB PAGE NOTE: This blog post is written for the IE Browser standards. Chrome, Safarai, Netscape, Firefox and the others serve the page up differently, sorry about that!

The screen display resolution is best seen at the setting of 1024 x 768 on your laptop or desktop computer.

NOTE: All images and characters within this blog post are copyright and trademark their respective owners.
Posted by makeitsomarketing at 12:01 AM PDT
Updated: Friday, July 30, 2010 7:09 AM PDT