Former Comic-Con Goddess Reflects on San Diego Comic Con 2010 Part 2
Mood:
caffeinated
Topic: Comic Cons



--------------

----------

Directly Above: Michael and Tina at SyFy's 'Cafe Diem' Downtown San Diego!

At the Top Left: Another Waiting In Line Experience for Ballroom 20!

At the Bottom Left: The Logo for the Comic Con International: San Diego - a.k.a. San Diego Comic Con 2010.
TODAY'S FEATURE - Blog #3204:
Today's post is guest blogged by my wife, Tina LoSasso, a continuation of Part 1 posted here yesterday!
A Woman's View of 10 Years of Comic Con!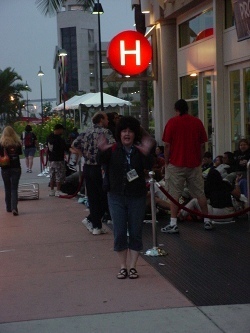 The crowds at Comic Con have begat line control worthy of Disneyland. I missed wading through the Hall H line looking for line buddies in the hour before dawn on Saturday mornings. Can't do it anymore, the line is too tight and directed by the security patrol instead of the meandering mess it used to be.
As for the change in security, I think they were much more polite and customer-focused than in recent years. It seemed clear to me that they'd been given some very strict instructions about how to talk to attendees. I've heard some stories to the contrary, and on Sunday, they seemed to have lost their patience, but overall I think the security personnel were a big improvement this year.
In recent years, the Elite staff has been ill-informed, rude and sometimes out of control. Just last year, I was flabbergasted by an Elite red-shirt telling a blind woman she had to walk to the next set of bathrooms (about a quarter-mile of hallway) because they'd cordoned off the nearest ones for no discernable reason.
Between volunteers and security, line control was much more pro-active this year with plenty of staff positioned along routes to direct people joining the lines. Twice I saw security staff help someone essentially jump the line by guiding them through the Hall H line to join their friends further ahead. Now that's customer service.
My favorite improvement this year concerned the Warner Brothers booth. After being elbowed repeatedly and nearly crushed last year trying to get Michael a Wonder Woman bag, I applaud whoever brokered the deal whereby WB included a bag in every attendee packet. I suspect it was the Fire Marshall. This simple change helped alleviate some of the insanity on the Floor.
And, was it me or where there a lot less clueless parents with small children in strollers?
I made a big change this year – no Convention food. After contracting food poisoning last year, I decided we weren't eating anything we didn't bring in ourselves. I highly recommend the practice – you'll avoid one more line and save a ton of time!
After 10 years of Comic Con, I'm still a fan – not a Goddess – these days, I think, you have to dress up like Wonder Woman to earn that, but a fan nonetheless.
Despite the crazy crowds, we had a lot of fun at Comic Con. Here are a few of our favorite lighter moments: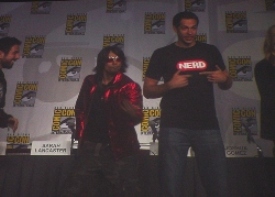 "Jeffster" performing to Lady Gaga's "Bad Romance" at the Chuck panel. Vik Sahay made the long wait in line worth it, which was fortuitous since the panel itself was disappointing (horrible moderator and no time for audience Q&A).
Running into Allison Scagliotti in the ladies room – she was elated that her job moderating the Eureka panel was over – so Claudia!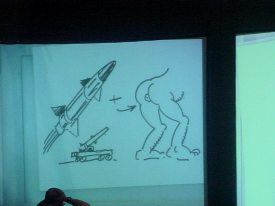 Any moment during Quick Draw but Peter David guessing the drawings depicting the word "Miscellaneous" -- with the emphasis on "aneous" -- was hilarious.
Molly Quinn (rumored to be the next Mary Jane in the Spidey reboot) getting into the Comic Con spirit by donning a Lt. Uhura costume for the "Castle" panel. We had a heads-up on that and weren't disappointed.
A surprise Hall H visit from the always delightful Guillermo Del Toro (Pan's Labyrinth) who gave us a glimpse into his upcoming "Haunted Mansion."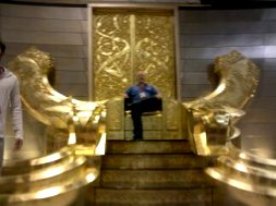 The gay guy who was posing men cross-legged on Thor's throne at the Marvel booth. He was mock insulted when I played it safe and said, "How metrosexual of you" -- he corrected me!
Helen Mirren ("The Queen" for goodness sakes!) taking the stage for the RED panel in a Harvey Pekar T-shirt.
Funniest Comic Con Moment: This sums up the twisted mentality of Con goers. I spotted him outside the Floor on Sunday afternoon. Obviously riffing on a Comic Con staple, the handmade signs proclaiming things like: "Free Hugs," the guy had cut out a hole over one eye and drew a circle around it, and taped a pen to the board and wrote "Free Pokes to the Eye." If you don't know what this refers to, Google "Comic Con stabbing" – you'll be more polite in Hall H in the future, I'm sure!
Note: If you haven't purchased your ticket for next year's Con, stay tuned. The 15,000 4-day with Preview Night tickets sold out before the end of this year's Con. Watch Michael's blog for when tickets are available online – and jump to it. Tickets usually go on sale during August. If recent history is any indication, they'll sell out surprisingly quick.)
---------------------------
Thus Part 2 of Tina's 2 part guest blog ends today. Thanks, Tina!
PLUS: My thanks again to all of YOU reading this blog and our archived blog posts, now over 3,200 total posts in number! I do appreciate your continued reading and support of this Blog!
~ Michael D Hamersky @ ComicBookCollectorsBlog.com

Note: Our online comic book shop carries many different genres of comics, magazines, graphic novels, and comic con promotional items at the link seen below.
http://www.comicbookscircus.com/
---
"Hammering Out the Web For You Since May 12th, 1998!"

Note: If you are breaking into, or already work in the comic book industry or other pop culture productions, you are welcome to email us press releases, news items, and updates that you feel would be of interest to our blog readers. Including YOUR own works!

To mail printed items to us for possible review, send to:

Make It So Marketing Inc.
PO Box 130653
Carlsbad, CA 92013

ComicBooksCircus.com - It's Under The Big Top Of Comics! Click the Above Circus Tent to See Our Current Listings!

My thanks to those of YOU that have read today's blog post! I do appreciate that!

For those of you that didn't know me before today... I first set up as a 'dealer' at the 1972 San Diego West Coast Comic Con (SDCC) at the El Cortez Hotel. So I've been around comic conventions for a little while, LOL!

My wife Tina and I now have an on-line exhibitor (dealer) table at the first "virtual" comic con titled the "Facebook Comic Con" (FBCC)!

You can view our dealer table and interact with us there on Facebook by clicking this link, which takes you to our table named: 'Facebook Comic Con | Make It So Marketing'.

So if YOU are a Facebook member, please 'join' our Facebook Comic Con - Make It So Marketing exhibitor table for updates, specials, links to this blog, and other wall comments that we post every day!


Also, if you are a Facebook member and would like to also join my Facebook Network, feel free to send a 'friend request' to 'Michael D Hamersky'. I am reaching the maximum of 5,000 Facebook Friends soon, and I don't want YOU to be left out!

-------------------

Talking about comics: if YOU are a comics creator, (writer, penciler, inker, colorist, letterer, etc.), OR even a Comics / Magazine Publisher, feel free to contact me regarding YOUR works for a possible mention / review!

I've made a special blog post about: "How To Best Submit YOUR Publication For Possible Review!" for those creators / publishers that would like to possibly have their publications mentioned or reviewed. Just click on the link provided in this paragraph!

~Michael @ ComicBookCollectorsBlog.com

WEB PAGE NOTE: This blog post is written for the IE Browser standards. Chrome, Safarai, Netscape, Firefox and the others serve the page up differently, sorry about that!

The screen display resolution is best seen at the setting of 1024 x 768 on your laptop or desktop computer.

NOTE: All images and characters within this blog post are copyright and trademark their respective owners.
Posted by makeitsomarketing at 12:01 AM PDT
Updated: Thursday, August 5, 2010 6:02 AM PDT