Tina's 'Take' On: Syndrome - A Graphic Novel From Archaia
Mood:
caffeinated
Topic: Comic Books - New



--------------

---------

Above Topmost Photo: Corrissa Baker showing us just one of the many publications showcased at the 2010 SDCC. This one had her name in it!

---------

Above Photo: David A Rodriguez showing us the Starkweather Immortal comic book that he wrote for Archaia Comics!

At the Top Left: The Front Cover Dust Jacket to Syndrome - The Graphic Novel hardback!

At the Bottom Left: The Logo for the Comic Con International: San Diego - a.k.a. San Diego Comic Con 2010.
TODAY'S FEATURE - Blog #3215:
One of the great pleasures I receive at visiting comic-cons, no matter what the size of them, is visiting the sections named 'Artists Alley', and 'Small Press' or 'Indy Aisles'.
I usually end up with several new publications to read and possibly review in this blog, after striking up conversations with the creators of the comics or graphic novels, due to this blog being the #1 'Followed' blog on Facebook for 'comics', 'comic books', and 'graphic novels' per the NetworkedBlogs app, as seen here.
So as posted earlier, I left with multiple new publications to read after this year's SDCC...
Plus..I've had a few more mailed to me for possible review since then. This was one of them mailed by in by Mel Caylo, Marketing Manager for Archaia.
Due to my on-site work schedule this week, my wife Tina LoSasso was willing to read and review at least one publication this week.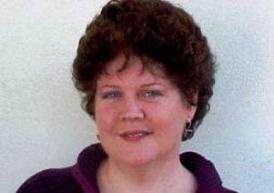 Here's "Tina's Take" on:
"Syndrome" Probes the Root of All Evil
When Michael asked me if I'd like to review "Syndrome" I blanched at the front cover, turned it over and was immediately intrigued by the synopsis on the back. I was once a Psych major so the idea of a scientific experiment to isolate and cure evil piqued my interest.
"Syndrome" is a graphic novel for the new millennium. In an age where science seeks to explain – and alter - every aspect of human emotion from depression to hyper-activity – and control the aberrations with pharmaceuticals – "Syndrome" asks whether evil is simply a malfunction of the brain.
At a secret facility in the Nevada desert, a psychiatrist tests his serial killer subject with the help of a struggling young Hollywood actress and a renowned set director. By recreating a small town complete with all the triggers to set off the psycho killer, the doctor monitors and attempts to control his subject's behavior with unexpected results.
The novel's artwork is compelling – far more so than the story itself. David Marquez does a fine job illustrating the story. Clear, concise, dramatic. The subject matter of the story is evil. Fortunately, Marquez manages to depict scenes of horrific violence without wallowing in the gore as so many comic and graphic novel artists do today.
Following the story, readers will find a few pages on The Artistic Process of David Marquez. In it, Marquez shows how he drew the entire story digitally using Photoshop and his Cintiq drawing tablet. It's an interesting look into the process of modern illustration.
Sadly, the story is not as well executed as the art. The premise of whether evil-doers are simply born that way – and can be controlled by pharmaceuticals is worthy of Orwell. Unfortunately, too much time is devoted to the Hollywood artist who creates the fictitious town and stories about the film industry. Not enough time is given to developing the story of the scientific experiment.
I suspect the writers wanted me to be shocked at the ending – and I was – I was shocked that the story had ended. I actually turned back and re-read several pages thinking I'd missed something.
While the experiment seems to go awry, how much more interesting and suspenseful would it have been for the experiment to seep outside the confines of the secret facility? Or, to see how the implications of the experiment impacted society?
While the writers came up with a fascinating concept, which was illustrated extremely well, editing fell short. I give "Syndrome" a 7.5 on a 10.0 Grading Scale. VERY FINE MINUS (VF-).
~Tina
Note: This graphic novel will be available September 1st, 2010 in comic book shops, and September 14th in bookstores.
For Mature Readers: Series contains adult content, nudity, adult language and graphic violence.
Retail Price $19.95 Page Count: 112 pages
Format: Oversized hardcover with dust jacket, 7.25" x 11.25" with full color.
Also, there is a Facebook Fan Page for Archaia Comics. Feel free to 'like' their fan page and be interactive with them!
------------------------
Thanks Tina for such a well written review! I can tell you definitely were a 'Psych' Major!
Again, my thanks also to Mel Caylo, for introducing this graphic novel to us. It was good to meet you at the SDCC this year!
PLUS...My thanks again to all of YOU reading this blog and our archived blog posts, now over the 3,210 total posts in number! I do appreciate your continued reading and support of this Blog!
~ Michael D Hamersky @ ComicBookCollectorsBlog.com

Note: Our online comic book shop carries many different genres of comics, magazines, graphic novels, and comic con promotional items at the link seen below.
http://www.comicbookscircus.com/
---
"Hammering Out the Web For You Since May 12th, 1998!"

Note: If you are breaking into, or already work in the comic book industry or other pop culture productions, you are welcome to email us press releases, news items, and updates that you feel would be of interest to our blog readers. Including YOUR own works!

To mail printed items to us for possible review, send to:

Make It So Marketing Inc.
PO Box 130653
Carlsbad, CA 92013

ComicBooksCircus.com - It's Under The Big Top Of Comics! Click the Above Circus Tent to See Our Current Listings!

My thanks to those of YOU that have read today's blog post! I do appreciate that!

For those of you that didn't know me before today... I first set up as a 'dealer' at the 1972 San Diego West Coast Comic Con (SDCC) at the El Cortez Hotel. So I've been around comic conventions for a little while, LOL!

My wife Tina and I now have an on-line exhibitor (dealer) table at the first "virtual" comic con titled the "Facebook Comic Con" (FBCC)!

You can view our dealer table and interact with us there on Facebook by clicking this link, which takes you to our table named: 'Facebook Comic Con | Make It So Marketing'.

So if YOU are a Facebook member, please 'join' our Facebook Comic Con - Make It So Marketing exhibitor table for updates, specials, links to this blog, and other wall comments that we post every day!


Also, if you are a Facebook member and would like to also join my Facebook Network, feel free to send a 'friend request' to 'Michael D Hamersky'. I am reaching the maximum of 5,000 Facebook Friends soon, and I don't want YOU to be left out!

-------------------

Talking about comics: if YOU are a comics creator, (writer, penciler, inker, colorist, letterer, etc.), OR even a Comics / Magazine Publisher, feel free to contact me regarding YOUR works for a possible mention / review!

I've made a special blog post about: "How To Best Submit YOUR Publication For Possible Review!" for those creators / publishers that would like to possibly have their publications mentioned or reviewed. Just click on the link provided in this paragraph!

~Michael @ ComicBookCollectorsBlog.com

WEB PAGE NOTE: This blog post is written for the IE Browser standards. Chrome, Safarai, Netscape, Firefox and the others serve the page up differently, sorry about that!

The screen display resolution is best seen at the setting of 1024 x 768 on your laptop or desktop computer.

NOTE: All images and characters within this blog post are copyright and trademark their respective owners.
Posted by makeitsomarketing at 8:05 AM PDT
Updated: Wednesday, August 18, 2010 6:46 AM PDT