It's Stan (The Man) Lee's Birthday... Today!
Mood:
celebratory
Topic: Comic Book Writers
-

-

-

Happy 88th Birthday To Stan (The Man) Lee!

Uppermost Top Photo: Over the years I've had Stan sign several of my personal collection of Fantastic Four Comics. Here's Stan with FF #5 in the early 1990's!

-

Top Middle Photo: Stan Lee at a mid 1970's San Diego Comic Con!

-

Top Lowest Photo: From the 2009 Long Beach Comic Con - LBCC. It was procalimed to be 'Stan Lee Day' in Long Beach, California!

-

At The Left Hand Side Colum of this blog post: Top Left Photo: Michael D Hamersky (middle of photo with bald head), at the Proclamation during Opening Day at the 2009 LBCC.

-

Second Photo Down At the Left: The exact moment when Stan cut the Opening Day Ceremonial Ribbon!

-

Third Photo Down At the Left: Stan Lee Holding my copy of Fantastic Four #3 he had just signed at 1991 SDCC.

-

Fourth Photo Down At the Left: Stan siging my copies of Fantastic Four #1 & Strange Tales Annual #2.

-

Fifth Photo Down At the Left: Stan Lee at a special panel at the Comic Con International: San Diego 2009.

-
TODAY'S FEATURE - Blog #3310: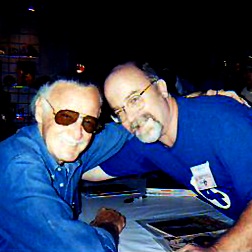 Tina and I may be on vacation... And I may be using her laptop, that doesn't have all of my photos scanned from the last several decades... But that isn't going to stop me from wishing Stan Lee a 'Happy Birthday', and re-publishing a few here that I have up online already!
That's right... Stan's 88th Birthday is Today, December 28th!
Stan was born 'Stanley Martin Lieber' on this date back in 1922! He was born in the apartment of his Romanian-born Jewish immigrant parents, Celia (née Solomon) and Jack Lieber, at the corner of West 98th Street and West End Avenue in Manhattan, New York.
Stan was one of two sons born to Celia and Jack... Larry Lieber, (who I have also blogged about), kept the Lieber name when breaking into comics.
I don't need to re-post the history of Stan in comics here... As I'm sure those reading this blog post are aware of his achievements! And there is so much of that history covering from the 1940's to current day... But, if you are new to comics... Here's the link to the Wikipedia entry on Stan.
As you can see from the photos re-published here at the header of this blog post... I've been a fan of Stan's for years!
It was because of Journey Into Mystery #72 that I first realized that there were 'real people' creating these comics! (See this archived blog post for details! Plus the two inserted photos at the bottom right of this blog are pics of the cover and a representation illustrated personally for me by Tiina Birgitta Räisänen!)
Thanks again Stan Lee & Jack Kirby for starting me on 'collecting comics', instead of just 'reading comics'! It's because of YOU two that I've had decades of readingand collecting pleasure in this genre!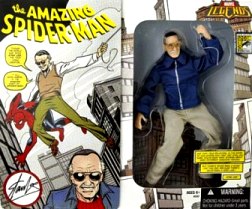 My best wishes for a Great 88th Birthday, and here's to many more to a Great Man, who is one of the few I've selected for my Thanksgiving Blog Series... "Whom I'm Thankful For...".
Michael D Hamersky, of 'Michael D Hamersky On Comics' - my New Facebook Fan Page, and Facebook Comic Con | Make It So Marketing - my Facebook Group Page which is under the 'virtual umbrella' of 'Facebook Comic Con'! Plus of course this blog, ComicBookCollectorsBlog.com!
--------------
My thanks again to all of YOU reading this blog and our archived blog posts, now at 3,310 total posts in number! I do appreciate your continued reading and support of this Blog!
BTW, You can 'follow' this Blog by clicking the 'Follow' Button at this NetworkedBlogs app! We currently have over 2,100 'Followers'! Thanks to ALL of YOU that have already clicked that button! And for those of YOU that haven't yet...I would appreciate it if YOU would!!!
~ Michael D Hamersky @ ComicBookCollectorsBlog.com

Note: Our online comic book shop carries many different genres of comics, magazines, graphic novels, and comic con promotional items at the link seen below.
Holidays Note: The online store is closed till the 1st week of January 2011. So none of the listings are showing at this time.
http://www.comicbookscircus.com/
---
"Hammering Out the Web For You Since May 12th, 1998!"

Note: If you are breaking into, or already work in the comic book industry or other pop culture productions, you are welcome to email us press releases, news items, and updates that you feel would be of interest to our blog readers. Including YOUR own works!

To mail printed items to us for possible review, send to:

Make It So Marketing Inc.
PO Box 130653
Carlsbad, CA 92013

ComicBooksCircus.com - It's Under The Big Top Of Comics! Click the Above Circus Tent to See Our Current Listings!

My thanks to those of YOU that have read today's blog post! I do appreciate that!

For those of you that didn't know me before today... I first set up as a 'dealer' at the 1972 San Diego West Coast Comic Con (SDCC) at the El Cortez Hotel. So I've been around comic conventions for a little while, LOL!

My wife Tina and I now have an on-line exhibitor (dealer) table at the first "virtual" comic con titled the "Facebook Comic Con" (FBCC)!

You can view our dealer table and interact with us there on Facebook by clicking this link, which takes you to our table named: 'Facebook Comic Con | Make It So Marketing'.

Plus I have a chapter in a new book coming out in December of 2010, that is pictured above, "Gotham City 14 Miles"! Click here to become a 'Fan' of the GC14M Facebook Fan Page!.

Also, if you are a Facebook member and would like to also join my Facebook Network, I would have liked to have sent you a Friend Request. However, I have reached the maximum of 5,000 Facebook Friends and Fan pages 'limit' already, so I have now added on a personal Facebook Fan Page of my own!

-------------------

Talking about comics: if YOU are a comics creator, (writer, penciler, inker, colorist, letterer, etc.), OR even a Comics / Magazine Publisher, feel free to contact me regarding YOUR works for a possible mention / review!

I've made a special blog post about: "How To Best Submit YOUR Publication For Possible Review!" for those creators / publishers that would like to possibly have their publications mentioned or reviewed. Just click on the link provided in this paragraph!

~Michael @ ComicBookCollectorsBlog.com

WEB PAGE NOTE: This blog post is written for the IE Browser standards. Chrome, Safarai, Netscape, Firefox and the others serve the page up differently, sorry about that!

The screen display x 768 on your laptop or desktop computer.

NOTE: All images and characters within this blog post are copyright and trademark their respective owners.
Posted by makeitsomarketing at 5:27 AM PST
Updated: Tuesday, December 28, 2010 7:27 AM PST