My Take On: Cyclops #1 of 8 From Archaia Entertainment
Mood:
caffeinated
Topic: Comic Books - New
TODAY'S FEATURE - Blog #3330:
Today's blog is on a series that Archaia Entertainment is publishing that was originally published in France.
The orginal work is by the same creative team that was behind 'The Killer: Modus Vivendi' series that I've been blogging about.
The following is what Archaia provides as the promo blurb for this series:
From the creative team behind The Killer comes a new series originally published in France about controversial private armies for hire and the pervasiveness of the media.
2054. Douglas Pistoia is looking for work, but only a private security firm, Multicorps Security, has offered him a job. Soon after he signs up, the UN decides to outsource its peacekeeping missions, and Multicorps wins the first bid, propelling Douglas into a war that is not his own, a highly sophisticated war broadcast worldwide by the soldiers themselves, thanks to the micro-cameras in their helmets. They are called the Cyclops. Douglas plays the game, and slowly emerges as both a unit leader and a media celebrity. But how far will he go in exploring the boundaries between war and peacekeeping, news and entertainment?
So what is 'My Take' on this first issue of the series?
I was already used to the art style that is in this new series, because of reading the earlier translated series I mentioned above, (The Killer: Modus Vivendi).
Thus I was able to concentrate more on the storyline in this first issue.
The storyline in this first issue is heavy with dialogue, which is good, because there are minimal captions as to what is taking place. The reader is gently eased into the series, and I found it intriguing as to wondering where the storyline was going.
The colors that are used in the panels are mostly darker, which adds to the suspense. The better paper that the first issue is printed on brings out the colors and meshes well with the artwork.
This is a good start for what is being considered as a 'Sci-Fi thriller'. I'm looking forward to see what boundaries between war and peacekeeping will be brought up in this series.
The first issue for this series is a good start to jump on board for this series, instead of waiting months down the road for a TPB.
Cyclops - #1 of 8 went on sale: December 22nd at your LCBS - Check it out!
Review Rating: 9.0 VERY FINE / NEAR MINT (VF/NM) out of a possible 10.0 Comic Book Grading scale.
Retail Price $3.95 Page count: 32 pages
Format: saddle bound, 6.625" x 10.25", full color
Mature Readers (series contains Nudity, Graphic Violence and Adult Content).
Here is the link to Archaia so that YOU can purchase either the single volumes or the collected works so far, if YOUR LCBS doesn't have them in stock.
Here is the Facebook Fan Page for Archaia Entertainment, which I suggest YOU 'like' also to keep up with what this publisher is presenting next.
---
Our thanks again to all of YOU reading this blog and our archived blog posts, now at 3,330 total posts in number! We do appreciate your continued reading and support of this Blog!
BTW, You can 'follow' this Blog by clicking the 'Follow' Button at this NetworkedBlogs app! We currently have over 2,165 'Followers'! Thanks to ALL of YOU that have already clicked that button! And for those of YOU that haven't yet... We would appreciate it if YOU would!!!
~ Michael D Hamersky & Tina LoSasso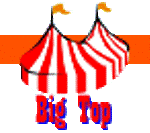 Note: Our online 'Local' Comic Book Shop (LCBS), carries many different genres of comics, magazines, graphic novels, and comic con promotional items. Possibly even copies of the item that was reviewed here today...!
You can find it 'Under The Big Top Of Comics' at:
http://www.ComicBooksCircus.com/
Web Page Note: This blog post is written for the IE Browser standards. Chrome, Safarai, Netscape, Firefox and the other browsers serve the page up differently, sorry about that!
The screen display resolution is best seen at the setting of 1024 x 768 on your laptop or desktop computer.
NOTE: All images and characters within this blog post are copyright and trademark their respective owners.

Comics Creators: If you are breaking into, or already work in the comic book industry or other pop culture productions, you are welcome to email or mail us press releases, news items, and updates that you feel would be of interest to our blog readers. Including YOUR own works!
To mail printed items to us for possible review, send to:
Make It So Marketing Inc., PO Box 130653, Carlsbad, CA 92013

Also, if you are a Facebook member, I would have liked you to send me a 'Friend Request'. However, I have reached the maximum limit of 5,000 Facebook Friends and Fan pages already, so I've added a New 'Facebook Fan Page' so that even more of YOU can 'Like' what I am doing, and be interactive with me and others there. Here is the link to that 'Facebook Fan Page': Michael D Hamersky On Comics! Please click the 'Like' button on that page!
---
Posted by makeitsomarketing at 12:01 AM PST
Updated: Friday, January 21, 2011 6:24 PM PST