My Take On: Nart... Again
Mood:
caffeinated
Topic: Comic Books - New
TODAY'S FEATURE - Blog #3421:
I blogged a while back about the 1st Annual Mini-Comics Day that was held world-wide on April 9th of 2011, (blog #3390).
At that time I also invited those that were involved either in that Day's activities, or self-publish mini-comics to send in a sample for a possible review blog and / or mention at my Facebook Fan Page, (Michael D Hamersky On Comics).
Jim Siergey actually has sent in two of his mini-comics.
I'm reviewing just the one here today, as he sent in a little background history on his 'Nart' series as well. Which is printed here:
"If you are not familiar with 'nart' - the first two issues are reprinted in Fantagraphics 'Newave' book.
Nart appears every decade, whether needed or not. The history of nart -
Jim Siergey's Little Book of Nart - 1979
Nart 2, Brute
Narties (A micro)
What's Nart 4?
Long Day's Journey Into Nart - 24 pg, with 16 artists' interpretation of Nart
The 6th of Nart - Digest Size
My Sharona - a psuedo - nart book
'Nart... Again' is available from me @
Jim Siergey, 4135 N. Hermitage, Chicago, IL 60613 for $1 & a stamp."

So that's a little history out of the way...!
What's 'My Take' on this mini-comic?!
First, mini-comics come in all sizes and shapes and page counts...
This issue is two pieces of paper folded in half, comprising eight total pages.
Don't let the small amount of pages fool you, however.
The front cover sets the 'tone' for what you see inside.
The inside front cover is the 'intro page', along with the indicia at the bottom. Plus you are given the 'story' behind the title:
"if it's art, it's art - if it's nart, it's nart..."
The following pages are individual cartoon full sized pics, with individual themes. They show Jim's sense of humor, which I found to be amusing. I especially enjoyed the cartoon of 'Bridget Jones's Guadalcanal Diary'.
This mini-comic is a good representation of what mini-comics are about. A sampling of what the creator(s) wanted to publish to introduce their work. As I had not read or viewed Jim's works before, this was a nice intro to his world.
Plus, for a buck & a stamp, you can't go wrong!
My review rating for this mini-comic is a VERY FINE PLUS (VF+) 8.5 out of a 10.0 possible comic book grading scale.
Here are the links that you should check out for more of Jim's works:
Jim Siergey in Grand Comics Database
Oh... and I did mention that Jim had sent in two sample copies. The other one was 'Stuff That Dreams Are Made Of', which is available online at WeirdMuse.ecrater.com for a buck. I'm not reviewing that one here at this time, but suggest you take a look at it also!
~Michael
---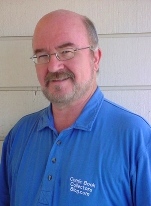 My thanks again to all of YOU reading this blog and our archived blog posts, now at 3,421 total posts in number! I do appreciate your continued reading and support of this Blog!
BTW, You can 'follow' this Blog by clicking the 'Follow' Button at this NetworkedBlogs app! We currently have over 2,436 'Followers'! Thanks to ALL of YOU that have already clicked that button!
And for those of YOU that haven't yet... I would appreciate it if YOU would!!!
~ Michael D Hamersky
Note: My online 'Local' Comic Book Shop (LCBS), carries many different genres of comics, magazines, graphic novels, and comic con promotional items. Possibly even copies of the item that was reviewed here today...!
If I have it... You can find it 'Under The Big Top Of Comics' at:
http://www.ComicBooksCircus.com/
Web Page Note: This blog post is written for the IE Browser standards. Chrome, Safari, Netscape, Firefox and the other browsers serve the page up differently, sorry about that!
The screen display resolution is best seen at the setting of 1024 x 768 on your laptop or desktop computer.
NOTE: All images and characters within this blog post are copyright and trademark their respective owners.

Comics Creators: If you are breaking into, or already work in the comic book industry or other pop culture productions, you are welcome to email or mail us press releases, news items, and updates that you feel would be of interest to our blog readers. Including YOUR own works!
To mail printed items to us for possible review, send to:
Make It So Marketing Inc., PO Box 130653, Carlsbad, CA 92013

Also, if you are a Facebook member, I would have liked you to send me a 'Friend Request'. However, I have reached the maximum limit of 5,000 Facebook Friends and Fan pages already, so I've added a New 'Facebook Fan Page' so that even more of YOU can 'Like' what I am doing, and be interactive with me and others there. Here is the link to that 'Facebook Fan Page': Michael D Hamersky On Comics! Please click the 'Like' button on that page!
---
Posted by makeitsomarketing at 6:30 AM PDT
Updated: Wednesday, May 25, 2011 7:47 AM PDT