My Take On: The PayPal Wars!
Mood:
caffeinated
Topic: Other Non Comics Works
Michael D Hamersky On Comics Reviews:

The PayPal Wars

Battles With eBay, the Media, the Mafia, and the Rest of Planet Earth!




-

Photos: (above)The PayPal Wars by Eric M. Jackson (pictured to the top left).
TODAY'S FEATURE - Blog #3434:
This is the 'Weekend Edition' of my Blog!
And no, this isn't another one of the 'wars' that the USA is currently engaged in, (i.e. in Libya, Iraq, Afganhistan, War On Terror, etc.)!
Instead it is a 'war' that was waged back in 1999 to October of 2002... And I 'was there'...
Not in the way that the author of this book, Eric M. Jackson, 'was there', but as an eBayer who couldn't understand what the heck was going on between PayPal and eBay with BillPoint!
Eric M. Jackson tells the 'behind the scenes' story of the PayPal Wars, and I for one am glad that he did, and that I just found this book recently!
Yes, this isn't the 'normal' book on comics, or graphic novel, or comic book that I normally blog about here.
But for those of YOU that like me were early adopters of eBay and then PayPal, this inside look of the period that Eric was with PayPal, starting in November of 1999, this is a 'must read'!
You see, I'm an eBayer since January of 1999, and yes, at first I depended on checks or money orders to be mailed to me. For selling on the web, this was a process that was a little 'slow', and there were a few instances where I didn't receive payment. So an auction paying service like PayPal became was fantastic!
During the time period that this book covers, I was at times amused, amazed, and perturbed at the goings on between the players I was using to list my items for sale. Ebay kept giving us sellers free this or that to use their 'Billpoint' payment service, while PayPal kept adapting to eBays changes to limit PayPal's influence on their site.
It was a heck of a time period, which as we all know, ended with eBay purchasing PayPal. As an eBayer who has made tens of thousands of 'changes' since 1999, due to eBay's constant 'refining' / 'tweaking' of their site, this was another series of changes that I had to adapt to!
Heck, even today, I'm still making changes as of Spring of 2011, where the latest changes eBay is requiring sellers to adapt to!
So it was fun to read this book. And one that I wanted to point out to you today! It brought back memories of those 'early days', which actually are only twelve years ago! But time goes by fast on the web!
My comic book grade for this TPB is a VERY FINE / NEAR MINT (VF/NM) 9.0 out of a possible 10.0 comic book grading scale. What this book 'missed', IMO, are photos of those days! I would have loved to see a section in this book, (my edition was published in 2004), of photos of those days!
Here's what the book is about, per the publisher(s):
When Peter Thiel and Max Levchin launched an online payment website in 1999, they hoped their service could improve the lives of millions around the globe. But when their start-up, PayPal, survived the dot.com crash only to find itself besieged by unimaginable challenges, that dream threatened to become a nightmare. PayPal's history - as told by former insider Eric Jackson - is an engrossing study of human struggle and perseverance against overwhelming odds. The entrepreneurs that Thiel and Levchin recruited to overhaul world currency markets first had to face some of the greatest trials ever thrown at a Silicon Valley company before they could make internet history. Business guru Tom Peters, author of "In Search of Excellence," called the hardcover edition of The PayPal Wars "a real page turner" that featured what he called "the best description of business strategy unfolding in a world changing at warp speed." The new paperback edition will feature updated material and even more insights on the state of internet commerce.
This candid insider's account shows firsthand how PayPal launched its online payment service and set out to revolutionize the world's currency markets. But when the startup's plucky entrepreneurs found themselves confronting eBay (their #1 source of customers!) as well as organized crime rings, money-grubbing lawyers, and even regulation-happy NY Attorney General Eliot Spitzer, the entire venture takes a turn for the worse.
Here's the the publishing info about this book, and lucky you... There also is a newer edition for sale, paperback, (with a different cover, in white!):
Paperback: 270 pages
Publisher: World Ahead Publishing (January 1, 2010)
Language: English
ISBN-10: 9780977898435
ISBN-13: 978-0977898435
ASIN: 0977898431
Product Dimensions: 7.4 x 5.5 x 0.8 inches
Shipping Weight: 7.2 ounces
This is where you can purchase an inexpensive copy of this book: The PayPal Wars: Battles With Ebay, the Media, the Mafia, And the Rest of Planet Earth
So why did I 'review blog' this book for the 'Weekend Edition' of this Blog?
Well, as I stated above, I have been an active ebayer since January of 1999. Since that time I have received postitive feedback on eBay totalling 15,850 items. Note: Due to eBay's continual changes, I as well as other eBayers no longer regard feedback as a 'must' to use, as there are hundreds, if not thousands of items that I have sold that have not had 'feedback' posted, as a lot of casual users of eBay don't leave any feedback anymore...
However, it is because of the PayPal service that I have received so many +FBs during my time on eBay. Because using personal check and money orders for payments was surely slow back the 'Good Old Days', LOL!
I definitely recommend this book to those that have or are currently using the PayPal service. A fun and historical read as to how PayPal started, grew, and was then absorbed by eBay!
~Michael D Hamersky
---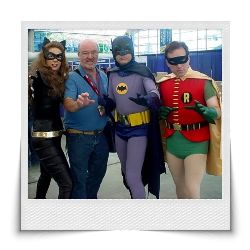 My thanks again to all of YOU reading this blog and our archived blog posts, now at 3,434 total posts in number! I do appreciate your continued reading and support of this Blog!
BTW, You can 'follow' this blog by clicking the 'Follow' Button at this NetworkedBlogs app! We currently have over 2,453 'Followers'! Thanks to ALL of YOU that have already clicked that button!
And for those of YOU that haven't yet... I would appreciate it if YOU would!!!
~ Michael D Hamersky
Note: My online 'Local' Comic Book Shop (LCBS), carries many different genres of comics, magazines, graphic novels, and comic con promotional items. Possibly even copies of the item that was reviewed here today...!
If I have it... You can find it 'Under The Big Top Of Comics' at:
http://www.ComicBooksCircus.com/
Web Page Note: This blog post is written for the IE Browser standards. Chrome, Safari, Netscape, Firefox and the other browsers serve the page up differently, sorry about that!
The screen display resolution is best seen at the setting of 1024 x 768 on your laptop or desktop computer.
NOTE: All images and characters within this blog post are copyright and trademark their respective owners.

Comics Creators: If you are breaking into, or already work in the comic book industry or other pop culture productions, you are welcome to email or mail us press releases, news items, and updates that you feel would be of interest to our blog readers. Including YOUR own works!
To mail printed items to us for possible review, send to:
Make It So Marketing Inc., PO Box 130653, Carlsbad, CA 92013

Also, if you are a Facebook member, I would have liked you to send me a 'Friend Request'. However, I have reached the maximum limit of 5,000 Facebook Friends and Fan pages already, so I've added a New 'Facebook Fan Page' so that even more of YOU can 'Like' what I am doing, and be interactive with me and others there. Here is the link to that 'Facebook Fan Page': Michael D Hamersky On Comics! Please click the 'Like' button on that page!
---
Posted by makeitsomarketing at 4:58 AM PDT
Updated: Sunday, June 12, 2011 5:50 AM PDT