'Gentleman' Gene Colan Passes... 1926 - 2011
Mood:
sad
Topic: Comic Book Artists
Michael D Hamersky On Comics Reflects On:

Gene Colan

Comic Book Illustrator and More!

1926 - 2011




-

-

-

Photos: From the panel that Mark Evanier hosted backin 2001 at the Comic-Con International: San Diego (SDCC). One of the days I'll remember for a long time, because of who attended: John Romita Sr., John Buscema, Gene Colan, Marie Severin, and others.
TODAY'S FEATURE - Blog #3445:
I've been up for hours, working on a client's project, and was about ready to go back to bed, when I came across a Facebook Friend, (Holger Haase), 'Liking' my Facebook Fan Page.
I noticed that, because I was also trying out the project I had been working on with my Facebook Fan Page, and was going in to tell Holger 'thanks', when I saw the notice of Gene Colan's passing on Holger's Facebook wall...
Last year at this time, I had blogged about Gene's wife, Adrienne Colan, passing on, in blog #3172.
Today, I'm thinking and blogging about Gene once again, but this time regarding his passing...
As I mentioned in the earlier blog, I had seen both Gene and Adrienne several times at the San Diego Comic Con, and I really enjoyed hearing Adrienne's stories about the 'old days', when she was able to talk freely.
That's because Gene was always busy illustrating at his table during those times.
It seems I only got to hear Gene speak for any length at panels, basically the ones that Mark Evanier hosts every year.
The photos at the top right of this blog post are from a special panel during the 2011 SDCC. (There are others from the same con that don't have Gene in them at this special photo album.)
Gene was honored by his peers with a surprise early birthday cake. He would be turning 75 years old.
I remember that panel very well, as Gene was really touched by all those that had fond memories of working with him, or around him in comics. There were a lot of memories shared there...
He was truly touched, and ended up taking off his cap, which he rarely did on stage, and thanking all that were in attendance.
Yes, I had been a fan of his works, and continued to buy Daredevil comics after John Romita Sr. left that series in 1966. Gene's comic book art was so cinematic during that series... It was truly a wonder to behold when each issue came out! I've published a photo of his first Daredevil front cover, from issue #21, from October 1966, although his interior pencils on DD started in #20.
I could on and on about his works on Iron Man, Tomb of Dracula, etc., etc., but today... I just wanted to talk about the man, and let you see on your own, over 3,000 stories credited to him on the Grand Comics Database.
Gene was a true 'Gentleman', both on stage and off, in big crowds and individually one-on-one at his Artist Alley table.
My condolences to his family and friends...
~Michael D Hamersky
---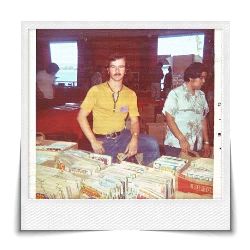 My thanks again to all of YOU reading this blog and our archived blog posts, now at 3,445 total posts in number! I do appreciate your continued reading and support of this Blog!
BTW, You can 'follow' this blog by clicking the 'Follow' Button at this NetworkedBlogs app! We currently have over 2,464 'Followers'! Thanks to ALL of YOU that have already clicked that button!
And for those of YOU that haven't yet... I would appreciate it if YOU would!!!
~ Michael D Hamersky
Note: My online 'Local' Comic Book Shop (LCBS), carries many different genres of comics, magazines, graphic novels, and comic con promotional items. Possibly even copies of the item that was reviewed here today...!
If I have it... You can find it 'Under The Big Top Of Comics' at:
http://www.ComicBooksCircus.com/
Web Page Note: This blog post is written for the IE Browser standards. Chrome, Safari, Netscape, Firefox and the other browsers serve the page up differently, sorry about that!
The screen display resolution is best seen at the setting of 1024 x 768 on your laptop or desktop computer.
NOTE: All images and characters within this blog post are copyright and trademark their respective owners.

Comics Creators: If you are breaking into, or already work in the comic book industry or other pop culture productions, you are welcome to email or mail us press releases, news items, and updates that you feel would be of interest to our blog readers. Including YOUR own works!
To mail printed items to us for possible review, send to:
Make It So Marketing Inc., PO Box 130653, Carlsbad, CA 92013

Also, if you are a Facebook member, I would have liked you to send me a 'Friend Request'. However, I have reached the maximum limit of 5,000 Facebook Friends and Fan pages already, so I've added a New 'Facebook Fan Page' so that even more of YOU can 'Like' what I am doing, and be interactive with me and others there. Here is the link to that 'Facebook Fan Page': Michael D Hamersky On Comics! Please click the 'Like' button on that page!
---
Posted by makeitsomarketing at 6:58 AM PDT
Updated: Friday, June 24, 2011 7:33 AM PDT