My Take On: Children of the Yellow Kid
Mood:
caffeinated
Topic: Comic Books - New
Michael D Hamersky On Comics Reviews:

Children of the Yellow Kid

By Robert C Harvey




-

Photos: (Above) The front cover to 'Children of the Yellow Kid' hardcover book.

(Above top left) An early photo of the Yellow Kid.
TODAY'S FEATURE - Blog #3449:
I enjoy reading books about comic books, comic strips, comic book movies, etc. Especially when they are 'done right'!
This book starts way back when the comic strip first started... And no, I wasn't there at that time, LOL!
I always enjoyed reading certain comic strips in the newspapers that my folks bought when I was a kid. I continued reading them through my young adult life, and until just recently, when I stopped buying the Sunday newspaper.
You see, just like the subtitle of this book, 'The Evolution of the American Comic Strip', I've also 'evolved' into some of the ways of the 2010s.
My wife and I no longer 'need' to buy the Sunday newspaper, which basically we were doing to have a 'hard copy' of the TV listings for the upcoming week. Now, we just look at an app on our 'Droid' for that!
So I haven't read a newspaper in several months, other than the 'free' local papers that you would find on a rack outside of a store, and that don't carry any comic strips.
Yeah, it has come to that! When someone my age stops buying newspapers, you know that the comic strip needs to evolve even more in the 2nd 100 years.
That being said... I found this book more than just nostalgia for me. As it does cover 'The Yellow Kid', and so many other strips that I was already familiar with, and several that I wasn't, including those that started in the 1980s and later, that weren't carried in any newspapers that I was buying at the times.
Several of the choices included in this book got me to wondering why, and some that weren't included made me wonder why as well...?
Robert's intro set the pace for the book. The Chapters, called 'Movement(s)',were indeed about the moving of the comic strips into different genres during the years. This was well thought out by writer!
A special note before I go further. This book actually documents an exhibition that was held at the Frye Art Museum in Seattle, Washington, during Sept 19th - November 8th of 1998. Plus when it was moved to the Cartoon Art Museum in San Francsico, California, from November 21st, 1998 - February 21st of 1999. Not being able to attend those exhibitions, it was pretty cool to see this book documenting them!
Yes, there were some older strips that I just haven't cared for in the past, including 'The Katzenjammer Kids' for example. Any book that includes multiple samples of a topic can't help but include some of those that individual readers wouldn't like.
But for the most part, this book really has a lot that most persons that like or love comic strips could get into.
Especially for the original art that is pictured! Beautiful examples of the art behind the strip, with all of the notes, pencil markings, etc., that go into making a comic strip. Similiar to what you can see on original art for comic books, where the penciler writes on the margins for the writer to see for dialogue, etc.
'Movement' 1 had the really old strips being showcased. I was familiar with most of them.
'Movement' 2 had additional strips, such as 'Gasoline Alley' that had built upon the foundations of the earlier strips. Also included were 'Blondie' and 'Nancy', so by page 59 of this book, more familiar strips, and ones that are currently still be published today were shown.
'Movement' 3 'showed the advent of continuity strips... Mainly 'Soap Opera' and 'Adventure' strips. Some shown were 'Mary Worth', 'Brenda Starr', 'Apartment 3-G' 'Tarzan', 'Flash Gordon', 'Prince Valiant', 'Dick Tracy', 'Terry and the Pirates', and more. All that I was already familiar with, but each sample included the creator's brief bio, and a quick history of the strip.
'Movement' 4 showed that the comic strips had competition from TV and other media formats, so the comic strips started evolving to a 'gag-a-day' style. Samples presented were 'Peanuts', 'Beetle Bailey', 'B.C.', 'Tumbleweeds', 'Hagar the Horrible', and more.
'Movement' 5 presented "Comics with a conscience: Satire and social commentary". Including 'Lil Abner', 'Little Orphan Annie', 'Pogo', 'Wee Pals', 'Dilbert', and others of that genre.
The book wraps ups with a bibliography and an afteword.
The samples of the strips, the brief bios of the creators and the strips, and the cultural and social events happening during the creation and print runs of these strips made for very interesting reading!
My only, and main concern of reading this book, was the fact that the font size of the text is just too darn small for me! Plus the font color of the text in several area was a strange color, very 'light' on the page, in contrast to other pages that had the 'normal' black font color.
That is the only detraction to this book, in my opinion, when I was reading it.
Thus, my comic book grade for this hardcover book is a VERY FINE PLUS (VF+) 8.5 out of a possible 10.0 grading scale. If the materials presented for viewing weren't so darn good, my grade would have been lower due to the size and colors of the font...
Here's the info for identifying the book that I read. Please note - I read the hardcover book format, which is OOP and considered collectible. Thus the below is for the softcover format, which is also OOP, but a lot less in cost for a copy:
Paperback: 176 pages
Publisher: University of Washington Press (March 1999)
Language: English
ISBN-10: 0295977787
ISBN-13: 978-0295977782
Product Dimensions: 12 x 9.1 x 0.6 inches
Shipping Weight: 2.1 pounds

Here's the link where YOU possibly can buy it online, as I don't have it listed for sale in my online comic book shop: Children of the Yellow Kid: The Evolution of the American Comic Strip
~Michael D Hamersky
---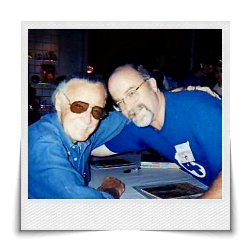 My thanks again to all of YOU reading this blog and our archived blog posts, now at 3,449 total posts in number! I do appreciate your continued reading and support of this Blog!
BTW, You can 'follow' this blog by clicking the 'Follow' Button at this NetworkedBlogs app! We currently have over 2,470 'Followers'! Thanks to ALL of YOU that have already clicked that button!
And for those of YOU that haven't yet... I would appreciate it if YOU would!!!
~ Michael D Hamersky
Note: My online 'Local' Comic Book Shop (LCBS), carries many different genres of comics, magazines, graphic novels, and comic con promotional items. Possibly even copies of the item that was reviewed here today...!
If I have it... You can find it 'Under The Big Top Of Comics' at:
http://www.ComicBooksCircus.com/
Web Page Note: This blog post is written for the IE Browser standards. Chrome, Safari, Netscape, Firefox and the other browsers serve the page up differently, sorry about that!
The screen display resolution is best seen at the setting of 1024 x 768 on your laptop or desktop computer. Note: As of Monday, June 27th, 2011, I'll be using my new laptop, where the default resolution is 'higher', so there may be some temporary glitches until I am used to the new resolution.
NOTE: All images and characters within this blog post are copyright and trademark their respective owners.

Comics Creators: If you are breaking into, or already work in the comic book industry or other pop culture productions, you are welcome to email or mail us press releases, news items, and updates that you feel would be of interest to our blog readers. Including YOUR own works!
To mail printed items to us for possible review, send to:
Make It So Marketing Inc., PO Box 130653, Carlsbad, CA 92013

Also, if you are a Facebook member, I would have liked you to send me a 'Friend Request'. However, I have reached the maximum limit of 5,000 Facebook Friends and Fan pages already, so I've added a New 'Facebook Fan Page' so that even more of YOU can 'Like' what I am doing, and be interactive with me and others there. Here is the link to that 'Facebook Fan Page': Michael D Hamersky On Comics! Please click the 'Like' button on that page!
---
Posted by makeitsomarketing at 12:01 AM PDT
Updated: Wednesday, June 29, 2011 6:13 AM PDT