Getting Ready For The 2nd Annual So Cal Comic Con In Oceanside, California!
Mood:
caffeinated
Topic: Comic Cons
-

-

Topmost Photo: Rey Reyes is one of the two So Cal Comic Con promoters. Here he is at his dealer table at the 2010 Con!

-

Above Bottom Photo: My youngest son, Vinnie, with 'Spider-Man' at last year's So Cal Comic Con! Thumbs up for that show, indicated Vinnie! Who also added back issues to his Amazing Spider-Man collection!

Top Photo At The Left Column.: Guest of Honor, Bob Layton, with Michael D Hamersky at the 2010 SoCal Comic Con!
TODAY'S FEATURE - Blog #3484:
Yesterday, my youngest son Vinnie and I worked on getting ready for the second annual So Cal Comic Con, being held at the Boys & Girls Club in Oceanside, California.
I haven't set up at a comic con or show for over 15 years now, (being an online comic book dealer only!), and it was an opportunity to show Vinnie the difference between setting up at a convention versus being set up for online sales.
In addition, out of the twenty boxes of dollar comics we will bringing to the show, six of those boxes will be his own comics, accumulated by his older brothers, and that he will be selling on a commission basis for them. I like how his young mind thinks when an opportunity arises. He can learn the business without buying inventory to resale, just invest his time, and learn from my knowhow from first setting up during my own college years at the San Diego Comic Con back in 1972!
So this show should be a good learning experience, as well as a good financial one. For both him and myself... Plus, Vinnie's step-mom, Tina, will be setting up for the first time also! She has been to many comic cons and shows, but never been on the other side of the table! So this will be a new experience for her also!
So enough about us getting ready for this comic con... What else is going on there?
Well, in addition to having a dealers table at this con, I'll also be blogging prior to the con, as in this 'weekend edition' of my blog, blogging the day of the con, and posting here afterwards as well, as to how it went.
In addition, I'll be mobile Facebooking from the con itself, and uploading those pics to my Facebook Fan Page, 'Michael D Hamersky On Comics'. Those pics, probably after the con is over, not during, will be placed in a special 2011 So Cal Comic Con album, which has already been set up for that purpose!
The So Cal Comic Con's Facebook Event Page can be found at this link.
The So Cal Comic Con's Facebook Fan Page is found here. You don't have to be coming to this year's comic con to 'Like' it. Feel free to 'Like' it even if you aren't coming so that your Facebook Friends can see it!
Both of those Facebook pages are prime resources as to who will be guests, exhibitors, and attendees. Plus you can be interactive with the con promoters and other attendees as well, prior and possibly during the con?!
I suggest you 'LIKE' the Fan Page, and click the the 'Attending' / 'Maybe Attending' / or even the 'Not Attending' links!
Here is the 'Press Release' so I don't miss posting anything in this 'weekend edition' of my Blog:
"The So Cal Comic Con is proud to announce that the Guest of Honor for the 2nd show will be none other than fan-favorite artist and creator J. Scott Campbell! A previous resident of San Diego while working at Wildstorm Productions, Campbell is known throughout the world for his artistic rendering of attractive women and dynamic pencilling on titles such as Gen 13, his creator owned titles Danger Girl and Wildsiderz, and his stunning covers for Amazing Spider-Man and other popular Marvel Comics titles.
In addition to Mr. Campbell, the So Cal Comic Con is also hosting comic creators such as Keu Cha (Hex), the Garage Art Studios team (Tony Fleecs, Chris Moreno, Tone Rodriguez, and Mark dos Santos), penciller Joel Gomez (Flashpoint: Reverse Flash), local artist David Miller, and inker Joe Weems. Blogger Michael Hamersky (ComicBook Collectors Blog) will be broadcasting LIVE from the event! Comic books can be autographed and receive the prestigious CGC Signature Series label designation for any guest at our show.
Admission to the show is only $5, or $4 with a flyer from your local Southern California comic book shop. Kids 13 and under get in free with a paid adult admission. Buy your tickets at the door. Free gift bags will be provided to the 1st 100 fans in attendance, filled with donated comics and posters from our sponsors (IDW, Marvel, DC, Dark Horse, Top Cow/Image, and more)

The 2nd annual So Cal Comic Con will be held on Saturday, August 27th, 2011, from 10 am to 5 pm, at the Oceanside Boys and Girls Club, located at 401 Country Club Lane, Oceanside, CA 92054. Raffles will be held throughout the day for amazing prizes like a copy of X-Men #1 from 1963 signed by Stan Lee! We are hosting over a dozen vendors, including Southern California Comics, Super-Con/Steve Wyatt, Terry's Comics, Comic Madness, The Comic Cellar, Echo Base Toys, Comic Gallery, GoDaddyO's Comic Book Hideout, Mike's Collectibles N' Stuff, Angelo's Comics, Desert Wind Comics, FVF Comics, and more!"
Okay... That should do it for this pre-con blog!
I've posted about my personal interest in this upcoming one day show, that Vinnie, Tina & I will be having a dealer's table. Plus that I will be mobile Facebooking / blogging from the event itself. So stop by, say hello, get your picture taken, and enjoy yourself at the rest of the con!
Last year's 1st Annual So Cal Comic Con was a fun event, both for attendees, dealers, and comics creators. Vinnie & I, who attended last year, are definitely looking forward to this upcoming show, only two weekends away from now... On Saturday only! See you there???!!!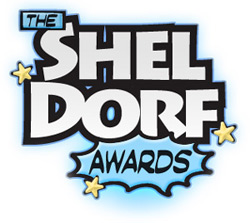 ~Michael D Hamersky - who is asking you for your vote in the current voting going on over at The Shel Dorf Awards web site. I was nominated for 'Comic Blogger of the Year' on Monday, August 8th! While being honored to be nominated, I'd also like to win! The competition has some other good nominees for the same category I was nominated for, so I'm asking for your help on this!
If you have enjoyed this blog or any of the others in the now over 3,482 blogs in this series of mine, I'd appreciate your vote!
Here is a direct link to the voting page. 'Comic Blogger of the Year' is the category, and 'Michael Hamersky On Comics' is the name I'm listed as to vote for.
Here is a link to blog #3481, where I went more into depth on this topic.
My thanks to any of you that take the time to vote for me!
---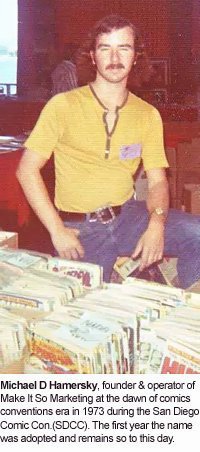 NOTE FROM THE BLOGGER:
My thanks again to all of YOU reading this blog and our archived blog posts, now at 3,484 total posts in number! I do appreciate your continued reading and support of this Blog!
BTW, You can 'follow' this blog by clicking the 'Follow' Button at this NetworkedBlogs app link! We currently have over 2,521 'Followers'! Thanks to ALL of YOU that have already clicked that button!
And for those of YOU that haven't yet... I would appreciate it if YOU would!!!
~ Michael D Hamersky
Note: My online 'Local' Comic Book Shop (LCBS), carries many different genres of comics, magazines, graphic novels, and comic con promotional items. Possibly even copies of the item(s) that was mentioned here today...!
If I have it... You can find it 'Under The Big Top Of Comics' at:
http://www.ComicBooksCircus.com/
Web Page Note: This blog post is written for the IE Browser standards. Chrome, Safari, Netscape, Firefox and the other browsers serve the page up differently, sorry about that!
The screen display resolution is best seen at the setting of 1024 x 768 on your laptop or desktop computer. Note: As of Monday, June 27th, 2011, I'll be using my new laptop, where the default resolution is 'higher', so there may be some temporary glitches until I am used to the new resolution.
NOTE: All images and characters within this blog post are copyright and trademark their respective owners.

Comics Creators: If you are breaking into, or already work in the comic book industry or other pop culture productions, you are welcome to email or mail us press releases, news items, and updates that you feel would be of interest to our blog readers. Including YOUR own works!
To mail printed items to us for possible review, send to:
Make It So Marketing Inc., PO Box 130653, Carlsbad, CA 92013

Also, if you are a Facebook member, I would have liked you to send me a 'Friend Request'. However, I have reached the maximum limit of 5,000 Facebook Friends and Fan pages already, so I've added a New 'Facebook Fan Page' so that even more of YOU can 'Like' what I am doing, and be interactive with me and others there. Here is the link to that 'Facebook Fan Page': Michael D Hamersky On Comics! Please click the 'Like' button on that page!
---
Posted by makeitsomarketing at 7:10 AM PDT
Updated: Sunday, August 14, 2011 8:45 AM PDT