Thanks To All That Participated In The 3rd Annual Black Friday - Cyber Monday Online Event!
Mood:
spacey
Topic: Comic Cons
TODAY'S FEATURE - Blog #3555:
Whew! Am I tired this morning!
At 6PM PST last night, I shut down my laptop after hosting my 3rd Annual event after Thanksgiving!
That's because the event had grown from a 1 day event back in 2009 hosted by my Facebook group page, Facebook Comic Con | Make It So Marketing, to a 4 day event hosted by 'Michael D Hamersky On Comics' (my Facebook fan page), and 'Make It So Marketing Inc', (Tina LoSasso's Facebook fan page for her business).
The 'Free Gifts' DOUBLED in number from 2010's 11 Free Gifts to this year's 22 Free Gifts! Which basically averaged out at 5 Free Gifts distributed on Black Friday & Small Business Saturday; with 6 each on Sunday and Cyber Monday!
You wouldn't think that giving away 22 Free Gifts would take that much time, but I wanted to make sure that each of the Donators of the Free Gifts received as much 'web exposure' as possible, for participating in this 3rd annual online event of mine!
So basically, between listing the Free Gifts, replying to those that messaged me about the event, promoting the event, promoting the free gifts, proclaiming the recipients of the free gifts, etc., etc., I was glad that I had already listed 4,700+ items in my online comic book shop, (at ComicBooksCircus.com), because there wasn't time to list many more during the event! I was also sending invoices out to buyers, while combining the items bought for combined shipping rates, and answering questions about shipping, combined shipping, print editions, etc.!
I believe that is why I shut down last night at a little after 6PM PST, when the last Free Gift was announced! Even though the event was shown as ending t 9PM PST, when the last of the auction listing at my online comic book shop were ending... As all that time at the keyboard, my eyes were getting a little hazy!
Anyways, as I have done each year of this event, I learned more on how to better conduct an online event. I hope to use the now past three annual events to conduct an even better 2012 event... But more on that next year!
Right now I want to thank ALL of the Donators of the Free Gifts! I do appreciate all of you very much! Thank you for doing this! The list of donators, the Free Gifts donated, and links to their own websites or web pages are shown in this link! The exposure you received at the event continues on, as those Facebook web pages will be exposed to even more web users in the months to follow, as I do submit them manually to search engines along with my other pages!
I next want to thank ALL of those persons that clicked the 'Attending' / 'Going' link at the event page itself. Facebook changed the event page format just before the event started from 'Attending / Maybe / Not Attending / Invited' to a format shown of 'Going / Maybe / Invited'. Once again, another Facebook change!
I want to also thank ALL of those that clicked the 'Maybe' link at the event page. I appreciate that, but again I want to point out that clicking 'Maybe' did not make you 'eligible' for receiving a 'Free Gift', as stated in the 'More Info' section of the event page. I do appreciate the clicking 'Maybe', and realize that some didn't want to receive a 'Free Gift', but wanted to show support for my event anyways!
As for those that clicked the 'Not Attending' link, I'm sure that you have your reasons for doing so. You may have thousands of Facebook Friends, (like I do), and are bombarded with invite requests. However, I heard after the previous two annual events from those that had thought it was a 'real world' event, and couldn't make it there physically. I even had comments on my event page during those two past events that persons couldn't attend because they were too far away... Which I explained it was a 'virtual world' event, and have since deleted their comments so as not to embarass them at the event page that doesn't go away in time. There was no cost to attend any of the now three annual events, and the standard 'No Purchase Necessary' was placed as often on the event page / list of free gifts / wall posts / etc., as possible during the days before, and during the event.
That leaves the persons that didn't click anything. I do know that Facebook keeps making 'changes' every so often, and some people, (including me!), have to figure out how to adjust to those 'changes'. So I have to work harder to make the event more enticing to click the 'Going' link, without endless spamming to do so. Plus, I do know that Facebook has made changes in communications between Facebook Friends, so possibly several hundred didn't even realize that the event was going on, while I had one person tell me that he was a little perturbed at seeing my wall posts so often on his Facebook Feed! Facebook does need to stop making so many changes!
And for those of you that are were not Facebook Friends, and clicked the 'Going' link at the event page and the 'LIKE' button at my Facebook fan page to make yourselves eligible, I thank you for that! Including previous customers of my web site, ComicBooksCircus.com, who I attempted to email as many as possible!
As for the recipients of the 'Free Gifts'... who are listed on this web page, I'm making every effort to obtain your email and mailing address from you so that the donator of the free gift can ship the free gift directly to you! There are only four of the free gifts that I either have on hand, given to me by the donator at a comic con, or are in transit to me by the publisher / promoter. The other 18 free gifts are coming direct from the donators, so please give them time to ship the free gift package to you!
Well... It's time to get back to 'normal' here at 'Michael D Hamersky On Comics'... Whatever 'normal' is when you operate out of a 'home business'!
Wrapping up the 2011 Black Friday / Cyber Monday online event... I want to say it was a lot of fun, a lot of work, and I'm glad I had such good Facebook Friends who donated their items as free gifts this year, as they went to a lot of others who will treasure those free gifts, either keeping them for themselves, or in turn giving them away as presents during this holiday season to their friends or family members!
Happy Holidays, everyone!
~Michael D Hamersky On Comics!
---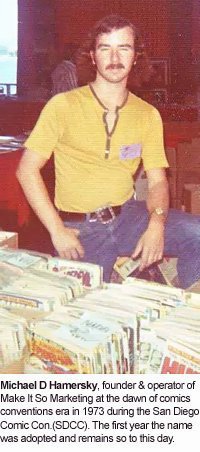 NOTE FROM THE BLOGGER:
My thanks again to all of YOU reading this blog and our archived blog posts, now at 3,555 total posts in number! I do appreciate your continued reading and support of this Blog!
BTW, You can 'follow' this blog by clicking the 'Follow' Button at this NetworkedBlogs app link! We currently have over 2,626 'Followers'! Thanks to ALL of YOU that have already clicked that button!
And for those of YOU that haven't yet... I would appreciate it if YOU would!!!
~ Michael D Hamersky
Note: My online 'Local' Comic Book Shop (LCBS), carries many different genres of comics, magazines, graphic novels, and comic con promotional items. Possibly even copies of the item(s) that was mentioned here today...!
If I have it... You can find it 'Under The Big Top Of Comics' at:
http://www.ComicBooksCircus.com/
Web Page Note: This blog post is written for the IE Browser standards. Chrome, Safari, Netscape, Firefox and the other browsers serve the page up differently, sorry about that!
The screen display resolution is best seen at the setting of 1024 x 768 on your laptop or desktop computer. Note: Your computer's resoulution may be set differently, but the above resolution is the most commonly used resolution at the time of this blog post.
NOTE: All images and characters within this blog post are copyright and trademark their respective owners.

Comics Creators: If you are breaking into, or already work in the comic book industry or other pop culture productions, you are welcome to email or mail us press releases, news items, and updates that you feel would be of interest to our blog readers. Including YOUR own works!
To mail printed items to us for possible review, send to:
Make It So Marketing Inc., PO Box 130653, Carlsbad, CA 92013

Also, if you are a Facebook member, I would have liked you to send me a 'Friend Request'. However, I have reached the maximum limit of 5,000 Facebook Friends and Fan pages already, so I've added a New 'Facebook Fan Page' so that even more of YOU can 'Like' what I am doing, and be interactive with me and others there. Here is the link to that 'Facebook Fan Page': Michael D Hamersky On Comics! Please click the 'Like' button on that page!
---
Posted by makeitsomarketing at 7:12 AM PST
Updated: Tuesday, November 29, 2011 8:20 AM PST