My Take On: Supa Pirate Booty Hunt #1 / Plus: Kickstarter Fundraiser Update
Mood:
caffeinated
Topic: Comic Books - New
Photo this column: The Front Cover to Supa Pirate Booty Hunty #1!

-

Top Photo left column: Dahveed Kolodny-Nagy with Michael D Hamersky during the recent 2011 ComiKaze Expo in Los Angeles!
TODAY'S FEATURE - Blog #3556: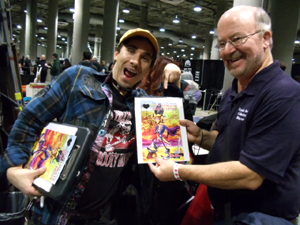 At the recent 2011 ComiKaze Expo in Los Angeles, I ran into Dahveed Kolodny-Nagy, (aka Captain Zack Stevers, a wannabe rock 'n roll pirate at Supa Pirate Booty Hunt).
As usual, Dahveed was full of energy and was promoting his web show, Supa Pirate Booty Hunt.
He and Steven Sievers, (aka Daniel the Turtle on the same show), have been at almost every Los Angeles Metro Area convention that I have been to, PLUS a LOT more!
I've always thought that they should have published a comic book for the show. Well, they have! And it is only available to those that contribute a certain amount to their Kickstarter Fundraiser, which ENDS TODAY!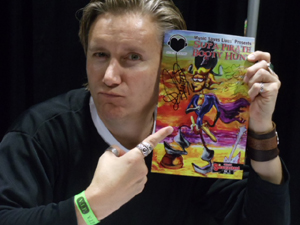 First, I'm going to mention the comic book. It is a promotional comic book, in that it is a 'flip book', with two different comic book covers. The one shown above is the one with just the Pirate (Dahveed's alter ego), which he and the additional artist, Richard Gaines, signed for me while at the convention.
The other comic book front cover has the Pirate & Daniel the Turtle along with a few other characters. Each cover is followed by four pages of story, and then an ad page separating that flip side from the other.
Again, this is a promotional comic book, which is the reason for the short amount of interior pages.
So what's the promo for?
The promo comic book was for 'Music Saves Lives', but five copies were reserved for the Kickstarter Fundraiser. Here's what it is in Dahveed's own words: "The Supa Pirate Booty Hunt #1 comic book – SIGNED and sketched on by both creators (Steve Sievers and myself) and voice god Spike Spencer, the voice behind Captain Zack Stevers. Full color! Beautiful art! Two full stories! Mint condition! Now this comic is so rare that it cannot be bought anywhere in any store. It was only given out at select events and blood donation centers to donors. Yes, you heard me right! You had to give BLOOD to get this book! But now I am parting with my LAST COPIES!!!"
I usually go into my own spiel after stating what the comic book is about... Something like this: "So what's 'My Take' on this comic book after reading it?", but today I'm only going to mention that it is one of the five that Dahveed has left for the Kickstarter Fundraiser! No Review, as when these copies are spoken for... It is gone!
So I won't be giving you my comic book grade for this promotional issue!
Instead... Here are the links for you to check this project out further:
The KickStarter funding program is titled: Dave Mustaine (Megadeth) & Supa Pirate Booty Hunt, and needs YOU to help get it get fully funded as it ENDS TODAY! As of 'press time' here at my blog: It has raised $1402 so far... And... "This project will only be funded if at least $2,500 is pledged by Thursday Dec 1, 9:52pm EST. So please, take a moment and see if this Kickstarter funding program is one you would like to contribute to!
You can see the following and a lot more, including the thank you gifts for contribution levels at the Kickstarter site, but I wanted to at least post a little here so you understand what the fundraiser is for, and click through to it:
"Supa Pirate Booty Hunt is an independent animated webseries about the adventures of Captain Zack Stevers, a wannabe rock 'n roll pirate, and Daniel the turtle as they search the seas for what else booty. Our previous episodes can be viewed at SupaPirateBootyHunt.com. Our last episode just won 6 awards at the Burbank International Film Festival.
But our upcoming episode promises to reach new heights and for that we need the help of our friends at Kickstarter! Our new episode "Metal In My Shell" will feature Dave Mustaine of Megedeath who will face off against Zack and Daniel in a rock-off that will warp the boundaries of time and space!!
Why We Need Your Support: Animation is a very time consuming endeavor. As an independent studio we have no backing and everyone has been putting in their time for free. We hope to eventually bring the show to television but first need to build up a large audience. To do that we need to produce episodes independently and offer them for free online but that can only be done with the support of generous backers. Although we have come very far we still have a long way to go."
Again, here is the link to the KickStarter fund raiser site, where you can contribute starting from $1.00 !
Also, here is the Facebook event page for the Kickstarter fundraiser, where you can be interactive with Dahveed & Steven and others.
My thanks again to Dahveed for bringing this to my attention during the 2011 ComiKaze Expo! Good luck on reaching the Fund Raising Goal!
~Michael D Hamersky On Comics!
---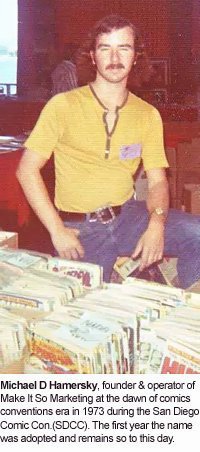 NOTE FROM THE BLOGGER:
My thanks again to all of YOU reading this blog and our archived blog posts, now at 3,556 total posts in number! I do appreciate your continued reading and support of this Blog!
BTW, You can 'follow' this blog by clicking the 'Follow' Button at this NetworkedBlogs app link! We currently have over 2,626 'Followers'! Thanks to ALL of YOU that have already clicked that button!
And for those of YOU that haven't yet... I would appreciate it if YOU would!!!
~ Michael D Hamersky
Note: My online 'Local' Comic Book Shop (LCBS), carries many different genres of comics, magazines, graphic novels, and comic con promotional items. Possibly even copies of the item(s) that was mentioned here today...!
If I have it... You can find it 'Under The Big Top Of Comics' at:
http://www.ComicBooksCircus.com/
Web Page Note: This blog post is written for the IE Browser standards. Chrome, Safari, Netscape, Firefox and the other browsers serve the page up differently, sorry about that!
The screen display resolution is best seen at the setting of 1024 x 768 on your laptop or desktop computer. Note: Your computer's resoulution may be set differently, but the above resolution is the most commonly used resolution at the time of this blog post.
NOTE: All images and characters within this blog post are copyright and trademark their respective owners.

Comics Creators: If you are breaking into, or already work in the comic book industry or other pop culture productions, you are welcome to email or mail us press releases, news items, and updates that you feel would be of interest to our blog readers. Including YOUR own works!
To mail printed items to us for possible review, send to:
Make It So Marketing Inc., PO Box 130653, Carlsbad, CA 92013

Also, if you are a Facebook member, I would have liked you to send me a 'Friend Request'. However, I have reached the maximum limit of 5,000 Facebook Friends and Fan pages already, so I've added a New 'Facebook Fan Page' so that even more of YOU can 'Like' what I am doing, and be interactive with me and others there. Here is the link to that 'Facebook Fan Page': Michael D Hamersky On Comics! Please click the 'Like' button on that page!
---
Posted by makeitsomarketing at 5:10 AM PST
Updated: Thursday, December 1, 2011 6:36 AM PST