My Take On: The 2011 Nuke The Fridge Con!
Mood:
caffeinated
Topic: Comic Cons
-

Photo this column: Michael D Hamersky, co-author of the 'Gotham City 14 Miles', at his book signing table at the 2011 Nuke The Fridge Con!

-

Top Photo left column: Pat Jankiewicz, (author of 'You Wouldn't Like Me When I'm Angry - The Incredible Hulk TV Show), The Incredible Hulk cosplayer, and Michael D Hamersky taken next to Pat's & Michael's tables!
TODAY'S FEATURE - Blog #3561:
Tina LoSasso and I are back from the 2011 Nuke the Fridge Con, which was held Saturday, December 10th at the Frank and Son Collectable Show Warehouse, in the City of Industry, California.
We both had a great time at this con, which was held in the event center portion of the Frank and Son Warehouse.
I met Frank Zamarripa this trip, (the 'Frank' of Frank and Son), who was a great host, making sure that the event within his own show as running smoothly.
Louis Love, of NukeTheFridge.com, and promoter of the Nuke The Fridge Con, was very gracious and on top of everything that was going on in the event center, that was basically in the 'middle' of the gigantic warehouse.
When Tina and I arrived there Saturday morning, just before 7AM, after driving from Carlsbad, there was already a long line of people waiting to get in!
Most of those in line were waiting to go to the signings of Stan Lee & Mike Tyson, who wouldn't be there when the doors opened at 9AM, but these folks wanted to be sure to be there early for it!
The access for Tina & myself to unload was pretty easy, as we had one big cart load of boxes to bring in. We brought several boxes of comic books / magazines / promo items / stocking stuffer items to sell for the gas money for the trip.
That's because the main emphasis for us was the book signing for 'Gotham City 14 Miles', of which we had a case of the revised first edition on hand for sale. The case had just come in the week before, just in time with a new price point of $15.99, (which is why you see the sign in the above top right photo for $17.00 including California sales tax).
We were fortunate to be situated next to Pat Jankiewicz, author of 'You Wouldn't Like Me When I'm Angry' - The Incredible Hulk TV Show Companion Book that I review blogged recently, (blog #3546), after meeting him for the first time at the 2011 ComiKaze Expo in Los Angeles.
Pat, who is a giant among men both in size & personality, stopped 'The Incredible Hulk' cosplayer as he went by our tables, and we had a photo taken with him, as seen by the photo at the top left of this blog post. (When you right click on the photo, you can view it at the 450 pixel width.)
Besides Pat and myself with books, the actual main headliners were Stan (The Man) Lee and (Iron) Mike Tyson! It was funny for both Tina and myself to see the difference in the attendees who came for those two headliners. I'm talking about mode of dress and what they were bringing / buying for those two to sign. The two were at different corners at the end of the exhibit hall, and you could see the differences in the crowds they brought in with their bieng there.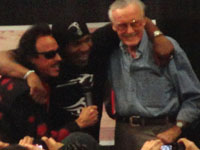 A highlight of the Con was when Stan & Mike met on stage for the first time! A big crowd watched that, and I'll be uploading my video of that at my own YouTube channel, 'HamerskyOnComics' in the near future.
Also, as I have time to upload them... The photos taken on my Sony CyberShot will be uploaded to the special photo album at my Facebook Fan Page, 2011 Nuke The Fridge Con. The few photos already uploaded there were from my Droid phone's camera feature, which isn't as good of a photo taker, but goes instantly to my Facebook Fan Page.
In addition to Stan, Mike, Pat, and myself... There were other celebrities in attendance for signing autographs. Including Reb (Captain America) Brown, Richard Hatch of Battlestar Galactica, Mickey Dolenz of The Monkees, and others.
Our table was actually placed right by the 2011 Playmate of the Year, Claire Sinclair, so there was a big crowd at our left during the middle of the day, after she showed up for a signing. Not a comics buying crowd, but a crowd nonetheless. Actually, one of my comics creators friends had done a painting / illustration of Claire for an event, (shout out to Grasiela Rodgriguez!).
There were also several comics creators on hand, including Tone Rodriguez, Mark Dos Santos, Chris Moreno, and others. I even picked up a comic book for a future review blog while I quickly walked the interior of the 'Event Center' section of the warehouse.
However, I didn't walk every aisle of the con, which is a change for me. I usually check out almost all of the other tables at the cons we go to, but in this case I had a book signing to be at. Plus it was Tina's second con to be behind the table selling items that we had brought. At times she had several attendees checking out the boxes of stocking stuffers we had brought for only a dollar each!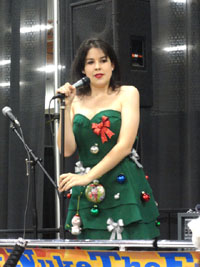 Another highlight, which started at 4:30 PM, was the Cosplay Costume Contest, hosted by none other than Kit Quinn! There were ten entrants in the contest, and I have a couple of videos to upload, as well as photos from this program. Just have to make the time to do so!
That's about it for this 'review blog'. Please note that I may be a little more 'glowing' about this con, due to the fact that I 'participated' in it, rather than just attending.
However I know that both I and Tina enjoyed what we did see of the 2011 Nuke the Fridge Con, which was held inside of the massive Frank and Show Collectable Show, which is open each Wednesday night, and on Saturdays.
Plus the hundreds of attendees who came in to get autographs from the two main headliners, Stan and Mike, were not disappointed! I don't believe that Stan ever took a break during his signing! Matter of fact, we had several attendees come over to our table looking for comics that Stan Lee had written or had started with his co-creators on the title, so that Stan could sign them! (I do want to point out though, that the signature tickets that were sold by Desert Wind Collectibles entitled the purchaser to an item being signed by Stan, not 5 minutes or more with Stan himself. Which is why there was the more accessability for having Stan sign so many items!)
BTW, If you are in the Los Angeles Metro Area... or visiting there during those days, drop in and see this Show! The Nuke The Fridge Con is only held annually at this location, but there are other events in the 'Event Center' portion of the warehouse during the year.
My thanks again to Louis Love for the invite to this Con... We were happy to attend and set up a signing table!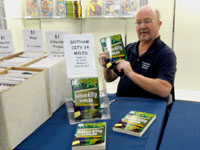 For those of you that weren't able to attend this signing... I will be selling the rest of the copies via my eBay Store, as seen at this link: Gotham City 14 Miles at ComicBooksCircus.com! Oh, and I do have to charge for shipping for media mail shipping. USA addresses only, please!
Note: I will also be posting some pics over at my 'event page' for the signing as well, which can be found at 'Gotham City 14 Miles Book Signing At Nuke The Fridge Con'.
You are invited to 'Like' my Facebook Fan Page, which can be found by clicking the link immediately below...
~Michael D Hamersky On Comics!
---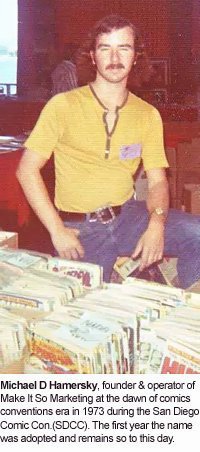 NOTE FROM THE BLOGGER:
My thanks again to all of YOU reading this blog and our archived blog posts, now at 3,561 total posts in number! I do appreciate your continued reading and support of this Blog!
BTW, You can 'follow' this blog by clicking the 'Follow' Button at this NetworkedBlogs app link! We currently have over 2,643 'Followers'! Thanks to ALL of YOU that have already clicked that button!
And for those of YOU that haven't yet... I would appreciate it if YOU would!!!
~ Michael D Hamersky
Note: My online 'Local' Comic Book Shop (LCBS), carries many different genres of comics, magazines, graphic novels, and comic con promotional items. Possibly even copies of the item(s) that was mentioned here today...!
If I have it... You can find it 'Under The Big Top Of Comics' at:
http://www.ComicBooksCircus.com/
Web Page Note: This blog post is written for the IE Browser standards. Chrome, Safari, Netscape, Firefox and the other browsers serve the page up differently, sorry about that!
The screen display resolution is best seen at the setting of 1024 x 768 on your laptop or desktop computer. Note: Your computer's resoulution may be set differently, but the above resolution is the most commonly used resolution at the time of this blog post.
NOTE: All images and characters within this blog post are copyright and trademark their respective owners.

Comics Creators: If you are breaking into, or already work in the comic book industry or other pop culture productions, you are welcome to email or mail us press releases, news items, and updates that you feel would be of interest to our blog readers. Including YOUR own works!
To mail printed items to us for possible review, send to:
Make It So Marketing Inc., PO Box 130653, Carlsbad, CA 92013

Also, if you are a Facebook member, I would have liked you to send me a 'Friend Request'. However, I have reached the maximum limit of 5,000 Facebook Friends and Fan pages already, so I've added a New 'Facebook Fan Page' so that even more of YOU can 'Like' what I am doing, and be interactive with me and others there. Here is the link to that 'Facebook Fan Page': Michael D Hamersky On Comics! Please click the 'Like' button on that page!
---
Posted by makeitsomarketing at 7:28 AM PST
Updated: Monday, December 12, 2011 8:42 AM PST