Michael D Hamersky On Comics Shares His Top Ten 2011 Milestones
Mood:
caffeinated
Topic: Comic Book History
TODAY'S FEATURE - Blog #3574:
Yesterday I was hearing and seeing all kinds of Top 10 Lists for 2011... And it got me to thinking about the year that is ending today...
Which is the reason for this year end blog!
I'm presenting my personal Top Ten 2011 Milestones starting with the #10 Milestone:
#10 - First time setting up a dealer's table at a comic con since the mid 1990s. The first time with my wife, Tina LoSasso, and my youngest son, Vinnie, who had never set up a dealer table before! At the SoCal Comic Con in Oceanside, California back in August.
#09 - This Blog, Comic Book Collectors Blog, ends the 2011 year as being still the #1 'Followed' blog on Facebook using the NetworkedBlogs app. #1 in the categories: comics / comic books / graphic novels. My continued thanks to all of you that have clicked the 'Follow' button at the app. (For those of you that don't know the background history of this blog: I started blogging back on June 7th of 2006 when I entered the first of my blogs into a 'contest' that eBay was promoting to introduce their eBay Blogs platform. My 'un-named blog' at that time won a $100 prize, which motivated me even more, LOL! Unfortunately back on October 31st of 2009, eBay grew tired of policing their blog platform, which had turned into a 'free-for-all chat room', IMO.)
#08 - Interviewed by Beth Accomando for the KPBS radio station / web site back in May of this year. The interview was for the article: Rants and Raves: Comic Book Movies - Superhero Films Don't Bring New Customers to Comics Shops. Here is the link to my blog on this, with all of the KPBS links. I have now been on a few podcasts, YouTube videos filmed by others, and radio station feature, newspaper articles. I'm loving this phase of my life!
#07 - The 45th Batman Anniversary panel at the Wizard World Anaheim Comic Con! Which besides a great panel with Adam West, Burt Ward, Julie Newmar and Lee Merriwether, it had a great cake cutting ceremony also! With plenty of cake to go around for the attendees. Which was doubly great because the 45th Anniversary Panel at the Comic-Con International: San Diego was maxed out, and we couldn't get in to that one! Too small of a room there! Anyways, one of the photos is seen at the second to the top right of this blog post. The others can be seen in this special photo album.
#06 - My 3rd Annual Black Friday (online) Event, which I expanded through to the end of Cyber Monday. My thanks again to the donators of the Free Gifts, which doubled from 11 in 2010 to 22 in 2011! And to all of you that clicked the 'Going' link at the event page!
#05 - Facebook Fan Page for 'Michael D Hamersky On Comics' ended the year at a little over 1,600 Fans! Considering it was started at the end of last year, and I'm a regional Southern California guy, that's pretty satisfying!
#04 - Expanding the scope of my social network, by setting up a YouTube Channel, HamerskyOnComics. The channel was set up the weekend before the San Diego Comic con, and now has over 2,700 views and 74 videos. It takes a long time to upload videos, I found! A small presence to start with, but I'm looking forward to uploading more videos in 2012!
#03 - First book signing for 'Gotham City 14 Miles' at the 2011 Nuke The Fridge Con on December 10th. Here's a link to that blog post, plus a link to the special photo album for the signing and the con. Oh, I also usally have one eByay listing for the book, which you can buy unsigned or have me personalize it to you or a friend you are buying it for.
#02 - Nominated for 'Comics Blogger of the year' at the Detroit Fanfare. One of five nominees for the first time ever award for this category at the Detroit Fanfare. Although I didn't win, it was a great honor to be nominated along with Stefan Blitz (Forces of Geek), Rich Johnston (Bleeding Cool News), Heidi MacDonald (The Beat), and Various Contributors (Robot 6)!
#01 - 50th Anniversary of Comics Fandom party at the 2011 Comic-Con International: San Diego! Meeting the founders of Comics Fandom, including Pat & Dick Lupoff, seen at the top right photo of this blog post, was FANtastic! It was so great seeing people I hadn't seen in years, and others that I 'knew' of, but hadn't met before! The best panel / party / program I attended all year, because it was so cool being with other 'Fans' that go back 50 or so years! My thanks again to Jackie Estrada for bringing this special party to my attention before Comic-Con started this year! Here's a link to the special photo album from that party!
Whew! This took me all me year to write, or so it seems this morning! It's now 10 AM PST, and I want to 'proof' this blog before posting. I have a few other things that need to be accomplished before the year is over, so I have to get moving! I thought it would be hard to have more than a Top Five, but I had to cut the list off at the Top Ten, otherwise I would still be remembering all the fun times I had this year via my 'Michael D Hamersky On Comics' operations!
Thanks again for reading my Blog this year, and I'm wishing you all an early Happy New Year!
~Michael D Hamersky On Comics!
---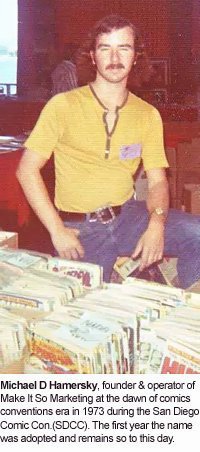 NOTE FROM THE BLOGGER:
My thanks again to all of YOU reading this blog and our archived blog posts, now at 3,574 total posts in number! I do appreciate your continued reading and support of this Blog!
BTW, You can 'follow' this blog by clicking the 'Follow' Button at this NetworkedBlogs app link! We currently have over 2,658 'Followers'! Thanks to ALL of YOU that have already clicked that button!
And for those of YOU that haven't yet... I would appreciate it if YOU would!!!
~ Michael D Hamersky
Note: My online 'Local' Comic Book Shop (LCBS), carries many different genres of comics, magazines, graphic novels, and comic con promotional items. Possibly even copies of the item(s) that was mentioned here today...!
If I have it... You can find it 'Under The Big Top Of Comics' at:
http://www.ComicBooksCircus.com/
Web Page Note: This blog post is written for the IE Browser standards. Chrome, Safari, Netscape, Firefox and the other browsers serve the page up differently, sorry about that!
The screen display resolution is best seen at the setting of 1024 x 768 on your laptop or desktop computer. Note: Your computer's resoulution may be set differently, but the above resolution is the most commonly used resolution at the time of this blog post.
NOTE: All images and characters within this blog post are copyright and trademark their respective owners.

Comics Creators: If you are breaking into, or already work in the comic book industry or other pop culture productions, you are welcome to email or mail us press releases, news items, and updates that you feel would be of interest to our blog readers. Including YOUR own works!
To mail printed items to us for possible review, send to:
Make It So Marketing Inc., PO Box 130653, Carlsbad, CA 92013

Also, if you are a Facebook member, I would have liked you to send me a 'Friend Request'. However, I have reached the maximum limit of 5,000 Facebook Friends and Fan pages already, so I've added a New 'Facebook Fan Page' so that even more of YOU can 'Like' what I am doing, and be interactive with me and others there. Here is the link to that 'Facebook Fan Page': Michael D Hamersky On Comics! Please click the 'Like' button on that page!
---
Posted by makeitsomarketing at 12:01 AM PST
Updated: Saturday, December 31, 2011 10:51 AM PST