My Take On: The 2012 Comic Con International: San Diego (aka San Diego Comic Con)
Mood:
caffeinated
Topic: Comic Cons
TODAY'S FEATURE IS BLOG #3678 - Today is the first morning since the end of the 2012 Comic Con International: San Diego. I've got a few things to say about it, and then I'll post Tina's review blog on it later, (hopefully tomorrow).
PARKING: This was my mistake, as I didn't have Tina check the Ace Parking web site, or the Comic-Con website for the tickets. I was enroute to Los Angeles the day the prepaid parking tickets went on sale. So we had to park at the Hilton garage on Preview Night, and at the Campus Lot next to Petco Park the other four days. However, it wasn't as far as I thought to walk this route to the Convention Center. It did however keep me from buying much at all, as it was a ways to lug out everything. Comic Book Grade: Very Fine (VF) 8.0 out of a possible 10.0 comic book grading scale.
PREVIEW NIGHT: I was starting to think last year why we were there for Preview Night, as we had to wait all day for it to begin. We left later than usual to drive down to the Convention Center. We already knew ahead of time what programs / panels we wanted to see starting on Thursday. It used to be fun to sit under the sails in line, and wait to get in, and read the programming schedule. The use of the internet has stopped that, because everything was already posted online. So what were we there for? There wasn't much of anything in swag to pick up... And it cost $25 each to be there on Preview Night for the three hours of exhibit floor time. Definitely re-thinking this for 2013! Comic Book Grade: Very Good (VG) 4.0
LINES MANAGEMENT: Yes, I actually was in line for Room H & Ballroom 20 with Tina. I decided to join her for a few panels. The lines management was a little crazy in my opinion for Hall H. The 'chutes' style of allowing attendees in caused the line to back up way in the waterfront area. Ballroom 20's line management was better. There were actually lines for several of the smaller panels that I usually attend, icluding the Jack Kirby Tribute Panel on Sunday morning at 10 AM. Good thing Mark Evanier asked for a larger room and a quarter hour more time for his panel. Comic Book Grade: Very Good Plus (VG+) 4.5
PANELS / PROGRAMS: Hall H's program for Jackie Chan was totally messed up. We were allowed in during midway of the program, and a good 1/3 of the seats were empty! Poor line management, causing us to miss a lot of this program. Tina had a problem on Sunday morning for the 'Fringe' program, in getting access to the room. However she came out wearing a 'Fringe' hat, which pleased her! Almost all of my 'comics' panels were relatively easy to get into, but I did have a bit of a time getting into some TV panels. Comic Book Grade: Very Fine / Very Fine Plus (VF/VF+) 8.25
EXHIBIT FLOOR: This was pretty bad in the non-comics areas. There was no walking room during several signings, especially at the FOX booth. I had given up walking every aisle of this Con a few years back, which is good, because I wasn't able to do so this year either. Artists Alley seemed to be further away from Small Press area and the Gold / Silver Comics Pavilion this year, although I know that wasn't the case. Just that it was hard to maneuver to those areas during the limited time I had between panels / prgrams to attend. Add to that the Warner Brothers booth had attendees to their panel(s) come to their booth to redeem tickets given out at the panel. And then the booth's redemption area was closed, making it impossible to redeem the tickets! Comic Book Grade: Very Good (VG) 4.0
OFF SITE EVENTS: Tina and I cut back even further on walking to off convention center sites, except for Wednesday afternoon. (As seen by the photos that are being posted at my Facebook Fan Page.) So we saw a little of the area immediately closer to the center. Plus we did leave our parking area and drive to the banquet held on Saturday evening at the US Grant Hotel's Celestial Ballroom. I'll be blogging about that Richard Alf Memorial Banquet in my blog later this week. Comic Book Grade: Fine (F) 6.0 (Not counting the great Alf Banquet, but more on that later!)
OFF CONVENTION CENTER OFFICAL EVENTS: Tina and I took in the Hilton on Preview Night's afternoon, as the Warner Brothers park area was next to it. Tina took in a program at this place later in the week, where she ran into line problems. I like the area, but haven't attended a program there, so can't really say much about it. The Marriott though is a different matter! We walked over to redeem a ticket at the official redemption room. I used to attend the Anime programs when they were held at the Convention Center with my kids when they were younger. With the Anime films so far away, we just stayed for ten minutes to gather our strength for the walk back. And no, I couldn't talk Tina into stopping in at the hospitality suite for refreshements! Comic Book Grade: Very Good Plus ( VG+) 4.5
PRE-PAID MEMBERSHIPS FOR 2013: Well, this year wasn't any lineups to stand in! It will all be done sometime in August online only for those that attended the 2012 Comic-Con! We will be on a vacation trip in August, so that affect us buying 2013 memberships! Sheesh! Comic Book Grade: Good (G) 2.0
OVERALL EXPERIENCE AT THE 2012 COMIC-CON: Well, I just wasn't that excited by the 2012 Comic-Con... As can be seen by my Comic Book Grades for the above topics. Maybe its because I'm a little jaded... I haven't missed a year since 1991 when the Comic-Con came to the San Diego Convention Center location, making it 23 years straight now. I do go back to 1972 when I first set up as a comic book dealer at the El Cortez Hotel for the 3rd San Diego Comic Con, so yeah, it has been a while. I'm just a little 'let down' by this year's Comic Con overall. Comic Book Grade: Fine (F) 6.0 out of a possible 10.0 comic book grading scale.
NOTE: I'll be uploading photos from the Comic-Con to my Facebook Fan Page, 'Michael D Hamersky On Comics', of which the first 200 will be added to this special photo album later this week.
Feel free to post your thoughts on my Facebook Fan Page as to what you thought of this 2012 Comic Con International when you get a chance. I'd like to hear your point of view!
~ Michael
---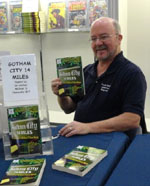 NOTE FROM Michael D Hamersky On Comics: My thanks again to all of YOU reading this blog and our archived blog posts, now at 3,678 total posts in number! I do appreciate your continued reading and support of this Blog!
BTW, You can 'follow' this blog by clicking the 'Follow' Button at this NetworkedBlogs app link! We currently have over 2,759 'Followers'! Thanks to ALL of YOU that have already clicked that button! And for those of YOU that haven't yet... I would appreciate it if YOU would!!!
Note: My online 'Loca8' Comic Book Shop (LCBS), carries many different genres of comics, magazines, graphic novels, and comic con promotional items. Possibly even copies of the item(s) that was mentioned here today...! If I have it, you'll find under the BIG TOP of Comics, at Comic Books Circus.com, including the book 'Gotham City 14 Miles' that I am shown holding to the left. I'm 1 of 14 essayists in that book! !
Web Page Note: This blog post is written per the IE Browser standards. Chrome, Safari, Netscape, Firefox and the other browsers serve the page up slightly differently, sorry about that! The screen display resolution is best seen at the setting of 1024 x 768 on your laptop or desktop computer. Note: Your computer's resoulution may be set differently, but the above resolution is the most commonly used resolution at the time of this blog post.
NOTE: All images and characters within this blog post are copyright and trademark their respective owners.
Comics Creators: If you are breaking into, or already work in the comic book industry or other pop culture productions, you are welcome to email or mail us press releases, news items, and updates that you feel would be of interest to our blog readers. Including YOUR own works! To mail printed items to us for possible review, send to: Make It So Marketing Inc., PO Box 130653, Carlsbad, CA 92013

Also, if you are a Facebook member, I would have liked you to send me a 'Friend Request'. However, I have reached the maximum limit of 5,000 Facebook Friends and Fan pages already, so I've added a New 'Facebook Fan Page' so that even more of YOU can 'Like' what I am doing, and be interactive with me and others there. Here is the link to that 'Facebook Fan Page':
Michael D Hamersky On Comics
! Please click the 'Like' button on that page!
---------------


In Addition, I started a YouTube Channel just before the 2011 Comic-Con International, where I am slowly uploading videos from conventions or other events that we attend that are also pop culture related. You are invited to 'subscribe' to that channel also! As found at
'HamerskyOnComics'
!
---
Posted by makeitsomarketing at 10:06 AM PDT
Updated: Tuesday, July 17, 2012 1:18 PM PDT