My Take On: The Richard Alf Memorial Banquet Held July 14th of 2012
Mood:
caffeinated
Topic: Comic Cons
My Take On: The Richard Alf Memorial Banquet

(Held During The 2012 Comic-Con International: San Diego on July 14th)
TODAY'S FEATURE IS BLOG #3680 - Today I'm taking the time to blog about a special banquet that occured during the Comic-Con International (aka San Diego Comic Con).
I'm talking about the Richard Alf Memorial Banquet that was held Saturday evening on July 14th, 2012 in the Celestial Room of the US Grant Hotel.
If that location sounds familiar, it could be because the US Grant was the first home of the San Diego Comic Con back in 1970!
The banquet was a small gathering, (seating capacity at 130 attendees), but full of well wishes for the man that the Banquet was named for, Richard Alf.
Richard passed away earlier this year in January. (See Blog #3578 for his passing.) I was able to attend his funeral in Ramona, California, (Blog #3582), on January 12th. For those of you that don't know... Richard was one of the Co-Founders of the San Diego Comic Con, including financing it for a couple of years.
Greg Koudoulian was the organizer of this event, and was also the host of the evening at the Banquet. It was a good presentation, where several persons got up after a buffet dinner, and talked a bit about their rememberances of Richard Alf. Please see the links below for the photos I snapped, and for the videos that will be uploaded.
A Big Thanks to Steve Geppi, of Diamond Comics Distributors / Geppi's Entertainment Museum / Gemstone Publishing, for financing the memorial banquet!
Others that were there and talked about their experiences with Richard Alf were: Mark Evanier, George Clayton Johnson, Paul M Sammon, Steve Geppi, Greg Koudoulian, Nick the Doorman from the El Cortez Hotel days, Jackie Estrada, Phil Dana Yeh, Ed Cormier, and Richard's mother! Plus others that I didn't remember to write down...
The buffet dinner was excellent, the drinks were very fine, the company was great, and a good time was had by all at this memorial banquet in honor of Richard Alf.
This was definitely a Near Mint (NM) 9.4 comic book grade event!
Thanks again to Greg Koudoulian and Steve Geppi for this special event that took place on July 14th!

There is a Richard Alf Legacy Facebook Group Page that you could ask to join.
The photos that I took at this Banquet are shown at this Facebook Fan Page link of mine.
I will be uploading videos to my YouTube channel at this link: Hamersky On Comics.
Note: Photos presented at the top of this blog are:
1) The flyer for this special event. 2) Nick the Doorman & Michael D Hamersky prior to the banquet starting. 3) Michael at his table after receiving the 'Blogger of the Century' Award from the Planet El Cortez / 'The Don Room Award' presenters.
~ Michael D Hamersky
---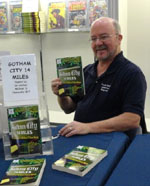 NOTE FROM Michael D Hamersky On Comics: My thanks again to all of YOU reading this blog and our archived blog posts, now at 3,680 total posts in number! I do appreciate your continued reading and support of this Blog!
BTW, You can 'follow' this blog by clicking the 'Follow' Button at this NetworkedBlogs app link! We currently have over 2,759 'Followers'! Thanks to ALL of YOU that have already clicked that button! And for those of YOU that haven't yet... I would appreciate it if YOU would!!!
Note: My online 'Loca8' Comic Book Shop (LCBS), carries many different genres of comics, magazines, graphic novels, and comic con promotional items. Possibly even copies of the item(s) that was mentioned here today...! If I have it, you'll find under the BIG TOP of Comics, at Comic Books Circus.com, including the book 'Gotham City 14 Miles' that I am shown holding to the left. I'm 1 of 14 essayists in that book! !
Web Page Note: This blog post is written per the IE Browser standards. Chrome, Safari, Netscape, Firefox and the other browsers serve the page up slightly differently, sorry about that! The screen display resolution is best seen at the setting of 1024 x 768 on your laptop or desktop computer. Note: Your computer's resoulution may be set differently, but the above resolution is the most commonly used resolution at the time of this blog post.
NOTE: All images and characters within this blog post are copyright and trademark their respective owners.
Comics Creators: If you are breaking into, or already work in the comic book industry or other pop culture productions, you are welcome to email or mail us press releases, news items, and updates that you feel would be of interest to our blog readers. Including YOUR own works! To mail printed items to us for possible review, send to: Make It So Marketing Inc., PO Box 130653, Carlsbad, CA 92013

Also, if you are a Facebook member, I would have liked you to send me a 'Friend Request'. However, I have reached the maximum limit of 5,000 Facebook Friends and Fan pages already, so I've added a New 'Facebook Fan Page' so that even more of YOU can 'Like' what I am doing, and be interactive with me and others there. Here is the link to that 'Facebook Fan Page':
Michael D Hamersky On Comics
! Please click the 'Like' button on that page!
---------------


In Addition, I started a YouTube Channel just before the 2011 Comic-Con International, where I am slowly uploading videos from conventions or other events that we attend that are also pop culture related. You are invited to 'subscribe' to that channel also! As found at
'HamerskyOnComics'
!
---
Posted by makeitsomarketing at 12:01 AM PDT
Updated: Wednesday, July 18, 2012 9:08 AM PDT