My Take On: The Atlas Comics Superheroes Revival In the Mid 1950s
Mood:
caffeinated
Topic: Comic Book History
TODAY'S FEATURE IS BLOG #3708 - Yes, it would appear that I'm on a 'comics history' kick right now in this blog. That started when I wanted to share a special photo album at my Facebook Fan Page, titled... "Magazine Management Company's History".
The first nine photos shown at that link are from Martin Goodman's company, Lion Books, that published Red Circle Books. Those pictures were talked about in blog #3706, titled: My Take On: Red Circle Books - From Martin Goodman's Company.
Martin Goodman, (pictured to the left in 1942), who was the owner of the magazine house 'Magazine Management Company', had started Timely Comics in 1939 with Marvel Comics #1.
As you can see from the cover of that first comic book for Timely Comics... It included 'The Human Torch' and the 'Sub-Mariner'.
Those two characters, plus a third, Captain America, that was started in March of 1941 with issue #1, were the three superstars of Timely Comics.
However, by the end of World War II, all three superstars had seen their comic book titles come to an end.
Captain America's comic book title ended with issue #73 in July of 1949. Two more issues titled Captain America's Weird Tales continued with two issues, ending with issue #75 in February of 1950. But, other than having his name on the front cover of issue #75, 'Cap' didn't appear at all in the comic book!
The Human Torch's comic book titled 'The Human Torch' started with issue #2 in the Fall of 1940. It stopped publishing with issue #35 in March 1949.
Sub-Mariner Comics #1 started Spring of 1941. It ended with issue #32 in June of 1949.
So as you can see from the above... 1949 was NOT a good year for the once mighty superstars of Timely Comics!
Yet, there was a Timely Comics / Atlas Comics "super-hero revival" shortly afterwards. It took place in the mid-1950's. The revival actually began with a comic book titled: Young Men #24 (cover dated December of 1953).
This issue actually had new stories from Captain America, The Human Torch and the Sub-Mariner, all in one comic book!
The writer / editor, Stan Lee, actually used those stories in Young Men #24 - "Back from the Dead", (in which Captain America & Bucky both are resurected), "The Return of the Human Torch", and "The Sub-Mariner Returns" to explain the why that the trio of heroes had returned to comics.
However, this revival hardly lasted a year, except for the Sub-Mariner title, which lasted until issue #42, cover dated October of 1955, due to negotiations on a TV show possibility, similar to DC Comics' Adventures of Superman TV show with George Reeves. Unfortunately that TV show with the Sub-Mariner never saw air-time.
Plus, even though Showcase Comics #4, from September / October of 1956, with the Flash is popularly declared as the start of the 'Silver Age of Comics', others have pointed to this mini-period of Atlas Comics superheroes revival as the 'real beginning' of the Silver-Age!
Here are links to the comic books that are included in this Revival of the mid 1950s:
Young Men - #24, #25, #26, #27, #28. These ran from December 1953 - June 1954.
Mens Adventures - #27, #28. These ran from May 1954 - July 1954.
The Human Torch - #36, #37, #38. These ran from April 1954 - August 1954.

Captain America - #76, #77, #78. These ran from May 1954 - September 1954.
Sub-Mariner Comics - #33, #34, #35, #36, #37, #38, #39, #40, #41, #42. These ran from April 1954 - October 1955.
The above numbered twenty-three issues are all that consisted of this short-lived revival of the Timely / Atlas Comics revival in the mid 1950s.
To collect them all nowadays would cost far more than the thin dime that each cost when first published!
Note: When reading these twenty-three comic books, you'll notice that the main difference between these stories from the mid 1950s and the Golden Age Timely Comics is that most of these stories had a 'Cold War' theme to them. This in contrast to the Nazis and Japs from the Timely Comics. Heck, even the 'Red Skull' was shown working for the Kremlin during the Atlas revival!
BTW, after the Sub-Mariner's final issue dated October 1955, Atlas Comics placed this trio of super-heroes in publishing limbo for the next six years. It wasn't until November of 1961 when the 'Human Torch' name resurfaced as a member of the Fantstic Four in issue #1.
Matter of fact, it was also in Fantastic Four, issue #4 of May 1962, that the Sub-Mariner was revived! Plus in the teenaged Human Torch's feature strip in Strange Tales, issue #114 from November of 1963 that 'Captain America' was brought back! Although this 'Cap' turned out to be an imposter, and actually didn't come back until Avengers issue #4 in March of 1964!
I myself was very young at this time period, and it wasn't until I saw 'Fantasy Masterpieces' comics from Marvel Comics starting in 1966 with issue #3 of that series, that I came to realize the history of these three Timely / Atlas superheroes!
Thus I present in capsule form this little blog on that time period for your perusal. Plus this link to a special photo album where I show the comic book covers.
Best,
~ Michael
---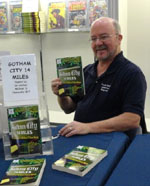 NOTE FROM Michael D Hamersky On Comics: My thanks again to all of YOU reading this blog and our archived blog posts, now at 3,708 total posts in number! I do appreciate your continued reading and support of this Blog!
BTW, You can 'follow' this blog by clicking the 'Follow' Button at this NetworkedBlogs app link! We currently have over 2,770 'Followers'! Thanks to ALL of YOU that have already clicked that button! And for those of YOU that haven't yet... I would appreciate it if YOU would!!!
Note: My online 'Loca8' Comic Book Shop (LCBS), carries many different genres of comics, magazines, graphic novels, and comic con promotional items. Possibly even copies of the item(s) that was mentioned here today...! If I have it, you'll find under the BIG TOP of Comics, at Comic Books Circus.com, including the book 'Gotham City 14 Miles' that I am shown holding to the left. I'm 1 of 14 essayists in that book! !
Web Page Note: This blog post is written per the IE Browser standards. Chrome, Safari, Netscape, Firefox and the other browsers serve the page up slightly differently, sorry about that! The screen display resolution is best seen at the setting of 1024 x 768 on your laptop or desktop computer. Note: Your computer's resoulution may be set differently, but the above resolution is the most commonly used resolution at the time of this blog post.
NOTE: All images and characters within this blog post are copyright and trademark their respective owners.
Comics Creators: If you are breaking into, or already work in the comic book industry or other pop culture productions, you are welcome to email or mail us press releases, news items, and updates that you feel would be of interest to our blog readers. Including YOUR own works! To mail printed items to us for possible review, send to: Make It So Marketing Inc., PO Box 130653, Carlsbad, CA 92013

Also, if you are a Facebook member, I would have liked you to send me a 'Friend Request'. However, I have reached the maximum limit of 5,000 Facebook Friends and Fan pages already, so I've added a New 'Facebook Fan Page' so that even more of YOU can 'Like' what I am doing, and be interactive with me and others there. Here is the link to that 'Facebook Fan Page':
Michael D Hamersky On Comics
! Please click the 'Like' button on that page!
---------------


In Addition, I started a YouTube Channel just before the 2011 Comic-Con International, where I am slowly uploading videos from conventions or other events that we attend that are also pop culture related. You are invited to 'subscribe' to that channel also! As found at
'HamerskyOnComics'
!
---
Posted by makeitsomarketing at 12:01 AM PDT
Updated: Tuesday, September 4, 2012 7:24 AM PDT