My Take On: Burger Force - Issue Numbers 1 - 3
Mood:
caffeinated
Topic: Comic Books - New
Burger Force #1-3

by Jackie Ryan of

Burger Force Comics


As Seen At ComiKaze Expo

On September 15



TODAY'S FEATURE IS BLOG #3720 - I found Jackie Ryan's table at the recent 2012 Stan Lee's ComiKaze Expo.
There I found her comic book series, and was interested enough in what I saw to film a video of me interviewing Jackie, which is shown below:
Here's what the comic book is about, per her promo:
Having trouble with that pesky threat to civilization? Diabolical masterminds getting you down? Relax and turn up the theme music. The agents at your local takeaway are already on the case.
In a secret facility located beneath the Burger Berserker takeaway, undercover operatives set aside thick shakes and fries to thwart assain line-dancers, nefarious dating agency schemes, and cock-rockers gone (even more) wrong.
Into this strange world wanders the even stranger Mercury, a hapless young man with an unusual and unwanted talent, the burger team is tasked with discovering whether Mercury can help save the world as they know it, or if that world needs saving from Mercury!
So far there are twelve comics in this series. I've read issues #1 - 3.
For a short video from this series that Jackie has produced, take a look at this link.
Okay, back?
I'm not going to do my usual 'review' of front cover, inside front cover, splash page, interior pages, etc....
Instead, I'm going to say that the three 'episodes' that I read were like storyboards / filmed scenes from 'Burger Force'. The front covers are in color, while the interior pages are black & white.
The whole three issues I read are like scenes from a movie, which is probably why the series is twelve issues long (at this point).
The artwork is 'realistic' in nature. The plotline is also 'realistic'. Other than some Australian words like 'takeaway', the dialogue is very understandable.
This project's text was started in 1999. Over the next ten years, Jackie has developed the comics / short films / etc. for 'Burger Force'. The first 'shoot' was in December of 2008. The comic began to appear online in September of 2009. There are other episodes that are being offered online.
I found these first three issues of the series to be really fascinating... and worth your taking a look!
I give this comic book series of three issues that I read a comic book grade of a Very Fine / Near Mint (VF/NM) 9.0 out of a possible 10.0 comic book grading scale!
Here's the link to where you can order your copies: Burger Force.
Here's the link to the Facebook Fan Page for Burger Force.
(Here's the link to my thoughts on Stan Lee's ComiKaze Expo. With more review blogs to follow, like this one you've just read!)
~ Michael
---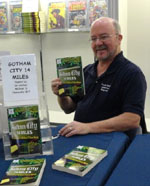 NOTE FROM Michael D Hamersky On Comics: My thanks again to all of YOU reading this blog and our archived blog posts, now at 3,720 total posts in number! I do appreciate your continued reading and support of this Blog!
BTW, You can 'follow' this blog by clicking the 'Follow' Button at this NetworkedBlogs app link! We currently have over 2,778 'Followers'! Thanks to ALL of YOU that have already clicked that button! And for those of YOU that haven't yet... I would appreciate it if YOU would!!!
Note: My online 'Local' Comic Book Shop (LCBS), carries many different genres of comics, magazines, graphic novels, and comic con promotional items. Possibly even copies of the item(s) that was mentioned here today...! If I have it, you'll find under the BIG TOP of Comics, at Comic Books Circus.com, including the book 'Gotham City 14 Miles' that I am shown holding to the left. I'm 1 of 14 essayists in that book! !
Web Page Note: This blog post is written per the IE Browser standards. Chrome, Safari, Netscape, Firefox and the other browsers serve the page up slightly differently, sorry about that! The screen display resolution is best seen at the setting of 1024 x 768 on your laptop or desktop computer. Note: Your computer's resoulution may be set differently, but the above resolution is the most commonly used resolution at the time of this blog post.
NOTE: All images and characters within this blog post are copyright and trademark their respective owners.
Comics Creators: If you are breaking into, or already work in the comic book industry or other pop culture productions, you are welcome to email or mail us press releases, news items, and updates that you feel would be of interest to our blog readers. Including YOUR own works! To mail printed items to us for possible review, send to: Make It So Marketing Inc., PO Box 130653, Carlsbad, CA 92013

Also, if you are a Facebook member, I would have liked you to send me a 'Friend Request'. However, I have reached the maximum limit of 5,000 Facebook Friends and Fan pages already, so I've added a New 'Facebook Fan Page' so that even more of YOU can 'Like' what I am doing, and be interactive with me and others there. Here is the link to that 'Facebook Fan Page':
Michael D Hamersky On Comics
! Please click the 'Like' button on that page!
---------------


In Addition, I started a YouTube Channel just before the 2011 Comic-Con International, where I am slowly uploading videos from conventions or other events that we attend that are also pop culture related. You are invited to 'subscribe' to that channel also! As found at
'HamerskyOnComics'
!
---
Posted by makeitsomarketing at 12:01 AM PDT
Updated: Thursday, September 20, 2012 7:26 AM PDT