Reflecting On Paul Reinman...
Mood:
caffeinated
Topic: Comic Book Artists
TODAY'S FEATURE IS BLOG #3795 - I have been reading some back issues of Alter Ego, the magazine edited by Roy Thomas, and published by TwoMorrows Publishing this past week.
Which reminded me of my earlier years, when I first discovered comic books in the late 1950s and joined in on the Marvel Age of Comics in the early 1960s.
One of the comic book artists during this early time of my reading comic books was Paul Reinman. Yes, for those of you that are reading this blog post, several of you may not know the name or his works. I'm going to relay what I remember of those early days of my reading comic books.
You see, as evidenced by Paul's credits at Grand Comics Database, (GCD), Paul has over 1,400 credits to his name in comic books!
My earliest rememberances of Paul would be his work in the sci-fi 5 page stories that existed before Marvel's superheroes started in November of 1961. Those included stories in Tales To Astonish, Tales of Suspense, Strange Tales, and Journey Into Mystery.
I had no idea that Paul was also submitting work to ACG, Prize, and Horwitz during that time period! See the GCD link for those.
Paul was also illustrating western tales in Kid Colt Outlaw, Two-Gun Kid, and Gunsmoke Western during that time, but not all of the stories were signed.
In Amazing Adventures #6 (dated November of 1961), Paul penciled and inked a Dr. Droom (not Dr Doom) story.
In Magic Agent #1 for ACG Paul penciled a few stories of the main character. I didn't see this issue come out though...
Throughout early 1962, Paul was working for both Marvel Comics and ACG. He turned to mostly inking for Marvel stories, while penciling for ACG into 1964.
As a matter of fact, Paul inked Jack Kirby's pencils on Incredible Hulk #1, X-Men #1-5, and Avengers #2, 3 & 5. So Paul was pretty busy during that period.
As the years followed... I basically saw more of Paul outside of Marvel Comics, such as in The Shadow series by Archie Comics. Issue #7 is shown above, cover dated July of 1965 when I was in Kodiak, Alaska. Paul penciled and inked this cover, as well as most of the other issues in this eight issues series!
Paul also contributed to Tower Comics, including a NoMan story and a Dynamo story in 1968.
Paul basically stopped drawing in the 1970s, although his works have been reprinted by Marvel, and other publishers.
Paul never received the accolades while at Marvel Comics, which was my main emphasis of reading in the 1960s... His work is now in Marvel Masterworks books, so his work will be remembered.
For more reading on Paul Reinman, I'd suggest:
Paul's Wikipedia entry.
Paul's credist at Grand Comics Database.
Paul is also mentioned in a few of the Alter Ego magazines.
My thanks to Paul for his works when I was a kid growing up. I for one, remember them...
~ Michael
---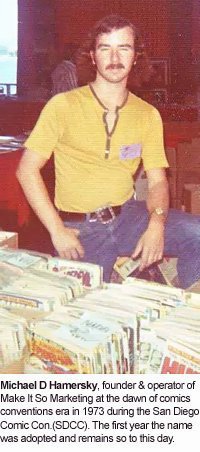 NOTE FROM Michael D Hamersky On Comics: My thanks again to all of YOU reading this blog and our archived blog posts, now at 3,795 total posts in number! I do appreciate your continued reading and support of this Blog!
BTW, You can 'follow' this blog by clicking the 'Follow' Button at this NetworkedBlogs app link! Thanks to ALL of YOU that have already clicked that button! And for those of YOU that haven't yet... I would appreciate it if YOU would!!!
Note: My online 'Local' Comic Book Shop (LCBS), carries many different genres of comics, magazines, graphic novels, and comic con promotional items. Possibly even copies of the item(s) that was mentioned here today...! If I have it, you'll find under the BIG TOP of Comics, at Comic Books Circus.com!
Web Page Note: This blog post is written per the IE Browser standards. Chrome, Safari, Netscape, Firefox and the other browsers serve the page up slightly differently, sorry about that! The screen display resolution is best seen at the setting of 1024 x 768 on your laptop or desktop computer. Note: Your computer's resoulution may be set differently, but the above resolution is the most commonly used resolution at the time of this blog post.
NOTE: All images and characters within this blog post are copyright and trademark their respective owners.
Comics Creators: If you are breaking into, or already work in the comic book industry or other pop culture productions, you are welcome to email or mail us press releases, news items, and updates that you feel would be of interest to our blog readers. Including YOUR own works! To mail printed items to us for possible review, send to: Make It So Marketing Inc., PO Box 130653, Carlsbad, CA 92013

Also, if you are a Facebook member, I would have liked you to send me a 'Friend Request'. However, I have reached the maximum limit of 5,000 Facebook Friends and Fan pages already, so I've added a New 'Facebook Fan Page' so that even more of YOU can 'Like' what I am doing, and be interactive with me and others there. Here is the link to that 'Facebook Fan Page':
Michael D Hamersky On Comics
! Please click the 'Like' button on that page!
---------------


In Addition, I started a YouTube Channel just before the 2011 Comic-Con International, where I am slowly uploading videos from conventions or other events that we attend that are also pop culture related. You are invited to 'subscribe' to that channel also! As found at
'HamerskyOnComics'
!
---
Posted by makeitsomarketing at 12:01 AM PST
Updated: Tuesday, February 19, 2013 7:06 AM PST