Contemplating On Roy Thomas...
Mood:
caffeinated
Topic: Comic Book Writers
TODAY'S FEATURE IS BLOG #3797 - I have been reading a collection of Alter Ego magazines that I purchased at the San Diego Comic Con International.
The magazine is Roy Thomas' volume 3 of the magazine and is published by TwoMorrows Publishing.
I just finished reading issue #50 (cover dated July 2005), which celebrated 40 Years Since Modeling With Millie #44, the first Marvel Comic that Roy worked on!
In that same issue of Alter Ego were other articles, all on Roy's 40 years in the comics industry.
Now this was a magazine that needs to be shared with others!
Roy was interviewed by Jim Amash in the article titled: "Roy The Boy" In the Marvel Age of Comics. A wealth of information was presented, including Roy's thoughts on persons that were working there in 1965 when he first came to the company, after working at DC Comics for about two weeks!
I was really pleased reading this article, and the other flip side of the magazine. Well worth the cost of the magazine!
Which got me to thinking... I haven't really blogged about Roy Thomas in this Blog before. Sure, I've posted a few pics of him, but as for a full fledged blog post... no.
Here's Roy's Wikipedia entry so you can see Roy's background.
I knew Roy was a little older than me, he was born November 22nd of 1940. He was first involved in comics fandom, and was part of the first Alter Ego run of issues.
In 1965 he was given an offer to work for DC Comics in New York City. He was there for almost two weeks, when he realized that he had made a mistake in accepting the offer. He took a writer's test with Stan Lee at Marvel Comics and joined them. He stayed from 1965 to 1980! After that he went back to DC Comics, and then in later years worked for independent comic companies. Today he is the Editor of Alter Ego magazine, now with over 100 issues in volume three of the mag, and writes in other industries as well as comics.
That would make Roy 'The Boy' 72 years old... Whew! I knew I was getting older, but still...
Well, Stan 'The Man' Lee just turned 90 in December...
Anyways, the title of this blog post is 'Reflecting on Roy Thomas...', so I'll get back to Roy.
It seemed to me, back in the mid 1960s, that Stan would start a comic book, and then turn it over to Roy. For the most part, that was okay with me, as Stan developed a lot of comic books, and couldn't keep up. Which is why they had 'the Marvel Style' of producing comics. See this link as to the two main different style of producing comics.
It was Roy's influence at Marvel that led to that company obtaining the license to publish Conan the Barbarian comics. Which I found the early issues to be great!
Roy was the first Editor-In-Chief after Stan Lee, from 1972-74. This was a period of growing pains for Marvel Comics, and Roy went back to writing.
I found his fondness for the 1940s era to be amusing, as I enjoyed his 'The Invaders' comic book title to be pretty good. I didn't follow Roy to DC Comics, so I missed a lot of his work there...
Here's a link to Roy's comic book credits at Grand Comics Database. You'll see a lot of titles there where Roy worked on a series. With over 11,000 credits to his name! Whew!
After Roy joined Marvel Comics, there seemed to be a gradual increase in the number of writers there. I saw less and less of his work, as the Marvel Universe expanded.
After 1980, when Roy left for DC, I just didn't see anything by him, as I wasn't reading DC Comics at that time.
Of course in later years, I read some of the indie comics he was writing, including Xena: Warrior Princess for Topps Comics.
Over the years, I've run into Roy at several San Diego Comic Con International events, and gotta say... That Roy is a really nice guy! I look forward to see what he has coming next!
Here's a link to other posts I've included Roy in...
Here's a link to the Alter Ego Magazines that I have listed for sale.
~ Michael
---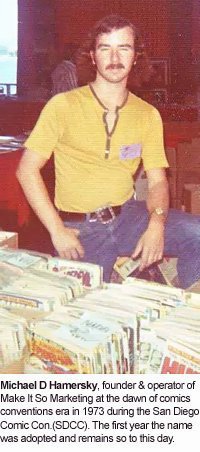 NOTE FROM Michael D Hamersky On Comics: My thanks again to all of YOU reading this blog and our archived blog posts, now at 3,797 total posts in number! I do appreciate your continued reading and support of this Blog!
BTW, You can 'follow' this blog by clicking the 'Follow' Button at this NetworkedBlogs app link! Thanks to ALL of YOU that have already clicked that button! And for those of YOU that haven't yet... I would appreciate it if YOU would!!!
Note: My online 'Local' Comic Book Shop (LCBS), carries many different genres of comics, magazines, graphic novels, and comic con promotional items. Possibly even copies of the item(s) that was mentioned here today...! If I have it, you'll find under the BIG TOP of Comics, at Comic Books Circus.com!
Web Page Note: This blog post is written per the IE Browser standards. Chrome, Safari, Netscape, Firefox and the other browsers serve the page up slightly differently, sorry about that! The screen display resolution is best seen at the setting of 1024 x 768 on your laptop or desktop computer. Note: Your computer's resoulution may be set differently, but the above resolution is the most commonly used resolution at the time of this blog post.
NOTE: All images and characters within this blog post are copyright and trademark their respective owners.
Comics Creators: If you are breaking into, or already work in the comic book industry or other pop culture productions, you are welcome to email or mail us press releases, news items, and updates that you feel would be of interest to our blog readers. Including YOUR own works! To mail printed items to us for possible review, send to: Make It So Marketing Inc., PO Box 130653, Carlsbad, CA 92013

Also, if you are a Facebook member, I would have liked you to send me a 'Friend Request'. However, I have reached the maximum limit of 5,000 Facebook Friends and Fan pages already, so I've added a New 'Facebook Fan Page' so that even more of YOU can 'Like' what I am doing, and be interactive with me and others there. Here is the link to that 'Facebook Fan Page':
Michael D Hamersky On Comics
! Please click the 'Like' button on that page!
---------------


In Addition, I started a YouTube Channel just before the 2011 Comic-Con International, where I am slowly uploading videos from conventions or other events that we attend that are also pop culture related. You are invited to 'subscribe' to that channel also! As found at
'HamerskyOnComics'
!
---
Posted by makeitsomarketing at 12:01 AM PST
Updated: Friday, February 22, 2013 7:39 AM PST