My Take On: Cursed Pirate Girl
Mood:
caffeinated
Topic: Comic Books - New
TODAY'S FEATURE IS BLOG #3805 - Today's blog is on the graphic novel titled: 'Cursed Pirate Girl' by Jeremy A Bastian. From Archaia Entertainment.
So what's the book about?
Here's the promotional info:
Adventures on and under the high seas lead a cursed pirate girl to encounter mythic creatures, gnarled and crusty pirates, and ghostly apparitions as she tries to find her lost father, one of the dreaded Pirate Captains of the mythical Omerta Seas. Cursed Pirate Girl is a whimsical, swashbuckling tale of wonderland journeys and unimaginable dangers, starting in Port Elisabeth, Jamaica in the year 1728, and quickly heading across - and beneath - the waves!
Okay... So what are my thoughts on this book?
Well, when it first came in, I had to show it to my wife, Tina, who is a book marketing person. She was impressed with the physical looks of the book, with the embossed front cover, and the special pages cut along the sides of the pages. Plus the fact that the interior pages were in black and white.
For myself... I found that the black and white pages had fantastic artwork! Very 'Old School' artwork! Older than myself even... Looking more like the late 1800s early 1900s in style. Which kept me intrigued into reading the full book!
The lettering of the word balloons is what kept me from fully enjoying this book though...
The lettering appeared to be hand lettered, and wasn't the same size or shape for the most part. It was hard to read some of the word balloons because of that.
I found myself drifting into checking more of the full art panels when reading the word balloons became hard to read. Again, it was because of the fantastic artwork that I continued to the end of the story... Only to find that this was only the first volume of the book series!
Yes, there were some additional pages after the story for Volume One ended. There was the Epilogue on page 115. Then there was the Alternate Cover Gallery that started on page 121. Plus 'The Royal Portraiturist' on page 129. Plus a fold out poster that was melded into the inside back cover of the book!
This book was really well put together, in my opinion! (And in my wife's opinion also!)
I would almost say that the book is almost fun, definitely quircky, and when readable... very engaging!
Because of the word balloon lettering 'problem', I've got to downgrade the total effort to a Very Fine Plus (VF+) 8.5 out of a possible 10.0 comic book grading scale.
Still, it is a good read...
Here is the info for you to find the book:
Reading level: Ages 8 and up
Hardcover: 152 pages
Publisher: Archaia Entertainment, LLC (January 1, 2013)
Language: English
ISBN-10: 1936393603
ISBN-13: 978-1936393602
Product Dimensions: 6.6 x 0.9 x 10.2 inches
For those of you that don't have a LCBS near you, here is a link that you can purchase the book online: Cursed Pirate Girl
.
I do look forward to seeing a Volume Two of this series...
(Note: There may be a second review blog of this book after Tina reads it.)
~ Michael
---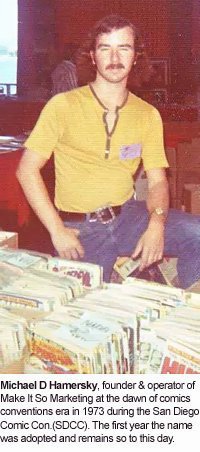 NOTE FROM Michael D Hamersky On Comics: My thanks again to all of YOU reading this blog and our archived blog posts, now at 3,805 total posts in number! I do appreciate your continued reading and support of this Blog!
BTW, You can 'follow' this blog by clicking the 'Follow' Button at this NetworkedBlogs app link! Thanks to ALL of YOU that have already clicked that button! And for those of YOU that haven't yet... I would appreciate it if YOU would!!!
Note: My online 'Local' Comic Book Shop (LCBS), carries many different genres of comics, magazines, graphic novels, and comic con promotional items. Possibly even copies of the item(s) that was mentioned here today...! If I have it, you'll find under the BIG TOP of Comics, at Comic Books Circus.com!
Web Page Note: This blog post is written per the IE Browser standards. Chrome, Safari, Netscape, Firefox and the other browsers serve the page up slightly differently, sorry about that! The screen display resolution is best seen at the setting of 1024 x 768 on your laptop or desktop computer. Note: Your computer's resoulution may be set differently, but the above resolution is the most commonly used resolution at the time of this blog post.
NOTE: All images and characters within this blog post are copyright and trademark their respective owners.
Comics Creators: If you are breaking into, or already work in the comic book industry or other pop culture productions, you are welcome to email or mail us press releases, news items, and updates that you feel would be of interest to our blog readers. Including YOUR own works! To mail printed items to us for possible review, send to: Make It So Marketing Inc., PO Box 130653, Carlsbad, CA 92013

Also, if you are a Facebook member, I would have liked you to send me a 'Friend Request'. However, I have reached the maximum limit of 5,000 Facebook Friends and Fan pages already, so I've added a New 'Facebook Fan Page' so that even more of YOU can 'Like' what I am doing, and be interactive with me and others there. Here is the link to that 'Facebook Fan Page':
Michael D Hamersky On Comics
! Please click the 'Like' button on that page!
---------------


In Addition, I started a YouTube Channel just before the 2011 Comic-Con International, where I am slowly uploading videos from conventions or other events that we attend that are also pop culture related. You are invited to 'subscribe' to that channel also! As found at
'HamerskyOnComics'
!
---
Posted by makeitsomarketing at 12:01 AM PST
Updated: Tuesday, March 5, 2013 7:30 AM PST