My Take On: The 2014 San Diego Comic Fest... In Total
Mood:
chillin'
Topic: Comic Cons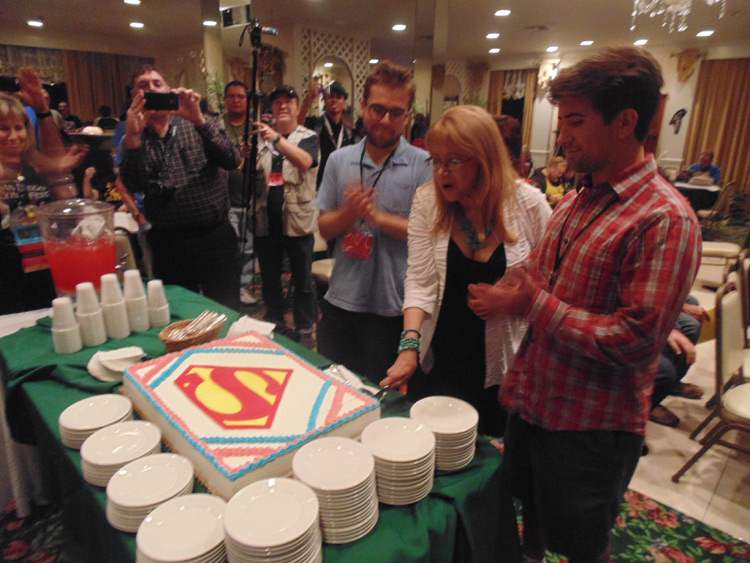 TODAY'S FEATURE IS BLOG #4016 - It is the Monday after the three day 2014 San Diego Comic Fest...
First, let me tell you that I am associated with this comic convention. I am the administrator of the Facebook Fan Page for the San Diego Comic Fest, and have been since it started being organized three years ago by Mike Towry, who is a co-Founder of the San Diego Comic Con, now called Comic-Con International.
You can see my name, as well as the other Committee members in the Program Guide on pages 4 & 5 of this year's publication. There are a lot of staff members involved with putting on a comic convention, that's for sure!
Anyway's here's 'My Take' on this year's third annual show:
Programs - This to me is the highlight of the San Diego Comic Fest. As you can see by the online presentation of the schedule, (this link), there was a lot of programming! Saturday and Sunday, my youngest son and I attended almost non-stop, a program every hour! There was a lot of variety in topics also, from films to sci-fi to comics and more. This is what makes this San Diego Comic Fest a 'Must See' show!
Music Tent - Yes... A 'Music Tent'. And there were several good bands there as well. Madus, Leave The Universe, Digital Lizards of Doom were the bands that we listened to. But there were several others.
The Twilight Zone Cafe - Which was a tribute to Rod Serling's TV show. It was nice that his daughter was there to talk about her dad. The prices of the food were very reasonable, and I ate healthy for a change! The cafe was also the setting for the Friday night party, the Jerry Siegel Centennial Celebration Party! See the top photo of Laura Siegel Larson along with her two sons cutting the Superman cake. Laura is the daughter of Superman co-creator Jerry Siegel. This was a good place to meet new people and get caught up with friends from the past.
Le Sommet - Which was basically the Childrens Programming room during the Fest. A good place to bring your kids or grandkids to.
Artists Alley - Up to 36 different artists were showcased in this small room, but fun was had by all that attended!
The Dealers Room - There were a few less tables this year, due to Fire Marshall guidelines... But still plenty to see and buy!
Registration - This operation went smoothly, even though more admission tickets had to be printed!
Masked Ball - A good time was had by those that attended.
And yes, there were other activities... But I didn't attend those, so I'll not mention them.
Once again, I had a great time at this smaller in size show. The aim was for about 2,000 total attendees.
Where the 2015 San Diego Comic Fest will be located is anybody's guess at this time. As the East side of the Town and Country Resort & Hotel is being torn down and replaced with condos next year. But I'll keep you posted as to where the Comic Fest will be...
My thanks to all my fellow San Diego Comic Fest Staff members for putting on a pretty darn good show this year!.
Here are the links for you to follow and read more:
The Photo Album for photos I took and posted at my Facebook Fan Page.
The Facebook Fan Page for the San Diego Comic Fest.
The web site for the San Diego Comic Fest.
~Michael
---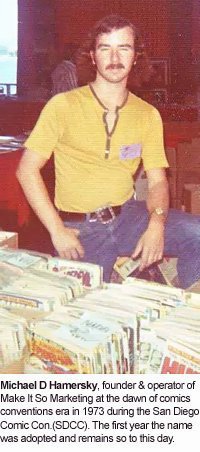 NOTE FROM Michael D Hamersky On Comics: My thanks again to all of YOU reading this blog and our archived blog posts, now over 4,000 total posts in number! I do appreciate your continued reading and support of this Blog!
BTW, You can 'follow' this blog by clicking the 'Follow' Button at this NetworkedBlogs app link! Thanks to ALL of YOU that have already clicked that button! And for those of YOU that haven't yet... I would appreciate it if YOU would!!!
Note: My online 'Local' Comic Book Shop (LCBS), carries many different genres of comics, magazines, graphic novels, and comic con promotional items. Possibly even copies of the item(s) that was mentioned here today...! If I have it, you'll find under the BIG TOP of Comics, at Comic Books Circus.com!
Web Page Note: This blog post is written per the IE Browser standards. Chrome, Safari, Netscape, Firefox and the other browsers serve the page up slightly differently, sorry about that! The screen display resolution is best seen at the setting of 1024 x 768 on your laptop or desktop computer. Note: Your computer's resoulution may be set differently, but the above resolution is the most commonly used resolution at the time of this blog post.
NOTE: All images and characters within this blog post are copyright and trademark their respective owners.
Comics Creators: If you are breaking into, or already work in the comic book industry or other pop culture productions, you are welcome to email or mail us press releases, news items, and updates that you feel would be of interest to my blog readers. Including YOUR own works! To mail printed items to me for possible review, just contact me.

Also, if you are a Facebook member, I would have liked you to send me a 'Friend Request'. However, I have reached the maximum limit of 5,000 Facebook Friends and Fan pages already, so I've added a New 'Facebook Fan Page' so that even more of YOU can 'Like' what I am doing, and be interactive with me and others there. Here is the link to that 'Facebook Fan Page':
Michael D Hamersky On Comics
! Please click the 'Like' button on that page!
---------------


In Addition, I started a YouTube Channel just before the 2011 Comic-Con International, where I am slowly uploading videos from conventions or other events that we attend that are also pop culture related. You are invited to 'subscribe' to that channel also! As found at
'HamerskyOnComics'
!
---
Posted by makeitsomarketing at 1:25 PM PDT
Updated: Monday, October 20, 2014 3:51 PM PDT