Scott Shaw! As Seen At Wizard World Anaheim Comic Con
Mood:
caffeinated
Topic: Comic Cons



Above: (L-R) Kirby Shaw and Scott Shaw! As Seen April 16th 2010, at Table 1084 in Artists Alley!

To The Top Left: Michael D Hamersky and Scott Shaw!

To the Bottom Left: The Wizard World Comic Con Anaheim Logo - The Con Ran From April 16 - 17 -18, 2010.
TODAY'S FEATURE - Blog #3110:
Last week I blogged about who was going to be at the Wizard World Anaheim Comic Con in Orange County, California; both media guests and comics creators...

Well, we are back from that show, and the second blog I want to post is about seeing one of my favorite cartoonists, Scott Shaw!

Besides being a cartoonist, Scott is also a storyboard artist, writer, animation producer, lecturer, designer, art director, and comic book creator... whew!

Scott was there at the very beginnings of the San Diego Comic Con! He also worked at the San Diego Zoo for a few years, just like his dad did.

If this sounds familar to my long time blog readers, that's because my dad also worked at the San Diego Zoo at the same time Scott's dad did, and Scott and I worked at the Zoo during most of the same years, but he had an early morning shift, while I was there later in the morning. Whereas he was one of the early organizers at the Con, I didn't start as a dealer at the El Cortez SDCC location until 1972. But I digress...

Scott and his son, Kirby, were located in the Artists Alley section of this Wizard World, which was at the far end of the con after you walked in the entrance.

So, it being the first afternoon of the con, I gravitated to that area, before the media guests were fully set up and ready to go. With a 'Press Pass' I was able to see several persons before the doors opened and they became swamped with attendees.

Scott and Kirby were already set up, and I had a good talk with both of them, as seen by the above two photos that I am publishing here.

Scott, whose partial credits of his works are found via this link, had several of those works displayed on his table for sale. One that I had seen briefly at an earlier Comic Con International: San Diego show at a booth next to Scott's there, was one that I picked up this time.

Why? Well, I enjoy reading 'promotional comics', those comics that are published to help promote a company's products or services.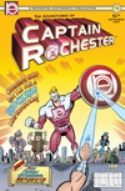 This one was "The Adventures Of Captain Rochester", A Rochester Electronics Publication. It was issue #2 of the title.
The artwork on the covers and the interior pages were illustrated by Scott Shaw!, so naturally I had to read it!
The script was by George Karalias & Paul Gerrish, art by Scott Shaw!, coloring by Tom Luth, with lettering by Dan Nakrosis. Edited by George Karalias & Scott Shaw!
I found this issue to be chock full of information, and a fun read! Which is why I enjoy reading 'promotional comics' like this!
So what is the background and theme for this comic book title? Here's what I found from the web site:
Captain Rochester and the Quest for Traceability, Authorization and Quality.
"To combat the increasingly severe problems caused by counterfeit and sub-standard semiconductors, Rochester Electronics joined forces with the Semiconductor Industry Association to establish the SIA Anti-Counterfeit Task Force. In addition, Rochester continues to participate in international anti-counterfeit efforts, including the Reliable Electronic Component Suppliers Classification program in China (RECS).
To further this cause, Rochester Electronics introduced Captain Rochester - a strong and entertaining industry hero who promotes safe and secure methods of dealing with the procurement of semiconductors. As an icon, he has come to be a symbol of what is right about the industry. As Smokey the Bear is to preventing forest fires, Captain Rochester is to preventing customers from making mistakes in buying counterfeit or sub-standard devices. As new plots and adventures unfold, Captain Rochester will do more than battle against the "dark side" of the industry - he will interact in positive and beneficial relationships with other characters who will represent real-world allies dedicated to facilitating the purchase of legitimate semiconductor products."

That's pretty cool in my book!
Scott had these issues for sale at his table. I'm not sure if he sells them via the mail. I didn't pick up any for resale purposes, so we don't have them in our online store, sorry!
To see more info on this cool series, plus view a animated video of Captain Rochester, check out the company web site at:
http://www.rocelec.com/about/captrochester/
Plus, I've already posted links to Scott's websites before, but this blog keeps adding new 'followers' all the time, so here are just a couple of Scott Shaw!'s websites:
http://www.facebook.com/pages/Oddball-Comics/244154350651?ref=ts
For those of You that couldn't attend this convention, I'll be blogging about more media guests and comics creators in the days to come...
If You can't wait for my posts, you can check out more of who was there at Wizard World Anaheim by joining their Facebook Fan Page right here for one, AND / OR You can go direct to their web site to see who else appeared there at: Wizard World Anaheim.
My thanks to Scott Shaw! and Kirby. It was fun talking with you guys on Friday, and during the rest of the show. See you again, real soon!
AND my thanks again to all of YOU reading this blog and our archived blog posts, now over the 3,100 total posts in number!
~ Michael D Hamersky @ ComicBookCollectorsBlog.com

Note: Our online comic book store was still 'open' for business during this last weekend, as this was only a three day con, and we will be shipping orders today, Tuesday the 20th. FYI, promo comics like the one reviewed in this blog post can be found in our online store at:
http://www.comicbookscircus.com/
---
"Hammering Out the Web For You Since May 12th, 1998!"

Note: If you are breaking into, or already work in the comic book industry or other pop culture productions, you are welcome to email us press releases, news items, and updates that you feel would be of interest to our blog readers. Including YOUR own works!

To mail printed items to us for possible review, send to:

Make It So Marketing Inc.
PO Box 130653
Carlsbad, CA 92013

Check Out More Of Our Own Endeavors:

Yeah, that's me in the photo shown to the left, taken at the 1973 San Diego Comic Con!

I first set up as a 'dealer' at the 1972 SDCC at the El Cortez Hotel. So I've been around comic conventions for a little while, LOL! Tina and I now have an on-line exhibitor table at the first "virtual" comic con titled the "Facebook Comic Con" (FBCC)! You can view our table and interact with us there on Facebook by clicking this link.

So if YOU are a Facebook member, please 'join' our Facebook Comic Con - Make It So Marketing exhibitor table for updates, specials, links to this blog, and other wall comments that we post every day!




Also, if you are a Facebook member and would like to join my Facebook Network, feel free to send a 'friend request' to 'Michael D Hamersky'.

-------------------

Talking about comics: if YOU are a comics creator, (writer, penciler, inker, colorist, letterer, etc.), OR even a Comics / Magazine Publisher, feel free to contact me regarding YOUR works for a possible mention / review!

I've made a special blog post about: "How To Best Submit YOUR Publication For Possible Review!" for those creators / publishers that would like to possibly have their publications mentioned or reviewed. Just click on the link provided in this paragraph!

~Michael @ ComicBookCollectorsBlog.com

WEB PAGE NOTE: This blog post is written for the IE Browser standards. Chrome, Safarai, Netscape, Firefox and the others serve the page up differently. The screen display resolution is best seen at the setting of 1024 x 768.

NOTE; All images and characters within this blog post are copyright and trademark their respective owners.
Posted by makeitsomarketing at 6:26 AM PDT
Updated: Tuesday, April 20, 2010 7:30 AM PDT