Comics Related Gifts For The Holidays - Part 2!
Mood:
caffeinated
Topic: Comic Books - New
Comics Related Gifts For The Holidays - Part 2!

Personal Recommendations For Family, Friends & Even For Yourself!
TODAY'S FEATURE - Blog #3298:
Back on December 3rd I blogged that...
Each year I 'Spotlight' comics related items that I have reviewed over the past year and want to point out once more for those of YOU that missed the invidual posts, and are looking for holidy gifts for family, friends, or even yourself!
This year I'm refining the process by separating the links into 'groupings'. Please Note: These are MY choices, as my wife, (Tina LoSasso), and my youngest son, (Vinnie), do not have their choices included in this listing.
Here As Promised on December 3rd is my addendum to the original post... And No, the three Action Comics #1 issues shown at the Newstand above, are NOT part of these selections! Did YOU spot them in the pic from 1938? Here's the ones from this year of 2010 and more affordable:
Action / Adventure:
Blog #3294 Michael's Take On: 8-9-3 The Graphic Novel! NM
Blog #3259 My Take On: The Secret History - Books Ten and Eleven! VF/NM
Blog #3227 My 'Take' On: The Further Adventures of D.B. Cooper! NM
Blog #3179 My Take On: Yi Soon Shin - Warrior And Defender #2!
Blog #3127 My Take on Bella Donna
Blog #3126 My Take On The Enforcers Zero Issue - The Director's Cut
Blog (March 8, 2010) Yi Shoo Shin #1
Blog (March 3, 2010) Elephantmen Vol 2: Fatal Diseases
Books on TV Shows:
Blog #3265 My Take On the New Book: Gotham City 14 Miles from Sequart! NM
Blog #3262 My 'Take' On: Fraggle Rock Vol. 1 Collected Edition Hardcover VF/NM
'Coffee Table Books' - Outstanding Books for Any Home!
Blog #3207 My 'Take' On: The Best Of Simon And Kirby From Titan Books! NM
Fanzines & Pro-Zines:
Blog #3220 My 'Take' On: Back Issue #42 From TwoMorrows Publishing! The Wild West Issue! NM
Blog #3201 My 'Take' On Alter Ego #95 - Marie Severin And NOT Brand Echh! NM
Blog #3148 My Take On: Fogel's Underground Comix Price Guide - The First Supplement VF/NM
Blog #3125 Part 2 of My Take On Comic Fan! #6
For Friends That Want to Self-Publish - Good Examples:
Blog #3246 My 'Take' On: HTown Issue #1 VF/NM

Blog #3228 My 'Take' On: Crying Macho Man Issue No. 4 VF/NM
Blog #3225 My 'Take' On Shaloman...Via Issue #8 As Seen At The 2010 SDCC! VF/N
Blog (March 21st, 2010) Shelter - A Tree & Hills Anthology
Blog (March 1st, 2010) Walking Man Comics!
Fun Reads:
Blog #3252 Sonambulo In 'Mexican Stand-Off' As Found at the San Gabriel Valley Comic Book Festival! NM
Blog #3240 My 'Take' On The TPB: Sonambulo In Sleep Of The Just! NM
Blog #3251 My 'Take' On: War Of The Independents #1 - Debuting at the 2010 NYCC! VF/NM
Blog #3178 My Take On: I Am Stu Pitt! A Comic Strip Novel NM
Blog #3131 My Take On The Adventures of Captain Rochester #1 & 2!
Blog (March 18th, 2010) Seeds - An Antholgy of Comics About Food?!
Blog (February 17th, 2010) A Review of Strange Space Stories #1
Blog (January 4th, 2010) The Silver Comics Annual #1!
Graphic Novels for General Mainstream Audiences:
Blog #3216 My 'Take' On PUG - The Graphic Novel NM
HoRRoR / MoNSTer:
Blog #3275 My Take On: Bela Lugosi's TALES From the GRAVE! NM
Blog #3258 My Take On: Family Bones Volume 2 - Shawn Granger VF/NM
Blog #3223 My 'Take' On: Strangler Bros. #1 - As Seen At the 2010 SDCC! VF/NM
Blog #3182 My Take On: Jeromy Cox's VAMPYRATES #1 VF/NM
Blog (March 17, 2010) A Review On Haven - The Upcoming Graphic Novel
Blog (March 10, 2010) Eye Popping 10th Issue of Satyr!
Blog (February 19th, 2010) It's Strangeways: Murder Moon!
The above selections are only from my review blogs from December 2010 to January of 2010. I don't want to make it too hard for you to find these items, either at your LCBS, Bookstore, or online sources!
Plus... I wanted to update this list for those of you that are running into trouble finding something... Thus the 'Part 2' title at the top of this blog!
Note: For those creators that sent your publications in for review, and don't see them in the list above, please note that these are my personal selections for a more mainstream based audience. No slight intended on your publication!
This is my last update on this suggestion list, as it is already December 8th!
--------------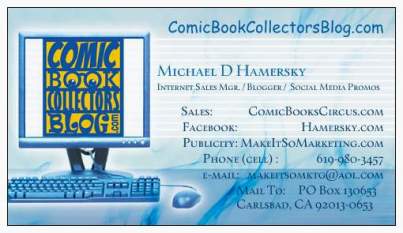 My thanks again to all of YOU reading this blog and our archived blog posts, now over 3,295 total posts in number! I do appreciate your continued reading and support of this Blog!
BTW, You can 'follow' this Blog by clicking the 'Follow' Button at this NetworkedBlogs app! We currently have over 2,060 'Followers'! Thanks to ALL of YOU that have already clicked that button! And for those of YOU that haven't yet...I would appreciate it if YOU would!!!
~ Michael D Hamersky @ ComicBookCollectorsBlog.com

Note: Our online comic book shop carries many different genres of comics, magazines, graphic novels, and comic con promotional items at the link seen below.
http://www.comicbookscircus.com/
---
"Hammering Out the Web For You Since May 12th, 1998!"

Note: If you are breaking into, or already work in the comic book industry or other pop culture productions, you are welcome to email us press releases, news items, and updates that you feel would be of interest to our blog readers. Including YOUR own works!

To mail printed items to us for possible review, send to:

Make It So Marketing Inc.
PO Box 130653
Carlsbad, CA 92013

ComicBooksCircus.com - It's Under The Big Top Of Comics! Click the Above Circus Tent to See Our Current Listings!

My thanks to those of YOU that have read today's blog post! I do appreciate that!

For those of you that didn't know me before today... I first set up as a 'dealer' at the 1972 San Diego West Coast Comic Con (SDCC) at the El Cortez Hotel. So I've been around comic conventions for a little while, LOL!

My wife Tina and I now have an on-line exhibitor (dealer) table at the first "virtual" comic con titled the "Facebook Comic Con" (FBCC)!

You can view our dealer table and interact with us there on Facebook by clicking this link, which takes you to our table named: 'Facebook Comic Con | Make It So Marketing'.

Plus I have a chapter in a new book coming out in December of 2010, that is pictured above, "Gotham City 14 Miles"! Click here to become a 'Fan' of the GC14M Facebook Fan Page!.

Also, if you are a Facebook member and would like to also join my Facebook Network, I would have liked to have sent you a Friend Request. However, I have reached the maximum of 5,000 Facebook Friends and Fan pages 'limit' already, so I have now added on a personal Facebook Fan Page of my own!

-------------------

Talking about comics: if YOU are a comics creator, (writer, penciler, inker, colorist, letterer, etc.), OR even a Comics / Magazine Publisher, feel free to contact me regarding YOUR works for a possible mention / review!

I've made a special blog post about: "How To Best Submit YOUR Publication For Possible Review!" for those creators / publishers that would like to possibly have their publications mentioned or reviewed. Just click on the link provided in this paragraph!

~Michael @ ComicBookCollectorsBlog.com

WEB PAGE NOTE: This blog post is written for the IE Browser standards. Chrome, Safarai, Netscape, Firefox and the others serve the page up differently, sorry about that!

The screen display x 768 on your laptop or desktop computer.

NOTE: All images and characters within this blog post are copyright and trademark their respective owners.
Posted by makeitsomarketing at 12:01 AM PST
Updated: Wednesday, December 8, 2010 5:37 AM PST