My Take On: Robyn Hood Volume One from Zenescope Entertainment
Mood:
caffeinated
Topic: Comic Books - New
TODAY'S FEATURE IS BLOG #3834 - This TPB (trade paperback) contains issues #1 - 5 of the comic book series titled 'Grimm Fairy Tales Presents Robyn Hood'.
I had already read a couple of the individual comic books, but not the whole limited series. This TPB started right off catching my attention with a nice cover, as seen at the top right of this blog post!
So before I begin 'My Take' on this TPB, what's this storyline about?
Here's the pitch: "In the land of Myst, a tryant rules the city of Bree with an iron fist, leaving its citizens living in fear and terror. But all hope is not lost as a young orphan girl from another world discovers her destiny and becomes the legend she was meant to be. The creators of Grimm Fairy Tales, Wonderland, and Neverland bring you the next great hero in the Grimm Universe!"
Okay, the above might seem just a little bit 'corny'. But from what I had already so far in the individual issues, it wasn't.
Neither is this collected volume one. The storyline by Pat Shand is well written! I actually enjoyed reading the five comic books collected into this TPB.
And yes... I was okay with Robyn Hood being a female instead of a male Robin Hood. This was a nicely written twist. The bouncing between dimensions is a little strange, but I got over that quickly. There is a bit more violence in the fifth chapter (issue). Some persons reading this may not like it as much due to the volence.
The artwork wasn't entirely over the top. Yes there was some additional violent scenes, but this is not a kid's publication to read. The artwork flowed with the storyline, and both worked well together. And yes, there is some sexy outfits in this series... But this is a Zenescope Entertainment comic book, which does feature sexy outfits for the most part.
The coloring was done by different people, but it too worked fine with the artwork and the storyline.
The only thing that I didn't like about this Volume One, is that there will be a Volume Two, as the last page of the 5th issue says 'End', but the storyline shows that this story will be continued...
Oh, and there is a special section at the end of the TPB, which features the variant covers that Zenescope used when publishing the five issues. I'm not a fan of variant covers for the most part, but for this review blog, I'm only reviewing the TPB.
Other than that, I've got to give this TPB a Near Mint Minus (NM-) 9.2 out of a possible 10.0 comic book grading scale. The storyline and art was a 'total package' in reading for me.
Here is the Facebook Fan Page for Zenescope Entertainment. That way you can check out what else this company has in store for future publications.

If your Local Comic Book Shop doesn't have this TBP in stock, feel free to check out this online source to purchase from: Grimm Fairy Tales: Robyn Hood (Grimm Fairy Tales Presents)
!
That's it for 'My Take' on this TPB!
~ Michael
---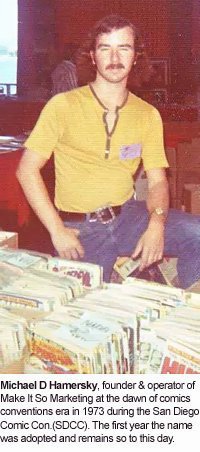 NOTE FROM Michael D Hamersky On Comics: My thanks again to all of YOU reading this blog and our archived blog posts, now at 3,834 total posts in number! I do appreciate your continued reading and support of this Blog!
BTW, You can 'follow' this blog by clicking the 'Follow' Button at this NetworkedBlogs app link! Thanks to ALL of YOU that have already clicked that button! And for those of YOU that haven't yet... I would appreciate it if YOU would!!!
Note: My online 'Local' Comic Book Shop (LCBS), carries many different genres of comics, magazines, graphic novels, and comic con promotional items. Possibly even copies of the item(s) that was mentioned here today...! If I have it, you'll find under the BIG TOP of Comics, at Comic Books Circus.com!
Web Page Note: This blog post is written per the IE Browser standards. Chrome, Safari, Netscape, Firefox and the other browsers serve the page up slightly differently, sorry about that! The screen display resolution is best seen at the setting of 1024 x 768 on your laptop or desktop computer. Note: Your computer's resoulution may be set differently, but the above resolution is the most commonly used resolution at the time of this blog post.
NOTE: All images and characters within this blog post are copyright and trademark their respective owners.
Comics Creators: If you are breaking into, or already work in the comic book industry or other pop culture productions, you are welcome to email or mail us press releases, news items, and updates that you feel would be of interest to our blog readers. Including YOUR own works! To mail printed items to us for possible review, send to: Make It So Marketing Inc., PO Box 130653, Carlsbad, CA 92013

Also, if you are a Facebook member, I would have liked you to send me a 'Friend Request'. However, I have reached the maximum limit of 5,000 Facebook Friends and Fan pages already, so I've added a New 'Facebook Fan Page' so that even more of YOU can 'Like' what I am doing, and be interactive with me and others there. Here is the link to that 'Facebook Fan Page':
Michael D Hamersky On Comics
! Please click the 'Like' button on that page!
---------------


In Addition, I started a YouTube Channel just before the 2011 Comic-Con International, where I am slowly uploading videos from conventions or other events that we attend that are also pop culture related. You are invited to 'subscribe' to that channel also! As found at
'HamerskyOnComics'
!
---
Posted by makeitsomarketing at 12:01 AM PDT
Updated: Wednesday, April 17, 2013 7:14 AM PDT