My Take On: Jack Kirby Collector #62 - Kirby @ DC
Mood:
a-ok
Topic: Comic Book History
TODAY'S FEATURE IS BLOG #3995 - I found this magazine at the TwoMorrows table at the 2014 WonderCon in Anaheim, California this past weekend. In the early years of this magazine I had a subscription, but when it started being printed in oversize format, I had to stop as the USPS usually bent my copies in transit. So nowadays I wait till I see it at Comic-Con in San Diego or at WonderCon in Anaheim.
This issue's them was 'Kirby @ DC'. Which is actually not my favorite period of Jack's works. Yeah, I'm a Marvelmaniac of Jack's works, which is what I grew up on starting around 1960 with the monsters comics titles of what was to become Marvel Comics.
However... I do enjoy a good story or presentation of Jack's other works. And this issue does deliver that! Starting from the front cover to the back cover, this issue had a LOT of Jack's works at DC from 1970 to 1975, which is the last period he worked for DC Comics.
The publisher's editorial, by John Morrow, stated that this was his favorite period of Jack's works. And he shows why in the editiorial.
Then an article title 'Key 1970s DC Moments' was featured. I didn't know all of this info, and it was nice to see it presented in chronological format.
'Return of the X-Files' is not on that TV show title 'The X-Files', but rather all of Jack's work at DC during 1970-75 which were labeled with an 'X' in front of the work number. Very interesting reading, along with the tables of the works that were produced. Very good article... matter of fact!
'Pleading the Fourth' was a presentation of Jack's works on 'the Fourth World', with nice artwork shown.
Kirby Obscura is a regular feature in this magazine, and once again it was on the money.
'Kirby & Kobra' was a nice feature, even though I have not read all of the run of 'King Kobra' from DC Comics.
'Fascism in the Fourth World' was presented well. It made for good reading.
'Challenging the Unknown' where the Challengers of DC were compared to the Fantastic Four of Marvel was very good. I've read most of those Challenger stories, whereas I've had a complete run of FF from #1 to 102 that Jack produced along with Stan Lee and others. Mike Breen did a good article on this comparison.
The magazine had other articles as well, ending with the 2013 Kirby Tribute Panel held at the 2013 Comic-Con International in San Diego that I attended.
All in all... This issue of the Jack Kirby Collector was a piece of art, even though the topic is not at the top of omy own personal likes of Jack's works. I would give this a Near Mint (NM) 9.4 on a comic book grading scale. Be sure to check out your LCBS (Local Comic Book Shop) or order online direct from TwoMorrows.com.
~Michael
---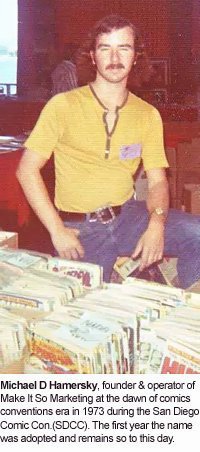 NOTE FROM Michael D Hamersky On Comics: My thanks again to all of YOU reading this blog and our archived blog posts, now at 3,995 total posts in number! I do appreciate your continued reading and support of this Blog!
BTW, You can 'follow' this blog by clicking the 'Follow' Button at this NetworkedBlogs app link! Thanks to ALL of YOU that have already clicked that button! And for those of YOU that haven't yet... I would appreciate it if YOU would!!!
Note: My online 'Local' Comic Book Shop (LCBS), carries many different genres of comics, magazines, graphic novels, and comic con promotional items. Possibly even copies of the item(s) that was mentioned here today...! If I have it, you'll find under the BIG TOP of Comics, at Comic Books Circus.com!
Web Page Note: This blog post is written per the IE Browser standards. Chrome, Safari, Netscape, Firefox and the other browsers serve the page up slightly differently, sorry about that! The screen display resolution is best seen at the setting of 1024 x 768 on your laptop or desktop computer. Note: Your computer's resoulution may be set differently, but the above resolution is the most commonly used resolution at the time of this blog post.
NOTE: All images and characters within this blog post are copyright and trademark their respective owners.
Comics Creators: If you are breaking into, or already work in the comic book industry or other pop culture productions, you are welcome to email or mail us press releases, news items, and updates that you feel would be of interest to our blog readers. Including YOUR own works! To mail printed items to us for possible review, send to: Make It So Marketing Inc., PO Box 130653, Carlsbad, CA 92013

Also, if you are a Facebook member, I would have liked you to send me a 'Friend Request'. However, I have reached the maximum limit of 5,000 Facebook Friends and Fan pages already, so I've added a New 'Facebook Fan Page' so that even more of YOU can 'Like' what I am doing, and be interactive with me and others there. Here is the link to that 'Facebook Fan Page':
Michael D Hamersky On Comics
! Please click the 'Like' button on that page!
---------------


In Addition, I started a YouTube Channel just before the 2011 Comic-Con International, where I am slowly uploading videos from conventions or other events that we attend that are also pop culture related. You are invited to 'subscribe' to that channel also! As found at
'HamerskyOnComics'
!
---
Posted by makeitsomarketing at 12:01 AM PDT
Updated: Wednesday, April 23, 2014 10:39 AM PDT