Spent My Birthday At Comic-Con International...
Mood:
don't ask
Topic: Comic Cons
TODAY'S FEATURE IS BLOG #4003 - I have been blogging about the 2014 Comic-Con International this week. About the fact for the first time since 1991 I don't have tickets for all the days of the convention. Just for the first and last days of the con.
Well, yesterday was also my Birthday. (Thanks to all of you that posted Birthday greetings on my Facebook pages!).
Which I spent mostly in lines!
I arrived at the San Diego Convention Center at 6:30 am and proceeded to continue to walk to the end of the line for thosw wanting to secure badges for the day. Would you believe that line sprawled around the convention center to the parking lot and then behind the Marriott?! Sheesh!
Well that line was crossed and I then proceeded to go to line for Ballroom 20. Yeah, I do enjoy some of the TV shows thatare presented there. That was a long line also! Not as long as several years in the past, but after spending time in line just to get in... I was through with lines!
I stayed to see the programs for '24', 'Under The Dome' and 'Scorpion', then proceeded to grab some lunch, check out the San Diego Comic Fest table on the Mezzannine and check out Artists Alley on the exhibit floor.
The highlight of the show for me was spending time at Allen Bellman's table in Artists Alley, who was with his wife Roz, and daughter in law Kathy. That was the most fun I had at yesterday's con. Great Birthday Present to myself!
I also took in the Batman '66 program, which was a commercial for the upcoming DVD set for the TV Show. It was fun seeing Adam West, Burt Ward, and Julie Newmar! I've already purchased a bootleg of the series so that I could write my chapter in the book, 'Gotham City 14 Miles' of which I am a co-author, so the set has to be better. Per the stars and the clips that were previewed for the audience at Hall H, it does look pretty good!
One strange program in the evening I attended was 'The Lost 1978 Comic Book Documentary'. That was a good film, and I will fill you in on later in this Blog.
The night ended with my attending Ric Meyers' Superhero Kung Fu Extravaganza. He had mechanical problems with showing the clips, so I ended up leaving earlier than originally planned...
All in all, I had 'highs' and 'lows' for this first day... It just didn't seem the same to me...
I'm listing the link here to the photos that I took yesterday.
Gotta post this and the pics, and get on the way to check out the off site activities happening today, as I can't get into the convention center. More later!
~Michael
---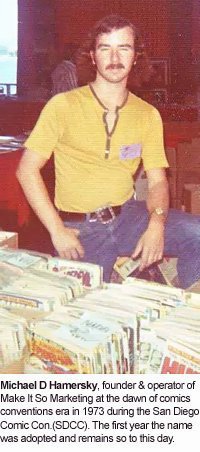 NOTE FROM Michael D Hamersky On Comics: My thanks again to all of YOU reading this blog and our archived blog posts, now at 4,003 total posts in number! I do appreciate your continued reading and support of this Blog!
BTW, You can 'follow' this blog by clicking the 'Follow' Button at this NetworkedBlogs app link! Thanks to ALL of YOU that have already clicked that button! And for those of YOU that haven't yet... I would appreciate it if YOU would!!!
Note: My online 'Local' Comic Book Shop (LCBS), carries many different genres of comics, magazines, graphic novels, and comic con promotional items. Possibly even copies of the item(s) that was mentioned here today...! If I have it, you'll find under the BIG TOP of Comics, at Comic Books Circus.com!
Web Page Note: This blog post is written per the IE Browser standards. Chrome, Safari, Netscape, Firefox and the other browsers serve the page up slightly differently, sorry about that! The screen display resolution is best seen at the setting of 1024 x 768 on your laptop or desktop computer. Note: Your computer's resoulution may be set differently, but the above resolution is the most commonly used resolution at the time of this blog post.
NOTE: All images and characters within this blog post are copyright and trademark their respective owners.
Comics Creators: If you are breaking into, or already work in the comic book industry or other pop culture productions, you are welcome to email or mail us press releases, news items, and updates that you feel would be of interest to my blog readers. Including YOUR own works! To mail printed items to me for possible review, just contact me.

Also, if you are a Facebook member, I would have liked you to send me a 'Friend Request'. However, I have reached the maximum limit of 5,000 Facebook Friends and Fan pages already, so I've added a New 'Facebook Fan Page' so that even more of YOU can 'Like' what I am doing, and be interactive with me and others there. Here is the link to that 'Facebook Fan Page':
Michael D Hamersky On Comics
! Please click the 'Like' button on that page!
---------------


In Addition, I started a YouTube Channel just before the 2011 Comic-Con International, where I am slowly uploading videos from conventions or other events that we attend that are also pop culture related. You are invited to 'subscribe' to that channel also! As found at
'HamerskyOnComics'
!
---
Posted by makeitsomarketing at 7:23 AM PDT
Updated: Friday, July 25, 2014 7:54 AM PDT